printer friendly version
Connector module for 4PPoE
25 September 2019
Interconnection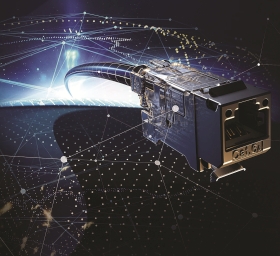 Webb Industries has introduced the new AMJ-S Module 2G from Telegärtner, optimised and redesigned to provide demanding applications with operational reliability under extreme mechanical and electrical conditions. It offers extensive headroom and is approved for use with four-pair Power-over-Ethernet with currents of up to 1000 mA.
The module is not only suitable for use in office buildings and data centres. The multiple shielding connection in the mating face also guarantees constant high-level shielding, for example, in industrial and traffic control applications where vibrations, oscillations and electromagnetic interference prevail but reliable transmission is essential.
Operational reliability is even guaranteed where technical building equipment restricts the space available for installation. A typical scenario is the supply of power to end-devices over the data cable. The latest version of this technology, known as 'Four Pair Power-over-Ethernet (4PPoE)', is capable of supplying 1000 mA per wire pair.
"At Telegärtner, 4PPoE testing of unintentional unmating under electrical load goes beyond the requirements of the standard," says Marcel Leonhard, head of the DataVoice division at Telegärtner. "Contact design has been optimised to protect the area used for data transmission against damage from contact-breaking sparks. This guarantees that nothing can go wrong even in hectic working conditions – data transmission is one hundred percent guaranteed."
Like its predecessor, the new AMJ-S Module 2G can be easily connected without special tools. It also has the same dimensions and therefore fits into all patch panels, outlets and module carriers in the Telegärtner AMJ series.
Credit(s)
Further reading:
M12 push-pull connectors with internal locking
31 March 2021, Phoenix Contact , Interconnection
Phoenix Contact has extended its existing M12 portfolio to include new push-pull connectors with internal locking. The cross-manufacturer locking system based on IEC 61076-2-010 enables easy cabling and 
...
Read more...
---
Phoenix Contact makes connecting a snap
26 February 2021, Phoenix Contact , Interconnection
Phoenix Contact brings added convenience to conductor connections with the lever-actuated PCB terminal blocks and PCB connectors of the consistent LPT and LPC series. They combine the reliability of push-in 
...
Read more...
---
Reliable and versatile D-Sub connectors
26 February 2021, IPD Electronics , Interconnection
Originally invented by ITT Cannon in the 1950s, D-Subminiature (D-Sub) connectors remain one of the most widely used, ultra-reliable I/O interconnect solutions on the market. With high-performance power, 
...
Read more...
---
Hybrid device connectors with knurled nut
26 February 2021, Phoenix Contact , Interconnection
M23 Hybrid series device connectors from Phoenix Contact are now also available with a knurled nut. This enables devices such as servo drives to be connected using either coupler or cable connectors. 
...
Read more...
---
Circular plastic connectors
31 March 2021, IPD Electronics , Interconnection
Designers can explore new opportunities with TE Connectivity's Circular Plastic Connectors (CPC). These rugged, cost-effective and reliable connectors can be used in a wide range of applications that 
...
Read more...
---
Clips for fixing cables to ground
26 February 2021, Würth Elektronik eiSos , Interconnection
Under the product name designation WE-EEL, Würth Elektronik now offers cable clips made of aluminium sheet to enable stable grounded fixation of cables of various dimensions. Cables with diameters ranging 
...
Read more...
---
Low-profile USB Type C vertical receptacle
26 February 2021, Electrocomp , Interconnection
With a height of just 6,5 mm on a printed circuit board (PCB), the vertical-mount USB4120 is a low-profile USB Type C receptacle and joins GCT's range of charging-focused ionex connectors. The 16-pin 
...
Read more...
---
RF solutions now available in Samtec's Picture Search
25 November 2020, Spectrum Concepts , Interconnection
Having previously announced the Picture Search feature on its updated online design tool, Samtec has now added RF solutions to the mix.
Read more...
---
PCB-mounting end launch connectors
25 November 2020, Conical Technologies , Interconnection
Anoison announced the release of the latest addition to its broad selection of products, a range of high-performance end launch connectors for mounting on PCBs.          Anoison's high-performance end 
...
Read more...
---
Interconnect solutions for high-speed backplanes
25 November 2020, IPD Electronics , Interconnection
TE Connectivity's high-speed backplane connectors offer the flexibility and performance needed for a range of datacom applications, including servers, switches, routers, and optical transport. The company's 
...
Read more...
---