printer friendly version
Connector module for 4PPoE
25 September 2019
Interconnection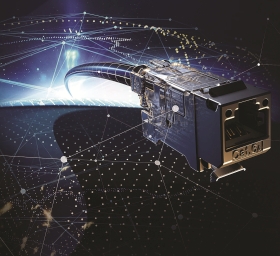 Webb Industries has introduced the new AMJ-S Module 2G from Telegärtner, optimised and redesigned to provide demanding applications with operational reliability under extreme mechanical and electrical conditions. It offers extensive headroom and is approved for use with four-pair Power-over-Ethernet with currents of up to 1000 mA.
The module is not only suitable for use in office buildings and data centres. The multiple shielding connection in the mating face also guarantees constant high-level shielding, for example, in industrial and traffic control applications where vibrations, oscillations and electromagnetic interference prevail but reliable transmission is essential.
Operational reliability is even guaranteed where technical building equipment restricts the space available for installation. A typical scenario is the supply of power to end-devices over the data cable. The latest version of this technology, known as 'Four Pair Power-over-Ethernet (4PPoE)', is capable of supplying 1000 mA per wire pair.
"At Telegärtner, 4PPoE testing of unintentional unmating under electrical load goes beyond the requirements of the standard," says Marcel Leonhard, head of the DataVoice division at Telegärtner. "Contact design has been optimised to protect the area used for data transmission against damage from contact-breaking sparks. This guarantees that nothing can go wrong even in hectic working conditions – data transmission is one hundred percent guaranteed."
Like its predecessor, the new AMJ-S Module 2G can be easily connected without special tools. It also has the same dimensions and therefore fits into all patch panels, outlets and module carriers in the Telegärtner AMJ series.
For more information contact Stephen Hands, Webb Industries, +27 11 719 0000, webb@webb.co.za, www.webb.co.za
Credit(s)
Further reading:
THT-configurable male connectors
30 June 2020, Würth Elektronik eiSos , Interconnection
WR-FAST Fast Connection is the name of a series of THT-configurable male connectors for accommodating single wires with blade receptacles – for example in household appliances. The new connectors are 
...
Read more...
---
Hybrid and pneumatic modules for modular connectors
30 June 2020, RF Design , Interconnection
Smiths Interconnect has extended its L modular connector series with the addition of two new module types that complete the company's wide offering of modular solutions. The L Series of modular connectors 
...
Read more...
---
High-speed backplane interconnect solutions
30 June 2020, IPD Electronics , Interconnection
TE Connectivity's high-speed backplane connectors offer the flexibility and performance needed for a range of datacom applications, including servers, switches, routers, and optical transport. The company's 
...
Read more...
---
High-density multicoax cable assemblies
30 June 2020, RFiber Solutions , Interconnection
Withwave's high-speed and high-density multicoax cable assemblies (WMX Series) provide a wide range of multiple coax connectors and flexible cable assemblies with a choice of 20, 40, 50 and 67 GHz configurations 
...
Read more...
---
Circular connectors for power, signals and data
30 June 2020, TRX Electronics , Interconnection
Standardised circular connectors have become the industry standard across a wide range of applications. Customers can find the right option for their most innovative designs with Phoenix Contact's PLUSCON 
...
Read more...
---
Rugged fibre connectors
29 July 2020, TRX Electronics , Interconnection
TE Connectivity's ruggedised fibre optics bring the benefits of optical technology to challenging environments, providing more bandwidth, more distance and more performance. TE's offering includes 
...
Read more...
---
EMI/RFI shielding cable ties
29 May 2020, Actum Electronics , Interconnection
BAND-IT EMI cable ties have been designed and manufactured to excel in mission-critical applications, such as Mil/Aero EMI/RFI (electromagnetic interference/RF interference), for the past 30 years.  
...
Read more...
---
How are end-launch PCB connectors useful?
29 April 2020, RF Design , Interconnection
There has been an increasing use of RF coaxial connectors, especially microwave and millimetre-wave coaxial connectors, for high-speed digital and precision sensing applications, There is also a growing 
...
Read more...
---
IP68 circular connectors
29 April 2020, IPD Electronics , Interconnection
Sure-Seal 7/8" IP68 connectors are designed for both signal and high-current applications. They are compatible with industrial mini-change connectors and are sealed to an IP68 rating. These 7/8" IP68 
...
Read more...
---
Micro-miniature circular connectors
29 April 2020, IPD Electronics , Interconnection
Available from local distributor IPD Electronics via its agreement with PEI-Genesis, Amphenol 2M series micro-miniature connectors are fully guaranteed to be intermateable with Glenair Mighty Mouse connectors. The 
...
Read more...
---