printer friendly version
Company profile: IC Logistix
25 September 2019
News
IC Logistix was started in 2011 when an opportunity opened up to attain the distribution rights for Fujikura,a Japanese group with a popular range of equipment for the fibre-optic telecommunications market. As an importer and distributor of specialised technology and equipment, IC Logistix is presently the sole distributor for Fujikura and AFL (American Fujikura Limited) in southern Africa. The creation of IC Logistix was funded by three shareholders, who put Zach Yacumakis in charge of running the show. Having initially started operations out of a garage in Ferndale, the company is now based in beautiful offices with a staff complement of eight people, and Yacumakis has become the fourth shareholder and managing director.
With a 20-year background in the IT industry, Yacumakis sees the fibre-optic industry as being closely related, and enjoys working with amazing technologies from all over the world. "Running a distribution company is really fun and we get to travel the country and the world in our quest to offer top brands and supply good quality products," he says. "Our impact is really to offer better solutions to a market flooded with 'cheap and nasty'. Our clients know that our brands are quality Japanese items, manufactured to last and to be accurate. This is key when dealing with optical fibre." IC Logistix aims for excellence and is synonymous with quality, with brands that are leaders worldwide and are very high-end in a niche market.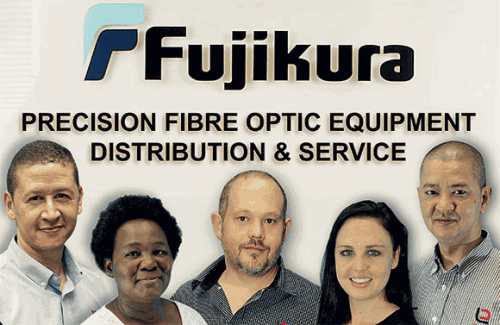 By offering the best brands and excellent after-sales service, the company guarantees the integrity that inspires trust from its customers. Customers can be sure IC Logistix will bend over backwards to accommodate their needs and save them money. Presently the company's key focus is the telecommunications market, as its primary products are used in the fibre-optic industry. Offering a full turnkey solution in the installation and maintenance of optical fibre, the range of products on offer includes Fujikura arc-fusion splicing machines, AFL optical test and certification equipment, and Plumett blowing/floating machines.
Customers hold IC Logistix in high regard for its professional service, highly knowledgeable staff who are keen to assist, and for its integrity – a rare characteristic in this day and age. "We will continue to grow into other technology related products, while always remaining committed to distributing top-end products and offering top-end after-sales service. One thing is for sure: we will be around, and we will prosper, because our focus is on people, quality and integrity.
We cherish our loyal staff and every customer. It is an honour to serve the people of our nation with true quality," Yacumakis says.
Credit(s)
Further reading:
From the editor's desk: Yes, it's that thing everyone's talking about
25 March 2020, Technews Publishing , News
Call me a pessimist, but I'm absolutely, 100% certain that I'm going to catch COVID-19 (or the 'novel coronavirus' if you prefer to call it that) – if I haven't done so already. At least the mortality 
...
Read more...
---
Electronics news digest
25 March 2020 , News
Overseas
Business
• ams reported record revenues and results for full year 2019, with revenues up 32% year-on-year, and fourth quarter revenues exceeding expectations with strong adjusted operating 
...
Read more...
---
XinaBox – Reaching for the stars
25 March 2020, RS Components (SA) , News
From collecting data in sub-zero Antarctica to rapid circuit prototyping on the International Space Station this South African company is reinventing the way we approach IoT while inspiring students to follow STEM careers.
Read more...
---
Electrocomp launches new website
25 March 2020, Electrocomp , News
Electrocomp is inviting visitors to explore its new website, which has been designed to offer a user-friendly experience with improved navigation and functionality while allowing customers to see their 
...
Read more...
---
Looking beyond radar, the car's virtual eye
25 March 2020, Altron Arrow , News
Faster, higher-resolution radar sensors have enabled the next generation of driver assistance technologies through improvements in vehicle safety and comfort in view.
Read more...
---
Disposing of e-waste in space
26 February 2020 , News
According to BBC, there are over half a million pieces of debris floating around the Earth's orbit. Most debris within the atmosphere are lost parts from space crafts, disused rocket stages or waste from 
...
Read more...
---
IPC revises five standards
26 February 2020 , News
IPC announced the release of five newly revised standards covering several areas of the supply chain:      
· IPC/WHMA-A-620D, Requirements and Acceptance for Cable and Wire Harness Assemblies. · IPC-2223E, 
...
Read more...
---
Testerion to represent ITW EAE in SA
26 February 2020, Testerion , News
ITW EAE announced a new extended partnership agreement with Testerion South Africa to represent and distribute all ITW EAE equipment including MPM printers, Camalot dispensers, Electrovert soldering systems, 
...
Read more...
---
From the editor's desk: Interesting people, politicians, and viruses
26 February 2020, Technews Publishing , News
In this edition, in the first of a new regular highlight in Dataweek, we go behind the scenes with Peet Smit, the founder and owner of Centurion Micro Electronics, a well-known specialist embedded and 
...
Read more...
---
Electronics news digest
26 February 2020 , News
Overseas
Business
• Maxim Integrated Products reported net revenue of $551 million for its second quarter of fiscal 2020 ended 28 December 2019, a 3% increase from the $533 million revenue recorded 
...
Read more...
---