printer friendly version
USB Type-C power controllers
23 October 2019 Power Electronics / Power Management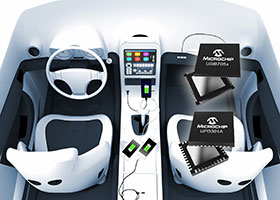 Microchip announced two new solutions that simplify USB Type-C PD (Powered Device) designs to remove the traditional complexity and high costs associated with implementing USB Type-C in a range of applications.
As one of the industry's first USB-IF-certified USB 3.1 SmartHub devices with integrated support for Power Delivery (TID1212), the USB705x family enables fast device charging and introduces unique PD implementations called HostFlexing and PDBalancing.
HostFlexing simplifies the user's docking station experience by allowing all USB Type-C ports to function as the 'notebook' port, eliminating the need for cryptic labels that try and explain overall functionality of each USB Type-C port. PDBalancing provides a methodology for manufacturers to manage overall system power through centralised control, ultimately saving money for consumers by being able to charge a number of PD-enabled devices with less overall power.
The UPD301A is a standalone USB Type-C PD controller that significantly simplifies the implementation of basic USB Type-C PD charging functionality, making it ideal for applications from rear seat charging in vehicles to portable equipment to public charging stations.
To meet consumer demand for faster mobile device charging and data streaming, the USB705x family combines native support for USB Type-C PD with the 5 Gbps SuperSpeed data rates of USB 3.1. Ideal for docks, PC monitors and automotive infotainment, the family, which consists of the USB7050, USB7051, USB7052 and USB7056, provides a range of USB configurations to meet varying PD and USB Type-C design needs. For example, the USB7050 supports three PD-enabled upstream and downstream USB Type-C ports, while the USB7056 provides only one upstream port alongside five traditional Type-A downstream ports.
The new hubs also support driver assistance applications that are available on all mobile handsets, allowing the graphical user interface of a phone to be displayed on a vehicle's screen while simultaneously charging the mobile device.
With smartphones increasingly requiring more than standard BC 1.2 power, designers of electronic systems need to be able to easily implement basic high-powered charging in systems. The UPD301A provides a simple, standalone solution for implementing USB Type-C PD charging in a variety of applications.
The device supports both single- and dual-port operation and uses a pin-configurable implementation that focuses on ease of use. The UPD301 complements Microchip's expansive family of USB hubs and enables solutions from charge-only to full data, video and power management.
The USB705x and UPD301 come with a complete solution including the MPLAB Connect Configurator hub configuration tool, evaluation boards with schematics and Gerber files to reduce development time.
For more information contact Shane Padayachee, Avnet South Africa, +27 11 319 8600, shane.padayachee@avnet.eu, www.avnet.co.za
Credit(s)
Further reading:
Power delivery over USB Type-C will open up new applications
25 March 2020, Altron Arrow , Power Electronics / Power Management
The enablement of SuperSpeed is just one reason why we can expect the USB interface to dominate for many years to come, but power delivery must also be a major factor in that.
Read more...
---
MEMS-based environmental pressure sensors
25 March 2020, Avnet South Africa , Analogue, Mixed Signal, LSI
Bourns Sensors & Controls' product line is introducing four new series of environmental sensors based on microelectromechanical systems (MEMS) technology. These four new series are designed for the customer 
...
Read more...
---
Bluetooth 5.0 Low Energy module
25 March 2020, Avnet South Africa , Telecoms, Datacoms, Wireless, IoT
An output power of up to +8 dBm and the high sensitivity of the nRF52840, in combination with the LE coded PHY, make the module very attractive for applications that require a long range. The Bluetooth 
...
Read more...
---
Industrial power module
25 March 2020, Würth Elektronik eiSos , Power Electronics / Power Management
The components in a SIP-3 package represent cost-effective solutions to meet the requirements for the transient capability of a 24 V industrial voltage network. The new modules operate from 6 to 36 V 
...
Read more...
---
Complete design solution for energy efficient motor driving system
25 March 2020, Avnet South Africa , Power Electronics / Power Management
Electric motors are a powerhouse user of electricity worldwide, accounting for about two-thirds of industrial electricity consumption. The International Energy Agency reports that electric motors account 
...
Read more...
---
Miniature automotive MOSFETs
25 March 2020, Avnet South Africa , Power Electronics / Power Management
Diodes Incorporated announced the introduction of the 40 V-rated DMTH4008LFDFWQ and 60 V-rated DMTH6016LFDFWQ automotive-compliant MOSFETs packaged in DFN2020. These miniature MOSFETs occupy just 10% 
...
Read more...
---
PCB-mount AC-DC power supplies
25 March 2020, Vepac Electronics , Power Electronics / Power Management
Complementing the previously released 3 W, 5 W and 10 W models, the VCE20 and VCE40 series from XP Power provide 20 and 40 Watts of power respectively and offer an encapsulated version as well as a lower-cost 
...
Read more...
---
High-voltage MOSFET for low-frequency switching
25 March 2020 , Power Electronics / Power Management
With the introduction of the 600 V CoolMOS S7 SJ MOSFET family – uniquely fitting a 22 mΩ chip into an innovative SMD package – Infineon Technologies is aiming to set a new benchmark for power density, 
...
Read more...
---
New PIC MCU family
25 March 2020, Avnet South Africa , DSP, Micros & Memory
In microcontroller (MCU)-based system design, software is often the bottleneck for both time to market and system performance. By offloading many software tasks to hardware, Microchip Technology's new 
...
Read more...
---
Power over Ethernet – supply of Ethernet devices via data lines
25 March 2020, Altron Arrow , Power Electronics / Power Management
In process automation systems, important parameters such as temperature, pressure, flow rate, humidity and many others must be monitored and measured. In the era of Industry 4.0, Ethernet is a popular 
...
Read more...
---