printer friendly version
DIN-rail programmable transmitter
23 October 2019 Test & Measurement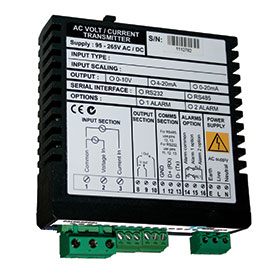 Calog Instrument's versatile DPM9000 series – a miniature DIN-rail mount programmable isolated transmitter range – boasts high reliability and a versatile, wide range of programmable inputs. With dimensions of 92 x 92 x 26 mm, the product range is a space-saver.
Configuration and field calibration is done via any Windows-based computer or tablet, running the user-friendly SmartView software which is available for download on the Instrotech website (www.instrotech.co.za/Media-Downloads/Software).
The model DPM9000 transmitter offers complete 3-way isolation between power supply, input and output. The inputs are programmable to accept thermocouples of type J, K, N, R, S, T and W5, RTDs of type Pt100 or Ni100, mV inputs up to 52 mV, 0-20 mA/4-20 mA inputs, volt inputs up to 10 V, potentiometer inputs, and frequency inputs from NPN/PNP proximity switches.
Integral 2-wire transmitter power is supplied as standard with the units, as well as a precision reference for potentiometer inputs. The analog output is programmable for 0-20 mA/4-20 mA or 0-10 V outputs. The power supply comes standard as 95-265 V a.c./d.c., as well as the RS-232 serial interface which allows connections to remote computers and scada systems using Calog's DIGIbus protocol.
The RS-485 option allows for up to 99 transmitters to be linked on the same bus. The unit can also accept an ASCII-based serial input signal for conversion to an analog output signal. The lineariser feature is standard and the user can select s-curve, sphere, square-root extraction or off (no linearisation).
The model DPM9240 offers a 10-30 V d.c. isolated power supply instead of 95-265 V a.c./d.c. Also available in the series are the Models DPM9004 (95-265 V a.c./d.c. supply) and the DPM9244 (10-30 V d.c. supply), ideal for load cell applications. The model DPM9006 is a high-current (0-5 A) or high-voltage (0-500 V a.c./d.c.) input version.
Locally designed and manufactured by Calog Instruments, all units meet the European EMC directive 89/336/EEC and low voltage directive 73/23/EEC.
For more information contact Instrotech, +27 10 595 1831, sales@instrotech.co.za, www.comtest.co.za
Credit(s)
Further reading:
Miniature SMT noise sources
31 August 2020, RF Design , Test & Measurement
Pasternack has released a new series of miniature SMT packaged noise sources that are ideal for built-in test equipment, dithering for increased dynamic range of A/D converters and as a source for bit 
...
Read more...
---
New digital storage oscilloscope
31 August 2020, RS Components (SA) , Test & Measurement
RS Components is now stocking the Tektronix TBS1000C digital storage oscilloscope. Affordable, compact and easy-to-use, the TBS1000C comes with enhanced user interface and courseware, proving a great 
...
Read more...
---
High-spec, low-cost oscilloscope for industry and education
31 August 2020, RS Components (SA) , Test & Measurement
RS Components has introduced the Tektronix TBS2000B digital storage oscilloscope, aimed at industrial design and maintenance engineers and the educational sector. A higher-specification but low-cost drop-in 
...
Read more...
---
Rigol extends RF portfolio
30 September 2020, Coral-i Solutions , Test & Measurement
Rigol Technologies has announced the new RSA3000N and RSA5000N Spectrum Analysers, which extend the flexibility and capability of the UltraReal platform with a new Vector Network Analyser measurement 
...
Read more...
---
RS PRO queue management system
31 August 2020, RS Components (SA) , Test & Measurement
The RS PRO SMART-Q queue management system is a high-quality and robust configurable beacon tower that manages the flow of customers and staff, by helping them to move around safely and efficiently in 
...
Read more...
---
Network metrology training kit coupled with Microwave Office
29 July 2020, Comtest , Test & Measurement
Pico Technology has added significant functionality and value to its low-cost, high-performance vector network analyser, by joining the NI/AWR Connected Partner community. The PicoVNA interface wizard 
...
Read more...
---
Smart oscilloscope for faster debug
30 June 2020, Comtest , Test & Measurement
PicoTechnology announced the PicoScope 6000E Series FlexRes oscilloscopes, featuring 8 channels with 500 MHz bandwidth, 16 digital channels, and resolution of 8, 10 or 12 bits. The products work with 
...
Read more...
---
New range of Tektronix DSOs
30 June 2020, Comtest , Test & Measurement
Comtest has released Tektronix's new TBS2000B series of digital storage oscilloscopes (DSOs) that was developed to meet the performance, usability and affordability needs of both engineers and educators. 
...
Read more...
---
Contactless ESD testing and access control unit
30 June 2020, Actum Group , Test & Measurement
In the electronics manufacturing industry, an electrostatic discharge (ESD) can cause irreparable damage to electronic components. This micro-lightning bolt can burn holes through insulating layers and 
...
Read more...
---
How are IR cameras calibrated and how does ambient temperature affect readings?
30 June 2020, Instrotech , Test & Measurement
Infrared thermometers are calibrated with the help of reference radiation sources, so-called 'black bodies'. These radiant sources are able to produce different temperatures with a high stability.  
...
Read more...
---