printer friendly version
Digital multimeter with thermal imager
23 October 2019
Test & Measurement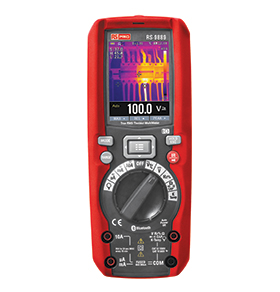 A digital multimeter (DMM) with a built-in thermal imager has been added to RS Components' RS PRO product range. The RS-9889 allows engineers to identify thermal overload issues in electrical equipment from a safe distance, without the need for any physical contact. The instrument is an all-in-one handheld device designed, like other products in the RS PRO range, to combine durability and reliability with value for money. It is suitable for a wide variety of applications, ranging from smart manufacturing in the industrial automation sector, to general electrical tasks such as testing sockets and lighting during business safety audits and home renovations.
The RS-9889 combines features of a digital multimeter – measuring circuit parameters such as voltages, currents and resistances – with an infrared thermal imaging camera to allow hot and cool points in electrical components to be identified on a viewable thermogram.
The thermal imager of the RS-9889 offers max, min and centre crosshair targeting to help the user identify and measure required temperature ranges easily. A Bluetooth Low Energy (BLE) connection allows thermal images to be shared quickly to other devices via the Thermview+ app.
The thermal imager has a 2,8-inch colour TFT LCD screen with an infrared resolution of 80 x 80 pixels, a 21° x 21° field of view, thermal sensitivity (NETD or noise equivalent temperature difference) to less than 0,1°C/100 mK,
a fast 50 Hz thermal image frame rate, an object temperature range from 20°C to 260°C, a spectral range of 8–14 μm, and accuracy to within ±2°C, or ±2% of the reading.
The versatile RS-9889 also includes functions such as a diode, resistance and continuity tester, is equipped with a buzzer, and can measure temperatures all the way up to 1000°C using a K-type thermocouple probe. AC and AC+DC voltage and current are true RMS.
A lightweight portable device allowing users to work on the go, the RS-9889 measures just 80 x 58 x 195 mm and weighs 540 g.
Credit(s)
Further reading:
XinaBox – Reaching for the stars
25 March 2020, RS Components (SA) , News
From collecting data in sub-zero Antarctica to rapid circuit prototyping on the International Space Station this South African company is reinventing the way we approach IoT while inspiring students to follow STEM careers.
Read more...
---
Vector network analyser training kit
26 February 2020, Comtest , Test & Measurement
Pico Technology has added significant functionality and value to its low-cost, high-performance vector network analyser (VNA), by joining the NI/AWR Connected Partner community. The PicoVNA interface 
...
Read more...
---
Better phase noise measurement for Infiniium UXR scopes
26 February 2020, Concilium Technologies , Test & Measurement
Keysight Technologies and Silicon Labs announced a collaboration that streamlines the validation of timing solutions critical in the development of system-level designs for wireless communications, high-speed 
...
Read more...
---
Eliminate risk with proper calibration
26 February 2020, Concilium Technologies , Test & Measurement
Proper calibration lowers cost of test by reducing the number of incorrect decisions made, by improving instrument performance.
Read more...
---
Robotics and coding essential for SA youth
26 February 2020, RS Components (SA) , News
To many, robotic and computer coding are reserved for techies, geeks and sci-fi movies. Nowadays these terms are fast becoming the norm in society and households alike. There is no denying the fact that 
...
Read more...
---
Double pulse test software for Tektronix AFG
29 January 2020, Comtest , Test & Measurement
Comtest announced the availability of Tektronix' new software plugin for its AFG31000 arbitrary function generator (AFG), making it possible to perform crucial double pulse testing in less than a minute, 
...
Read more...
---
Battery charge/discharge test system
29 January 2020, Conical Technologies , Test & Measurement
The ITS5300 battery charge and discharge test system from ITECH is designed for a variety of power batteries including lead acid, nickel hydrogen, lithium batteries, supercapacitors, hydrogen fuel cells 
...
Read more...
---
Printer for professional 3D printing
EMP 2020 Electronics Manufacturing & Production Handbook, RS Components (SA) , Manufacturing / Production Technology, Hardware & Services
The Ultimaker S5 3D printer targets the professional end of the market across a number of applications, and meets engineering requirements from the creation of prototypes to full end-use, industrial-grade 
...
Read more...
---
Beware! Identity is the new gold – and criminals know it
23 October 2019, RS Components (SA) , News
Stolen identity is a highly potent tool for fraudsters, as a recent Carte Blanche insert featuring RS Components revealed. A buyer approached us to procure equipment on credit to the tune of R1,5 million. 
...
Read more...
---
DIN-rail programmable transmitter
23 October 2019, Instrotech , Test & Measurement
Calog Instrument's versatile DPM9000 series – a miniature DIN-rail mount programmable isolated transmitter range – boasts high reliability and a versatile, wide range of programmable inputs. With dimensions 
...
Read more...
---