printer friendly version
Red Bull Basement Hatch showcases Cape Town's tech talent
23 October 2019
News
Cape Town's brightest young tech geniuses gathered in Woodstock in September to share their ideas and their creations at the Red Bull Basement Hatch event. The Red Bull Basement Hatch brings together tech enthusiasts, makers, creatives, designers, IT students, incubator managers and funders, in one room. Here they debate, talk, showcase, network and upskill each other, with the aim of connecting and building a better South Africa through the use of technology. RS Components South Africa partnered up with the event organisers, Red Bull and Geekulcha, by sponsoring components for the Maker Space corner at the event.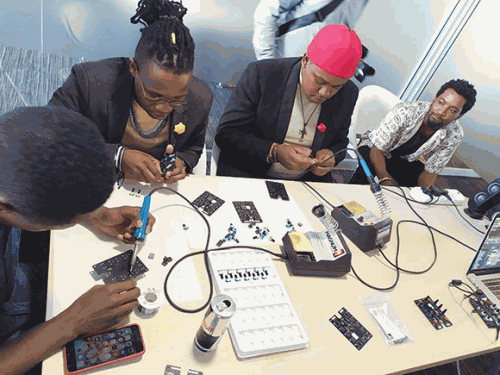 Students getting their hands on creating some tech at the event.
Brian Andrew, managing director of RS Components South Africa, said that these events truly add value to the youth of the country. "We at RS Components are passionate about education and nurturing the next generation of innovators. Events such as the Red Bull Basement excite us and we are proud to partner up with Red Bull and Geekulcha and look forward to future events where we can see South Africa's tech geniuses at work," he said.
RS Components South Africa also hosted a 'Weather Station' creation seminar at the event with the Xinabox team. Judi Sandrock, co-founder for the STEM School Space Programme at XinaBox, said the session was great and very engaging, underlining the high calibre of makers that the Red Bull brand attracted on the day. "The insightful questions allowed everyone to explore how XinaBox delivers true IoT rapid hardware development, removing the barriers to participate in this exploding industry. Thanks to RS Components, enterprising innovators can build XinaBox solutions and get straight to coding," she added.
Sifiso Gcabashe, the social innovation manager for Red Bull, said the main aim of the Red Bull Basement project was to give young people who had created amazing innovations which are aimed at solving problems in their communities or wherever they may be working from a platform to learn, create and nurture their technical abilities.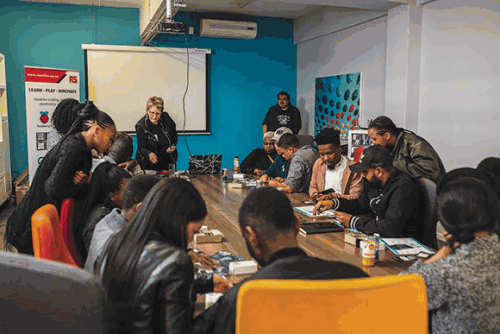 The RS Components Weather Station session with the XinaBox team.
"The Red Bull Basement brings together the community to share ideas as well as practicality so that we are not only talking about these innovations, we show what other people are doing. We have a big focus on women and we want to expose women doing amazing things in their communities and there are a few of them present at the event today," he said.
Gcabashe also added that these projects focus on technology and innovation. "We also want to focus on the African continent because we feel that there are innovators in Africa doing absolutely amazing things and we want to expose those stories and innovations. We want to tell the 'African Story' and why this fits into the Fourth Industrial Revolution."
Mixo Ngoveni from Geekulcha and Red Bull Basement's brand manager said that these events have shed much needed light on coding, technology and innovation to not only the youth but for everyone keen to learn something new. "Each event brings about something new, and the Geekulcha team and I are truly humbled to be a part of this movement. We in South Africa have a lot to offer the world in terms of innovation and technology and all we need is a platform such as this Red Bull Basement event. I would like to thank all who made the event possible and RS Components for always supporting our projects," he added.
The Red Bull Basement Hatch event was a day filled with technology, coding and robotics, leaving the participants inspired and ready to innovate in their various communities. The event also highlights the private sector's commitment towards making a change and nurturing South Africa's youth to harness their technical and computing skills for a brighter future.
Credit(s)
Further reading:
On-the-ground sales support for South African Farnell customers
25 November 2020, EBV Electrolink , News
Farnell, an Avnet company and global distributor of electronic components, products and solutions, has enhanced its service to customers in South Africa through a new partnership with sister company EBV, 
...
Read more...
---
Arduino compatible shields for KNX comms
25 November 2020, RS Components (SA) , Telecoms, Datacoms, Wireless, IoT
RS Components now stocks NCN5100ASGEVB evaluation boards from ON Semiconductor. These Arduino compatible units are designed to facilitate prototyping work, comprising all the constituent components necessary 
...
Read more...
---
Bench test and measurement equipment
25 November 2020, RS Components (SA) , Test & Measurement
RS Components is now stocking an extensive range of RS PRO bench test and measurement products. The range offers various functions and applications, providing a full suite of electronic instruments for 
...
Read more...
---
Better than Moore: A new way to measure semiconductor progress
25 November 2020 , News
One of the most famous maxims in technology is, of course, Moore's Law. For more than 55 years, the 'Law' has described and predicted the shrinkage of transistors, as denoted by a set of roughly biennial 
...
Read more...
---
Technology trends that will shape 2021
25 November 2020 , News
In preparing to turn the corner on one of the most tumultuous years we have ever seen, 2021 will require that organisations put a finger on what will stimulate market responses and what the fabric of 
...
Read more...
---
RS stocks TDK CeraCharge rechargeable solid-state battery
25 November 2020, RS Components (SA) , Power Electronics / Power Management
RS Components is now stocking CeraCharge, the industry's first rechargeable solid-state SMD battery from TDK. Small, easy to assemble, and intrinsically safe, CeraCharge combines the capacity of lithium-ion 
...
Read more...
---
Illuminated E-Stop button
25 November 2020, RS Components (SA) , Switches, Relays & Keypads
RS Components has added the Eaton RMQ Small E-Stop to its emergency pushbutton portfolio. This compact device is around 30% smaller than standard emergency-stop buttons and is designed to deliver improved 
...
Read more...
---
Altron appoints new company secretary
25 November 2020, Altron Arrow , News
Nicole Morgan has been appointed as company secretary of Altron with effect from 1 January 2021. An admitted attorney of the High Court with 11 years of corporate law and company secretarial experience, 
...
Read more...
---
Technical high school gets new multimedia centre for 100% pass rate
25 November 2020 , News
The MTN SA Foundation continues to bring digital education closer to SA's youth with the recent handover of a state-of-the-art multimedia centre to a deserving Bokgoni Technical High School in Atteridgeville, 
...
Read more...
---
Unrealistic deadlines hamper independent power producers
25 November 2020 , News
The Independent Power Producers Programme Office (IPPPO), which is run by the South African Department of Mineral Resources and Energy (DMRE), aims to procure 2000 megawatts of electricity in its latest 
...
Read more...
---