printer friendly version
Project-based learning for the modern engineer
23 October 2019
Test & Measurement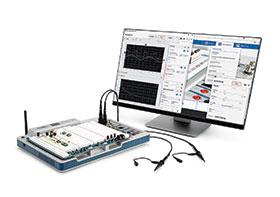 Projects that inherently challenge students to use innovative design thinking often involve interacting with an unknown process or device. Students are encouraged to understand the unknown through theory, simulation, and experimentation. However, projects that introduce the unknown in messy, multisystem environments tend to challenge the students to be much more innovative.
"Designing a test in this style requires not only knowledge of the specifications, equipment limitations, and fundamental concepts being applied but also the ability to contend with outside factors and grasp how one change can have a cascading effect on the experimental setup," says Stephen Plumb, sales manager at Test Dynamics.
He adds that engineering students must see the concepts they are taught in the context of real systems to fully understand them. They must explore fundamental topics used in engineering systems, while working in teams, and apply them in practical designs quickly and effectively. NI (National Instruments) ELVIS unites software, hardware, instrumentation, and control in a collaborative environment to prepare the next generation of engineers.
With its hands-on approach, NI ELVIS helps educators teach students practical, experimental engineering skills. Built on the concept of teamwork, this solution connects students to their experiments, which enables them to collaborate using the same technology in over 35 000 companies worldwide. It combines the precision and accuracy of seven benchtop instruments with the speed and customisation of industrial embedded controllers in one single platform. Students can use its easy, prebuilt interfaces to customise at a level not available in other educational laboratory equipment.
"To most effectively analyse concepts this way, students need the ability to not only instrument and analyse the experiment but also precisely control and manipulate the type and behaviour of the inputs to the system. NI ELVIS III is the only engineering laboratory solution that combines seven traditional instruments with fully customisable I/O to enable the complete implementation of the concepts in this approach," Plumb points out.
Because NI ELVIS III is a network-connected device, it enables collaboration on experiments through multi-user access. Each of the seven instruments can be accessed simultaneously by different students connected wirelessly to. Also, the control I/O can be programmed independently by students accessing the instrumentation. This means that in a group of students, each individual can interact with NI ELVIS III to perform part of an experiment, so everyone is involved in a completely collaborative experimentation environment.
Similarly, since NI ELVIS III can be remotely accessed, teaching assistants find assessing student work much simpler. Rather than designating time to meet in person with each student, the TA can be a remote resource logging into each device after students complete the assignment.
"NI ELVIS III removes barriers to collaboration and enables more students to progress through a lab in less time. This increases student satisfaction and makes the best use of teaching staff resources. The team at Test Dynamics believes that this teaching aid will change the way that both lecturers and students look at engineering studies. Demonstrations are available at our offices," says Plumb.
For more information contact Stephen Plumb, Test Dynamics, +27 62 217 0063, stephen.plumb@testdynamics.co.za, www.testdynamics.co.za
Further reading:
Miniature SMT noise sources
31 August 2020, RF Design , Test & Measurement
Pasternack has released a new series of miniature SMT packaged noise sources that are ideal for built-in test equipment, dithering for increased dynamic range of A/D converters and as a source for bit 
...
Read more...
---
New digital storage oscilloscope
31 August 2020, RS Components (SA) , Test & Measurement
RS Components is now stocking the Tektronix TBS1000C digital storage oscilloscope. Affordable, compact and easy-to-use, the TBS1000C comes with enhanced user interface and courseware, proving a great 
...
Read more...
---
High-spec, low-cost oscilloscope for industry and education
31 August 2020, RS Components (SA) , Test & Measurement
RS Components has introduced the Tektronix TBS2000B digital storage oscilloscope, aimed at industrial design and maintenance engineers and the educational sector. A higher-specification but low-cost drop-in 
...
Read more...
---
Rigol extends RF portfolio
30 September 2020, Coral-i Solutions , Test & Measurement
Rigol Technologies has announced the new RSA3000N and RSA5000N Spectrum Analysers, which extend the flexibility and capability of the UltraReal platform with a new Vector Network Analyser measurement 
...
Read more...
---
RS PRO queue management system
31 August 2020, RS Components (SA) , Test & Measurement
The RS PRO SMART-Q queue management system is a high-quality and robust configurable beacon tower that manages the flow of customers and staff, by helping them to move around safely and efficiently in 
...
Read more...
---
Network metrology training kit coupled with Microwave Office
29 July 2020, Comtest , Test & Measurement
Pico Technology has added significant functionality and value to its low-cost, high-performance vector network analyser, by joining the NI/AWR Connected Partner community. The PicoVNA interface wizard 
...
Read more...
---
Smart oscilloscope for faster debug
30 June 2020, Comtest , Test & Measurement
PicoTechnology announced the PicoScope 6000E Series FlexRes oscilloscopes, featuring 8 channels with 500 MHz bandwidth, 16 digital channels, and resolution of 8, 10 or 12 bits. The products work with 
...
Read more...
---
New range of Tektronix DSOs
30 June 2020, Comtest , Test & Measurement
Comtest has released Tektronix's new TBS2000B series of digital storage oscilloscopes (DSOs) that was developed to meet the performance, usability and affordability needs of both engineers and educators. 
...
Read more...
---
Contactless ESD testing and access control unit
30 June 2020, Actum Group , Test & Measurement
In the electronics manufacturing industry, an electrostatic discharge (ESD) can cause irreparable damage to electronic components. This micro-lightning bolt can burn holes through insulating layers and 
...
Read more...
---
How are IR cameras calibrated and how does ambient temperature affect readings?
30 June 2020, Instrotech , Test & Measurement
Infrared thermometers are calibrated with the help of reference radiation sources, so-called 'black bodies'. These radiant sources are able to produce different temperatures with a high stability.  
...
Read more...
---