printer friendly version
Compact industrial connectors
23 October 2019
Interconnection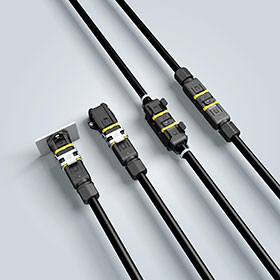 RS Components has extended its industrial connector portfolio with two new solutions from Harting, one of the world's leading providers of industrial connection technology, including the recently launched Han 1A connector.
The new Han 1A is a significantly smaller connector than the Han 3A, requiring 30% less space than the manufacturer's previous smallest rectangular industrial connector. The unit has been developed to meet the demand for smaller interfaces used with the latest power engineering equipment deployed in modern networks.
A key feature of the connector is its versatility, which enables the easy creation of simple interfaces. It has a system of modular inserts and is constructed from a lightweight and durable polyamide plastic, making it suitable for a wide range of applications. In addition, the Han 1A uses the simple 'click and mate' system and provides a solution for on-site installation with screw contacts or for the pre-assembly of separate units with crimp contacts.
The connector integrates contacts for data, power and signal transmission: it has modules available for Cat 5 or Cat 6A data transmission; it can handle a maximum of 16 A and 400 V; and has up to 12 D-sub contacts for signal interfaces. In addition, there is a shielded version for application environments that are susceptible to interference.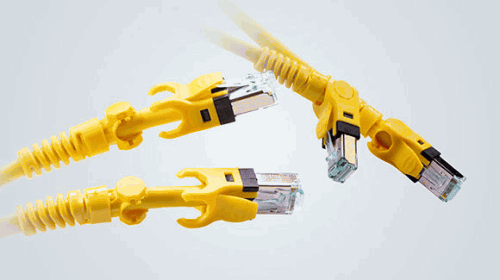 Overall, it provides an efficient solution for applications such as heating and cooling units, fans, control terminals, lighting systems, drives and vibration conveyors. It also meets the EN45545-2 standard for fire protection on railway vehicles, making it well suited for use on a variety of systems including door openers, lighting and screens.
Accessories are also available, such as fasteners for wall mounting or colour-coded pins to help in the identification of signal lines. The use of additional housing elements or single-wire seals can also extend protection up to IP65, making it suitable for use in outdoor environments.
The second new product available from RS is the Harting over-moulded VarioBoot RJ45 Cat 6A cable assembly for use with 1- to 10-Gbps networks. The low-height and compact VarioBoot introduces a high level of flexibility by controlling the angle and orientation of the RJ45 connector without interference or transmission loss, and enabling the ideal fit inside a control cabinet, for example. An engineer can make a short pull on the product's anti-kink sleeve and click the assembly in the desired direction, enabling the Cat 6A line to be routed along another path, for example.
Credit(s)
Further reading:
Circular connectors for power, signals and data
30 June 2020, TRX Electronics , Interconnection
Standardised circular connectors have become the industry standard across a wide range of applications. Customers can find the right option for their most innovative designs with Phoenix Contact's PLUSCON 
...
Read more...
---
EMI/RFI shielding cable ties
29 May 2020, Actum Electronics , Interconnection
BAND-IT EMI cable ties have been designed and manufactured to excel in mission-critical applications, such as Mil/Aero EMI/RFI (electromagnetic interference/RF interference), for the past 30 years.  
...
Read more...
---
How are end-launch PCB connectors useful?
29 April 2020, RF Design , Interconnection
There has been an increasing use of RF coaxial connectors, especially microwave and millimetre-wave coaxial connectors, for high-speed digital and precision sensing applications, There is also a growing 
...
Read more...
---
IP68 circular connectors
29 April 2020, IPD Electronics , Interconnection
Sure-Seal 7/8" IP68 connectors are designed for both signal and high-current applications. They are compatible with industrial mini-change connectors and are sealed to an IP68 rating. These 7/8" IP68 
...
Read more...
---
Micro-miniature circular connectors
29 April 2020, IPD Electronics , Interconnection
Available from local distributor IPD Electronics via its agreement with PEI-Genesis, Amphenol 2M series micro-miniature connectors are fully guaranteed to be intermateable with Glenair Mighty Mouse connectors. The 
...
Read more...
---
RF/microwave connectors for wide frequency ranges
29 May 2020, RFiber Solutions , Interconnection
Withwave, a supplier of versatile RF and microwave test solutions, offers a range of SMPM connectors covering 26,5 to 67 GHz. The connectors cover wide frequency ranges from RF to microwave with excellent 
...
Read more...
---
Cable assemblies for stable phase testing
30 June 2020, RFiber Solutions , Interconnection
The W-Test series from With-Wave is a complete line of high-precision cable assemblies, designed especially for stable phase testing. They are based on optimised microwave interconnection technologies. 
...
Read more...
---
High-density ZIF connectors
25 March 2020, IPD Electronics , Interconnection
Available from IPD Electronics through its distribution agreement with PEI-Genesis, ITT Cannon's DL connector family is a versatile, high-density zero insertion force (ZIF) connector series with up to 
...
Read more...
---
2 mm connectors for board signal transfers
29 April 2020, TRX Electronics , Interconnection
TE Connectivity is expanding its range of AMPMODU interconnection solutions with the introduction of 2 mm centreline board connectors. These new connectors occupy 38% less space than traditional 2,54 
...
Read more...
---
Tactile switches for demanding applications
29 April 2020, Brabek , Interconnection, Switches, Relays & Keypads
The Multimec switch from APEM has been designed with the intention to manufacture the best possible switch. The company's automatic production lines have 100% in-line testing, but before the parts get 
...
Read more...
---