South Africa
Saab has received an order to the value of R74 million for a new defence system that forms part of its euphemistically named 'softkill' platform. Developed and made at Saab Grintek Defence in Centurion, the LEDS-50 MK2 is designed to protect a vehicle and its crew by detecting the presence of latest-generation laser threats and automatically deploying countermeasures to avoid the vehicle being hit by the threat. (Softkill is a term for electronic countermeasures that alter the electromagnetic, acoustic or other signature(s) of a target, thereby altering the tracking and sensing behaviour of an incoming threat, e.g. guided missile. Source: Wikipedia.)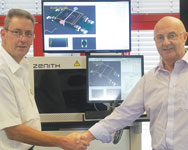 Harald Eppinger(left), joint managing director of Koh Young Europe, and Zalman Orlianski, managing director of Zetech, shake hands on their distribution agreement.
Koh Young Europe, a specialist producer of SMT inspection systems, has appointed Zetech as its exclusive South African distributor. At the heart of Koh Young's offerings are its 3D solder paste, automatic optical and semiconductor packaging inspection systems, which will serve as a natural complement to Zetech's established range of industrial equipment, software, materials and technical support.
Analog Devices has signed up EBV Elektronik to distribute its products throughout the EMEA region (except Russia, Ukraine and Israel). Due to come into effect on 3 November 2014, the deal will give EBV access to Analog Devices' complete product portfolio, including data converters, amplifiers, DSPs, MEMS, power management ICs, and an extended linear and RF/microwave portfolio.
Altron's interim results for the six months ended 31 August 2014 demonstrated a 6% revenue increase to R14,2 billion. This was driven primarily by its TMT division which grew revenue by 8% to reach the R10 billion mark, while the introduction of Altech Node smart home consoles – developed and manufactured by Altech UEC – is expected to have a positive impact on financial results in the upcoming period(s). Altron's headline earnings per share (HEPS) and normalised HEPS declined by 12% and 20% respectively.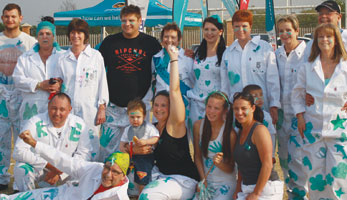 Technews Publishing employees and family members showed their active support for the fight against cancer by taking part in the CANSA Relay for Life in Pretoria on 20-21 September.
Overseas
Companies
Cobham announced that its acquisition of Aeroflex has been successfully completed following the receipt of regulatory and shareholder approvals. The transaction has an enterprise value of roughly $1,46 billion. Approximately 70% of Aeroflex's revenue is focused on commercial markets with exposure to wireless, space, microelectronics, industrial, energy and other sectors. This will increase the proportion of Cobham's commercial revenue from 35% to some 42% of the total, on a pro forma basis.
RF Micro Devices and TriQuint Semiconductor revealed that the holding company under which the companies will combine in a merger of equals will be named Qorvo. Shareholders of both companies voted to approve the merger last month, and the transaction is expected to close in the second half of 2014, following other required regulatory approvals and satisfaction of customary closing conditions.
Samtec, has acquired Teraspeed Consulting Group, a team of interconnect engineers who provide enabling technology and support in the design and implementation of high-performance systems. As 28 Gbps systems move into mainstream markets, with 40 and 56 Gbps soon to follow, Teraspeed has the expertise to guide customers through their complete product design, taking the concept of signal integrity optimisation beyond the connector and into the entire system.
Industry
Beecham Research has issued a warning to the Internet of Things (IoT) industry to beef up its security measures for the long term in order to protect people, possessions, businesses and national critical infrastructure from attacks on cyber-physical systems. Its assertion is that there are currently insufficient security capabilities within the emerging IoT standards to manage the long lifecycles expected of many IoT devices, some of which may be in the field for 10 years or longer. The firm suggests that devices must be securely managed over their entire lifecycle, to be reset if needed and to enable remote remediation to rebuild and extend security capabilities over time.
News outlet VietnamNet Bridge has reported that more than half a billion dollars US will be invested in Vietnam's semiconductor manufacturing sector over the coming years. This includes a $257,7 million investment from Saigon Semiconductor Technology Inc. for what will become the country's biggest IC manufacturing plant and which will aim to meet domestic demand, replace imported products and set the cornerstone for developing Vietnam's semiconductor industry. Meanwhile, Saigon Industry Corporation is involved in another, as yet unapproved, project to build an IC factory costing $311 million to provide 1,8 billion ICs worth a combined $90 million a year.
Worldwide sales of semiconductors reached $28,4 billion for the month of August 2014, an increase of 9,4% from the August 2013 total of $26 billion and an uptick of 1,3% over the July 2014 total of $28,1 billion. Released by the Semiconductor Industry Association, the figures also show that year-to-date sales through August were 10,1% higher than they were at the same point in 2013. Regionally, year-to-year sales increased in Asia Pacific (12,3%), Europe (10,9%) and the Americas (7%), but decreased slightly in Japan (-1,7%).