printer friendly version
Electronics news digest
8 April 2015
News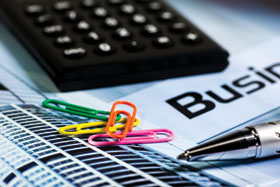 South Africa
• The CSIR showed off its technologies recently to technology-based companies, technology development partners, entrepreneurs, investors and financiers, at the inaugural Innovation Bridge Technology Showcase and Matchmaking event. The two-day exhibition, an initiative of the Department of Science and Technology (DST), incorporated market pitching sessions, plenary speaker sessions, seminars and panel discussions, and one-on-one meeting opportunities where visitors and participants could interact directly with researchers and technology developers.
• Denel has joined forces with local specialist company, GEW Technologies (owned by Airbus) to collaborate on future electronic warfare (EW) programmes. EW technology has been singled out in the 2014 Defence Review as a 'key technology domain' and a 'sovereign capability' which must be under the control of local South African companies.
• More delays are looming for South Africa's digital terrestrial television (DTT) migration programme. In addition to an impending review of Sentech's broadcasting regimes, among other issues, a turf war is reportedly taking place between the Department of Communications (DOC) and the Department of Telecommunications and Postal Services (DPTS) over control of the tendering process for manufacture of set-top boxes. This stems from the fact that, while DOC has been put in charge of the DTT migration process, the Universal Service and Access Agency of SA (USAASA) – which is responsible for the issuance of tenders, falls under the DTPS.
Overseas
Companies
• NXP Semiconductors announced that it will acquire Athena SCS, a provider of solutions securing the rapidly expanding connected world, for an undisclosed sum. The acquisition will further strengthen NXP's offering in providing secure solutions across a multitude of applications in the areas of Internet of Things (IoT), portable and wearables, and automotive.
• RS Components has further strengthened its portfolio of high-quality automation products with the announcement of a new global trading agreement with industrial connectivity specialist Weidmuller. The range of products covered satisfies interconnection needs across numerous industries such as manufacturing, process control, energy, transportation and more, for connecting power, signals and data. Products include DIN-mount relays, signal conditioning amplifiers, surge protectors, remote I/O modules and power connectors, as well as switches, converters, connectors and cable assemblies for industrial Ethernet. The range also includes sensor and actuator interfaces, modular terminal blocks, heavy-duty connectors, and device-level technologies such as PCB terminals, through-panel terminals and housings.
• The merger between Cypress Semiconductor and memory specialist Spansion has been completed in an all-stock, tax-free transaction valued at approximately $5 billion. The new and improved Cypress Semiconductor expects to become the automotive industry's leading supplier of SRAM and NOR Flash, and the third biggest automotive memory and micro-controller supplier overall. Controversially, the San Jose Mercury News reported that it obtained an internal memo indicating that the company is on the verge of laying off as many as 1600 personnel worldwide, amounting to 20% of the combined company's global workforce.
Industry
• Worldwide sales of semiconductors, according to figures released by the Semiconductor Industry Association, reached $28,5 billion for the month of January 2015, the industry's highest ever January total and an increase of 8,7% from January 2014 when sales were $26,3 billion. Regionally, year-to-year sales increased in the Americas (16,4%) and Asia Pacific (10,7%), but decreased in Europe (-0,2%) and Japan (-8%).
Technology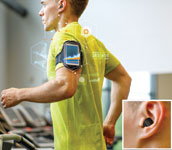 NFMI technology from NXP enables truly wireless earbuds.
• At this year's Mobile World Congress, NXP Semiconductors demonstrated near field magnetic induction (NFMI) technology in a truly wireless earbud including wireless audio streaming from ear to ear, using its new NxH2280 radio. Truly wireless earbuds would provide substantially increased user comfort for sport activities, but in general in all situations where wires are undesired and annoying to users. NFMI features important properties such as ultra-low power consumption and the ability to create a very reliable network in and around the human body, with both high-quality audio and data streaming supported over distances up to 1 metre.
• In an effort to position itself as the leader in gallium nitride (GaN)-on-silicon technology, Infineon Technologies has formed a partnership to take advantage of Panasonic's normally-off (enhancement mode) transistor technology. This is being integrated into Infineon's SMD packages (soon to begin sampling to selected customers), providing a highly efficient, easy-to-use 600 V GaN power device with the added benefit of dual sourcing. Also including new products based on a cascode configuration, Infineon's expanded offering will include dedicated driver and controller ICs which enable the topologies and higher frequencies that fully leverage the benefits of GaN, for applications such as switch mode power supplies in server, telecom, mobile power and consumer goods such as Class D Audio systems, as well as ultra-thin LED TVs.

Magnetic spin-waves in a solid.
Illustration: Christoph Hohmann / NIM.
• More than six years ago, physicists at the Technische Universität München discovered extremely stable magnetic vortex structures (called skyrmions) in a metallic alloy of manganese and silicon. Now, they have driven this technology further, together with theoretical physicists from the University of Cologne. Since skyrmions are microscopic and easy to move, computer components may need 10 000 times less electricity than today with this technology, and store much larger amounts of data. Recent research results show that their unique electromagnetic properties could also be used for the construction of efficient and very small microwave receivers and transmitters.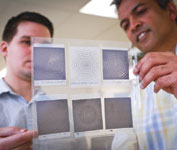 University of Utah's Andrew Paulsen and Ajay Nahata hold up a series of terahertz frequency filters made through a process they developed using an inkjet printer.
• University of Utah engineers have discovered a new approach for designing filters capable of separating different frequencies in the terahertz spectrum, the next generation of communications bandwidth that could allow cell phone users and Internet surfers to download data a thousand times faster than today. Once the filter is designed using MATLAB, it can be fabricated on a plastic sheet using an off-the-shelf inkjet printer with silver-metal ink similar to what is used for the production of circuit boards and tiny antennas. It might be another ten years before consumers are using Wi-Fi routers or cell phones with terahertz technology, but communications companies could use it for their network backbones much sooner.
• Micro-mirrors built on MEMS (micro electro-mechanical systems) technology from STMicroelectronics are being used in new 'perceptual computing' development initiatives at Intel. The tiny mirrors can move thousands of times per second to scan an infrared light beam, painting an invisible grid on objects in front of it. The light reflected back from the object is captured and analysed for 3D imaging and gesture applications. ST's MEMS expertise also enabled the development of the industry's smallest and slimmest projection engine, which fits into the screen of a laptop or tablet computer and offers an ultra-wide field of view.
Further reading:
Quectel masterclass: IoT device application development
iCorp Technologies News
Quectel has announced the latest masterclass in a series of technical webinars titled "Accelerate wireless IoT device application development with Azure RTOS on STM32 MCUs".
Read more...
---
ST announces status of common share repurchase programme
News
The repurchase programme took place over the period from 11 to 15 July 2022 and saw ST repurchasing 210 462 ordinary shares.
Read more...
---
Actum Group leads in the interconnect industry
Actum Electronics News
Actum Group is a specialist importer and distributor of industrial and electronic products in Southern Africa and a leader in the interconnect industry.
Read more...
---
From the editor's desk: Do we have the power?
Technews Publishing News
On a recent trip to Grahamstown in the Eastern Cape I was reminded, quite rudely and abruptly to be honest, of the load shedding that has plagued South Africa for the last few years. Living in KZN, we 
...
Read more...
---
Top five MPU suppliers strengthen market dominance
Editor's Choice News
The new ranking shows that long-time leader in microprocessor units, Intel, has moved downwards closer to half the total worldwide sales in microprocessors.
Read more...
---
New meta-lens revolutionises vacuum UV optics
News
A research team co-led by City University of Hong Kong have successfully developed a novel vacuum ultra-violet (VUV) meta-lens which can generate and focus the UV light.
Read more...
---
Electronics news digest
Technews Publishing Electronic News Digest News
The Semiconductor Industry Association (SIA) has announced global semiconductor industry sales were $51,8 billion in the month of May 2022, an increase of 18,0% over the May 2021 total of $43,9 billion 
...
Read more...
---
EVENTS
Events News
IFA Berlin
2-6 September Berlin, Germany This event aims to present the latest products and innovations in the commercial electronics industry. It will offer a comprehensive overview of the international 
...
Read more...
---
Going beyond with HONOR
MyKay Tronics Editor's Choice News
The tempo of business in China is lightning fast. But if you are responsive and go a step beyond, the rewards can be great. In just 15 days, Mycronic delivered 30 dispensing systems to HONOR.
Read more...
---
Global cellular IoT connections increase 22%
News
A new report says that the global number of cellular IoT subscribers increased by 22% during 2021 and that the number of cellular IoT devices will reach 4,3 billion by 2026.
Read more...
---