Instrotech recently announced the formation of a new test and measurement division, Test Instruments Africa (TIA). The division will specialise in the sale and distribution of test instruments from a number of different manufacturers to the southern African markets.
Justin Clarkson, a well respected and highly experienced professional in the South African power industry, will head up the new division. Clarkson previously managed the high-voltage division of a successful South African company, specialising in power cable diagnostics and fault location.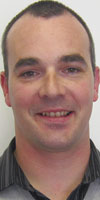 Justin Clarkson.
Paul Mason, CEO of Instrotech, says, "We are very excited about this new venture which will complement our existing business and enable us to offer our customers a wider range of solutions.
"Successful South African companies are seeing the benefits of applying defined maintenance management programmes in their business processes. To assist them in troubleshooting and extending the life of their plants and equipment, we are well positioned to offer them a wide range of quality instruments supported by high levels of pre- and post-sales service, as well as having qualified personnel capable of handling all types of technical and service enquiries.
"I am confident that Justin is just the man to drive and develop TIA for us throughout South and southern Africa".
For more information contact Test Instruments Africa, +27 (0)11 608 8541, justin.clarkson@instrotech.co.za, www.testinstrumentsafrica.com