AltX-listed Poynting Antennas, a company which designs, manufactures and sells cellular GSM and wireless data network product solutions, mini-GSM base stations, and defence and specialised antenna systems, has acquired Radiant Antennas.
The Defence and Specialised Division of Poynting services predominantly the ITU, SIGINT and EW antenna market whereas Radiant designs, manufactures and sells HF and V/UHF communication antennas and system solutions. Radiant also offers tactical mast solutions and some commercial products.
Managing director of Poynting Antennas, Juergen Dresel and general manager of Radiant Antennas, Graeme Davis had strategised and negotiated this deal for several months. "Both companies see significant strategic benefit in joining forces as the product lines will complement each other, yet the market which we serve is similar," said Dresel.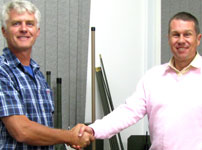 Juergen Dresel (right), managing director of Poynting Antennas and Graeme Davis, general manager of Radiant Antennas.
Further, Dresel says, "We are very pleased to welcome Graeme Davis as part of our Poynting team moving forward. Graeme is very respected in the local antenna market and has managed to attract key accounts with well known overseas radio manufacturers".
This is the second acquisition concluded by Poynting and is expected to help the company to further grow shareholder value. "Poynting's share price just recently hit its highest value since its listing in 2008, which provides favourable conditions to look for further acquisitions for the various divisions in the Poynting group," Dresel concluded.