printer friendly version
Electronics expo enjoys strong Cape début
29 May 2013
News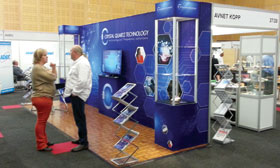 The electronic engineering community flocked to the Cape Town International Convention Centre in strong support of the National Electronics Western Cape exhibition on the 8th of May.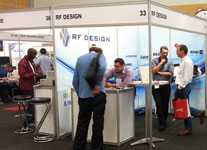 [Editor's note: Subsequent to this article going to print, some of the exhibitors I have spoken to have not been as positive about overall attendance figures as those I spoke to while at the show. It seems my impression of high attendance may have been skewed by the fact that I was at the show during the busiest part of the day, so take what you are about to read with a pinch of salt. It is, however, safe to say that the overall feeling was that attendance was 'better than expected'. You can also read the event organiser's report here.]
At the time of writing, attendance figures were not yet available from the organisers (NEW Events of the UK, in collaboration with ADEC) but there was certainly a lot more buzz than there was at last year's Johannesburg event, with a nearly constant stream of feet through the door (other than the usual late-afternoon slump) and representatives of the exhibiting companies kept busy attending to visitors.
It is hard to know whether the strong attendance is an indication of the rude health of the Western Cape electronic engineering scene, whether the region has been starved of such events to attend, or whether it is a sign of a groundswell of optimism in the South African electronic engineering industry at large (fingers crossed!) – hopefully the organisers' post-show report provides some insight.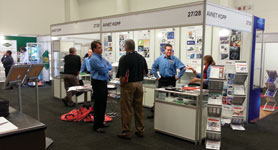 Over and above the assortment of products on display, some exhibitors had live technology demonstrations on their stands. These included Microchip's new BodyCom technology which uses the human body as a communication channel, and its GestIC 3D gesture recognition and tracking tech.
On Avnet Kopp's stand was a demo of a simulated home automation system running on Digi's ConnectCore for i.MX53 JumpStart Kit for Android, as well as a demo of a Texas Instruments motor control solution. Most conspicuous of all was a 'multicopter' flying around and taking HD photos, which I discovered to be the work of the folks at Cirtech – made using their own PCBs of course! Apologies if I have missed covering anybody's demo.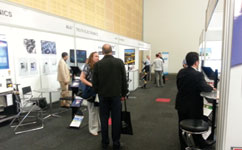 Run in conjunction with the expo was a series of generally well attended presentations such as Dennis Walden's (chairman of ADEC) 'The state of the art within the electronic components market in South Africa', Michael Nel's (Avnet Kopp) 'Fundamentals of LED lighting design', Manuel Colasse's (CEO of COLASSE SA) 'Integrated light engines and distributed light control systems', and Nechan Naicker (managing director of EDA Technologies) and Andy Liu's (sales director of NCAB Group) 'Choosing the most suitable surface finish for your PCB'.
I must stress that the following is all guesswork on my part and has in no way been hinted at by the organisers, but I think it is safe to say that the unanimous positive response of the exhibitors I spoke to means there will be another edition of the Western Cape show in the future – my guess would be one every second year, alternating with Johannesburg. Durbs, if you are good, who knows, you might even see one coming your way.
Credit(s)
Further reading:
From the editor's desk: Yes, it's that thing everyone's talking about
25 March 2020, Technews Publishing , News
Call me a pessimist, but I'm absolutely, 100% certain that I'm going to catch COVID-19 (or the 'novel coronavirus' if you prefer to call it that) – if I haven't done so already. At least the mortality 
...
Read more...
---
Electronics news digest
25 March 2020 , News
Overseas
Business
• ams reported record revenues and results for full year 2019, with revenues up 32% year-on-year, and fourth quarter revenues exceeding expectations with strong adjusted operating 
...
Read more...
---
XinaBox – Reaching for the stars
25 March 2020, RS Components (SA) , News
From collecting data in sub-zero Antarctica to rapid circuit prototyping on the International Space Station this South African company is reinventing the way we approach IoT while inspiring students to follow STEM careers.
Read more...
---
Electrocomp launches new website
25 March 2020, Electrocomp , News
Electrocomp is inviting visitors to explore its new website, which has been designed to offer a user-friendly experience with improved navigation and functionality while allowing customers to see their 
...
Read more...
---
Looking beyond radar, the car's virtual eye
25 March 2020, Altron Arrow , News
Faster, higher-resolution radar sensors have enabled the next generation of driver assistance technologies through improvements in vehicle safety and comfort in view.
Read more...
---
Disposing of e-waste in space
26 February 2020 , News
According to BBC, there are over half a million pieces of debris floating around the Earth's orbit. Most debris within the atmosphere are lost parts from space crafts, disused rocket stages or waste from 
...
Read more...
---
IPC revises five standards
26 February 2020 , News
IPC announced the release of five newly revised standards covering several areas of the supply chain:      
· IPC/WHMA-A-620D, Requirements and Acceptance for Cable and Wire Harness Assemblies. · IPC-2223E, 
...
Read more...
---
Testerion to represent ITW EAE in SA
26 February 2020, Testerion , News
ITW EAE announced a new extended partnership agreement with Testerion South Africa to represent and distribute all ITW EAE equipment including MPM printers, Camalot dispensers, Electrovert soldering systems, 
...
Read more...
---
Würth helps produce PCBs for ventilators
25 March 2020, Würth Elektronik eiSos , News
The worldwide spread of the coronavirus is not only increasing the demand for personal protective equipment, but also for medical ventilators. In order to ensure the supply in Germany, the German government 
...
Read more...
---
u-blox acquires Thingstream
25 March 2020 , News
u-blox has acquired IoT communication-as-a-service provider, Thingstream. Thingstream provides a comprehensive, end-to-end solution for global IoT connectivity using the industry standard MQTT protocol. 
...
Read more...
---