printer friendly version
Webb wins major contracts for in-building solutions
29 May 2013
News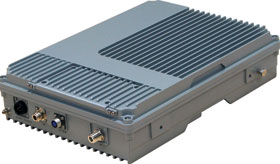 Webb Industries was recently awarded contracts from leading cellular operators for a range of in-building components for the distributed antenna systems (DAS) operations on their LTE networks.
Johannesburg-based Webb is a leading installer and supplier of DAS systems using mainly Comba components for in-building solutions at highly competitive prices.
Some of the Comba components that Webb supplies include:
* Wideband power splitters covering 698–2700 MHz with low loss, flat response and even output;
* Directional tap-off couplers covering 698–2700 MHz and featuring 200 W power capability, low loss and good PIM performance with 7/16 DIN or N-type connector;
* 10 W adjustable attenuators covering the frequency range of DC–3 GHz with attenuation values of 0–30 dB and boasting low insertion loss and VSWR;
* 3 dB wideband hybrid couplers which cover 698–2700 MHz at 200 W average power, with low insertion loss and VSWR, high isolation and good PIM performance;
* Indoor omnidirectional ceiling mount antennas covering 698–2700 MHz, featuring high gain of 4,0 dBi in GSM 1800 and UMTS bands, and camouflaged and aesthetic for internal use in both SISO and MIMO applications;
* Multi-operator combiners for CDMA2000, GSM900, GSM1800 and WCDMA services, with 10 W input power per port, inter-band isolation, low insertion loss and intermodulation;
* Multi-operator, multi-technology repeater solutions supporting a single system of up to three frequency bands, easily configured for optical fibre distributed applications by adding MU (master unit) and RU (remote unit). The MU can support up to four RUs by adding an additional optical module.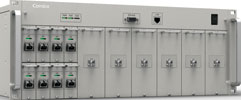 Some of the Comba components that Webb Industries supplies for in-building solutions.
The Comba LTE DAS solution has already been widely and successfully deployed in Hong Kong, Singapore and China.
Webb Industries, which was established in 1973, has grown into one of the largest suppliers of ancillary telecommunications equipment in the sub-Saharan region. Its in-building coverage solutions are already successfully in use at a number of shopping centres, offices, hospitals and guest houses around the country.
For more information contact Jacqui van Wyngaardt, Webb Industries, +27 (0)11 719 0000, jvanwyngaardt@webb.co.za, www.webb.co.za
Credit(s)
Further reading:
From the editor's desk: Yes, it's that thing everyone's talking about
25 March 2020, Technews Publishing , News
Call me a pessimist, but I'm absolutely, 100% certain that I'm going to catch COVID-19 (or the 'novel coronavirus' if you prefer to call it that) – if I haven't done so already. At least the mortality 
...
Read more...
---
Electronics news digest
25 March 2020 , News
Overseas
Business
• ams reported record revenues and results for full year 2019, with revenues up 32% year-on-year, and fourth quarter revenues exceeding expectations with strong adjusted operating 
...
Read more...
---
XinaBox – Reaching for the stars
25 March 2020, RS Components (SA) , News
From collecting data in sub-zero Antarctica to rapid circuit prototyping on the International Space Station this South African company is reinventing the way we approach IoT while inspiring students to follow STEM careers.
Read more...
---
Electrocomp launches new website
25 March 2020, Electrocomp , News
Electrocomp is inviting visitors to explore its new website, which has been designed to offer a user-friendly experience with improved navigation and functionality while allowing customers to see their 
...
Read more...
---
Looking beyond radar, the car's virtual eye
25 March 2020, Altron Arrow , News
Faster, higher-resolution radar sensors have enabled the next generation of driver assistance technologies through improvements in vehicle safety and comfort in view.
Read more...
---
Disposing of e-waste in space
26 February 2020 , News
According to BBC, there are over half a million pieces of debris floating around the Earth's orbit. Most debris within the atmosphere are lost parts from space crafts, disused rocket stages or waste from 
...
Read more...
---
IPC revises five standards
26 February 2020 , News
IPC announced the release of five newly revised standards covering several areas of the supply chain:      
· IPC/WHMA-A-620D, Requirements and Acceptance for Cable and Wire Harness Assemblies. · IPC-2223E, 
...
Read more...
---
Testerion to represent ITW EAE in SA
26 February 2020, Testerion , News
ITW EAE announced a new extended partnership agreement with Testerion South Africa to represent and distribute all ITW EAE equipment including MPM printers, Camalot dispensers, Electrovert soldering systems, 
...
Read more...
---
Würth helps produce PCBs for ventilators
25 March 2020, Würth Elektronik eiSos , News
The worldwide spread of the coronavirus is not only increasing the demand for personal protective equipment, but also for medical ventilators. In order to ensure the supply in Germany, the German government 
...
Read more...
---
u-blox acquires Thingstream
25 March 2020 , News
u-blox has acquired IoT communication-as-a-service provider, Thingstream. Thingstream provides a comprehensive, end-to-end solution for global IoT connectivity using the industry standard MQTT protocol. 
...
Read more...
---