printer friendly version
The true cost of manufacturing in South Africa
7 August 2013
News
I have often been asked what gets me up in the mornings and what makes me want to run for the hills with respect to owning and running my own business. There are many more happy and positive things that get me up everyday than issues that get me down but today I wanted to share some of the challenges that we face on a daily basis.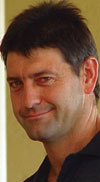 Mike Goodyer.
I once had a dear sweet old grandmother who by God's will and grace lived to be almost 95. In her later years she resided in a Catholic-run old age home where she was well cared for until her last days. Shortly before she died, the senior sister had one day gone to the chapel and heard a faint crying.
She found my gran seated at the back of the chapel and when asked what was wrong, my dear old gran replied in tears, "I am afraid that God has forgotten me here." I relate to this story as I very often stand facing my daily challenges and I ask the same question: has the SA government forgotten about us? Almost everything that is out of my control seems to be stacked against us.
I have always felt that any manufacturing done in any country is of utmost importance to that country's economy and for the provision of jobs; and I include the mining sector in that rather broad statement of course. I believe that any business manufacturing products that could be imported should be protected and nurtured wherever naturally possible.
Currently my feeling is we are being helped by the right hand but slapped on the head by the left hand. The imposing of a 20%+ tariff on imported fully assembled PCBs for TVs and STBs has had a dramatic effect on my business and allowed us to both employ more staff and reinvest in modern state-of-the-art assembly machines.
However, tariff protection while it lasts is great for local manufacturers but is a false and non-sustainable system that ends up costing the man in the street money. How great would it be to compete head to head with the rest of the world and come out on top so that we do not need tariff protection, we simply compete based on improved productivity and lower actual costs?
Alas, the left hand dictates how we must run our business and constantly forces us to incur costs making it nearly impossible to compete head-on.
The challenges we face include: erratic and at times unavailable power (as we have upgraded our plant we need more power and simply cannot get it); biased labour laws and dealing with the likes of Numsa (National Union of Metalworkers of South Africa) has made us very reluctant to keep employing people freely and as required; illogical tariff codes on certain raw materials remain a challenge; and of course the final stumbling block for my business currently is the challenges that the new BEE codes present.
I do not want to harp on about BEE as it is already a contentious and highly politicised issue, but I have to say that it is being extremely thoroughly implemented and is making it nearly impossible to run the business without being compliant. This is despite the fact that Microtronix employs close to 300 people, we are manufacturing in a high-tech sector competing well against Chinese costs, and we have a strong management team made up of black, white and Indian people chosen for their skills and not skin colour.
We have implemented a strong training programme where 20 young matric leavers have been trained up and are now valuable members of our staff. We have funded a small startup company with a black shareholder for our 'allocated points' and literally ticked every possible box, yet we still cannot reach a high enough score to target any government tender successfully.
Is our government honestly going to exclude my 300 employees the opportunity for a stable and secure future and a job because the company's owner is white? It is a pretty hard concept to swallow considering my first task having left school was to vote in the first free and fair elections in SA with the same equal opportunities afforded every South African after the fall of apartheid.
I had to smile at the irony the other day when applying for funding from our bankers for additional equipment that will provide about 30 additional jobs: I was asked for my BEE certificate as it would have a bearing on us getting the loan...
I sometimes feel that the very system we are supporting is trying its best to make it as difficult to succeed as possible. I do not agree with the weighting of the BEE system, as there are zero credits for employing people. Is unemployment that low on the scale?
I look at what many South Africans are doing and feel it may be easier to team up with a few of my senior black and Indian management team, obtain a good BEE level and simply start importing from China like everyone else. Local content is beginning to play a role but without a Level 3 score you cannot even get in the door.
Over and above all these challenges, my greatest by far was the Numsa strike and the subsequent engagement with this organisation. The true cost of industrial action is not the loss of income, it is not the loss of productivity, it is not the loss of wages, it is not even the damage done to property as all of this can be rectified, rebuilt, fixed and money can be made again.
No, the true cost is the damage done to the relationship between the staff and management. It is the emotional damage done to the leader of the pack; a strike is like a vote of no confidence from your staff. They place their trust in an organisation that gives empty promises and unsustainable expectations and abandon the trust of the person who has employed them for the past 20 years.
How can one bravely fight on, remain motivated and tackle the challenges everyday when the people you lead and rely on tell you they are not happy and engage in industrial action? This has been my most challenging task to overcome: after the emotional damage done by the Numsa strike two years ago, to remain positive and upbeat about our future as a company and a country.
These challenges are stated from a personal level and generally the happy working disposition of our staff has returned. Currently Microtronix is in great shape with a full order book, greatly improved quantity levels across the board and another high-volume production line on the way. Those are the positive things that get me up each day and drive me to succeed against all odds, but more on that next time I am afforded the privilege of your time to share my humble views.
For more information contact Mike Goodyer, Microtronix, +27 (0)11 792 5322, mike@microtronix.co.za, www.microtronix.co.za
Credit(s)
Further reading:
Plan your media strategy with Technews Publishing
23 October 2019, Technews Publishing , News
Dear Marketer, Have you ever looked back on a year and wondered how you survived it? For the majority of South Africans, 2019 started benignly enough, cosily wrapped in the blanket of Ramaphoria that 
...
Read more...
---
From the editor's desk: Getting charged up for the new year
25 November 2019, Technews Publishing , News
The Springboks' Rugby World Cup triumph in Japan couldn't have come at a better time for South Africa, as the country was in desperate need of a jolt of positive energy going into the festive season. 
...
Read more...
---
Battery Technologies Conference 2019
25 November 2019 , News, Editor's Choice
Batteries are a critical enabler of the Fourth Industrial Revolution, powering technology in products from laptops and handheld devices to electric vehicles and renewable energy storage.
Read more...
---
Boom, doom and gloom, or something completely different?
25 November 2019, Technews Publishing , News, Editor's Choice
As the end of 2019 looms, it's time to look ahead to what next year might have in store, and reflect on the year gone by. And what a year it's been.
Read more...
---
Actum Group remains resilient and optimistic for 2020
25 November 2019, Actum Electronics , News
Running a profitable business in South Africa is not for the fainthearted. With the national treasury downgrading this year's growth forecast from 1,5% to 0,5%, and state-owned entities like Eskom negotiating 
...
Read more...
---
Additional renewable energy development zones proposed
25 November 2019 , News
The second phase of the Strategic Environmental Assessment (SEA) for wind and solar photovoltaic (PV) energy in South Africa proposes three additional Renewable Energy Development Zones (REDZs) for wind 
...
Read more...
---
Locally developed electronic circuit builder for students
25 November 2019, K Measure , News, Editor's Choice
K Measure, creator of the award-winning Seebox engineering education solution, has created a new innovation to enable quick and easy electronic circuit-building. The SeeBlocks electronic circuit creator 
...
Read more...
---
Clearing the Static:Topic 9: Time to audit your ESD environment
25 November 2019, Actum Electronics , News
Now that we are nearing the end of the year, it is a good time to audit your existing static control products and procedures. The first line of defence should be your antistatic floor, since this is the 
...
Read more...
---
Winning hackathon entry curbs cell tower battery theft
25 November 2019 , News
The fourth annual TADHackJHB was held at MTN's head office in Fairland, Johannesburg, on 12 and 13 October, with a cell tower protection app emerging as the winner. The theme for the 2019 global TADHack 
...
Read more...
---
Products of the Year 2019
25 November 2019 , News
SmartServer IoT by Adesto
BAW-based chips for comms infrastructure
Cellular modules for LPWA applications
SoCs and software for smart home and IIoT
Secure element for IoT authentication
MPU for embedded 
...
Read more...
---