printer friendly version
Electronics news digest
22 March 2017
News
Overseas
Business
• For the first quarter of its fiscal year 2017, Analog Devices announced revenue totalling $984 million, down 2% sequentially but up 28% year-over-year. Revenue in its B2B markets of industrial, automotive and communications infrastructure totalled $714 million, up 1% sequentially and up 11% year-over-year. Diluted earnings per share (EPS) were $0,69, based on net income of $217,1 million.
• ARM reported fourth quarter 2016 revenues of £402 million, compared to £266 million for the previous quarter, and EBITDA of £234 million. The split of the total revenue was £169 million for licensing, £210 million in royalties, and £23 million for software and services.
• Revenue for Sierra Wireless's financial year 2016 was $615,6 million, an increase of 1,3% compared to 2015. Revenue from OEM solutions was $516,5 million, from enterprise solutions was $71,5 million, and from cloud and connectivity services was $27,6 million. Net earnings were $15,4 million, or $0,48 per share, in 2016, compared to a net loss of $2,7 million, or $0,08 per share, in 2015.
Industry
• Samsung Electronics and Apple remained the top two semiconductor chip buyers in 2016, representing 18,2% of the total worldwide market, according to Gartner's research (see accompanying table). Together, the two companies consumed $61,7 billion of semiconductors in 2016, an increase of $0,4 billion from 2015. The top 10 now consists of four companies from the US, three from China, two from South Korea and one from Japan. This is the first time that three Chinese companies have ranked in the top 10, proving that even with the slowing macroeconomic situation in China, the importance of the Chinese electronics market is increasing.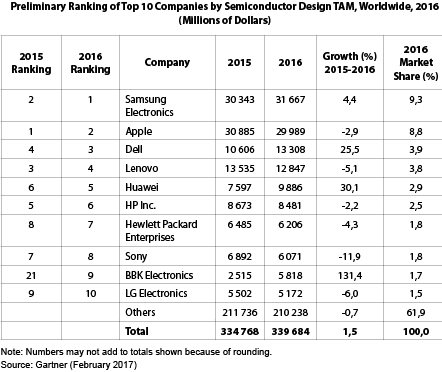 • The Semiconductor Industry Association (SIA) announced worldwide sales of semiconductors reached $30,6 billion for the month of January 2017, an increase of 13,9% compared to the January 2016 total. Global sales in January were 1,2% lower than the December 2016 total of $31,0 billion, reflecting normal seasonal market trends. January marked the global market's largest year-to-year growth since November 2010. Year-to-year sales increased substantially across all regions: China (20,5%), the Americas (13,3%), Japan (12,3%), Asia Pacific/All Other (11,0%), and Europe (4,8%).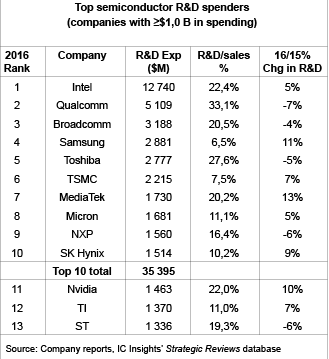 • Intel continued to top all other chip companies in R&D expenditures in 2016 with spending that reached $12,7 billion and represented 22,4% of its semiconductor sales last year. Intel accounted for 36% of the top-10 R&D spending and about 23% of the $56,5 billion total worldwide semiconductor R&D expenditures in 2016, according to IC Insights. The accompanying table shows the research firm's ranking of the top semiconductor R&D spenders based on semiconductor manufacturers and fabless suppliers with $1 billion or more spent on R&D in 2016.
• Taiwanese foundry giant TSMC has joined the Semiconductor Research Corporation (SRC) and will participate in its $300 million NST research project focused on co-optimised hardware/software solutions for high performance, energy efficient microelectronics, which will launch on January 1, 2018. The Global Research Collaboration (GRC) programme consists of eleven research thrusts that span a wide array of research topics such as analog/mixed-signal, packaging, logic and memory devices, and nano-manufacturing materials and processes.
Companies
• Kemet has signed a definitive agreement and is targeting a closing date on or about April 10, 2017 to complete the acquisition of NEC Tokin from NEC. Upon closing, NEC Tokin will change its name to Tokin Corporation and become a wholly-owned subsidiary of Kemet. Under the terms of the stock purchase agreement, Kemet will pay to NEC an amount of approximately $52,5 million, plus a portion from the sale of NEC Tokin's electromechanical devices (EMD) business. NEC Tokin will also use a portion of the net cash proceeds from the $422 million sale of the EMD business to repay its debt to NEC, which is currently $222,4 million.
• Analog Devices has selected Arrow Electronics as its strategic distribution channel partner operating globally. It will retain its current regional distributor network but will employ Arrow as its sole global distribution channel partner. The company says the move is aimed at enabling a deeper level of support and greater breadth of services for its customers, who under this new and simplified structure will have the ability to leverage a strong, focused channel team, and draw on a comprehensive suite of end-to-end support services ranging from design and prototyping to logistics support.
Technology

• Princeton University researchers have drastically shrunk the equipment required to produce terahertz (THz) waves, from a tabletop setup with lasers and mirrors to a pair of microchips small enough to fit on a fingertip. When terahertz waves interact with a metal structure inside the chip, they create a complex distribution of electromagnetic fields that are unique to the incident signal. Typically, these subtle fields are ignored, but the researchers realised they could read the patterns as a sort of signature to identify the waves. The entire process can be accomplished with tiny devices inside the microchip that read terahertz waves. Potential areas of application for the technology include medical imaging, communications and drug development.
Further reading:
Obituary: Steven James Meyer
January 1957 - January 2022
Technews Publishing News
It is with deep sadness and shock that we announce the sudden death of SA Instrumentation & Control Editor, Steven Meyer. Steven joined Technews in October 2007 in the position of Deputy Editor. His 
...
Read more...
---
ICASA doles out provisional RF spectrum
News
The Independent Communications Authority of South Africa (ICASA) has concluded its analysis of applications for provisional assignment of radio frequency spectrum under the new ICT Covid-19 National State 
...
Read more...
---
productronica's hybrid format a success despite restrictions
News
Following its tried and trusted biennial scheduling, productronica 2021 was held on the fairgrounds of Messe München on 16-19 November. Strict hygiene rules were observed in accordance with Covid-19 protocols, 
...
Read more...
---
Report evaluates market for Li-ion battery recycling
News
In the past, the lack of end-of-life batteries meant that the Li-ion (lithium-ion) recycling market had little opportunity to prosper. The transition to electric vehicles (EVs) is changing this. Recycling 
...
Read more...
---
RFID market research explores 2021 and what to expect for the future
News
Despite a 5% drop in the global RFID market in 2020 compared to 2019 due to the impact of Covid-19, the market has recovered well in 2021. According to the newly released RFID market research report from 
...
Read more...
---
SABS launches local content verification scheme
News
A new certification and grading scheme launched by the South African Bureau of Standards (SABS) intends to harmonise local content and local production for producers and manufacturers, levelling the playing 
...
Read more...
---
DesignSpark to host new activist engineering programme
RS Components (SA) News
RS Components has launched its DesignSpark #ActivistEngineering programme, further strengthening the company's commitment to engage and inspire design engineers across the globe to 'make amazing happen 
...
Read more...
---
October semiconductor sales up 24% over 2020
News
Global sales of semiconductors were $48,8 billion in October 2021, an increase of 24,0% from the October 2020 total of $39,4 billion and 1,1% more than the September 2021 total of $48,3 billion. Announced 
...
Read more...
---
CSIR Learning Factory supports skills development and innovation in 4IR
News
The CSIR has established a Learning Factory to support South African industries in acquiring the skills needed to maximise the benefits of the Fourth Industrial Revolution (4IR). The first online course 
...
Read more...
---
Samsung breakthrough demos in-memory computing using MRAM
News
A research breakthrough by Samsung Electronics has resulted in the world's first in-memory computing based on MRAM (magnetoresistive random access memory). The research demonstrates Samsung's advanced 
...
Read more...
---