printer friendly version
Digital laser invented at CSIR
23 October 2013
News
Researchers at South Africa's Council for Scientific and Industrial Research (CSIR) have claimed another world first with the development of a digital laser that is seen as a milestone in laser technology that could spur future laser-related innovations.
In an article published in the prestigious journal Nature Communications, the research team effectively demonstrated that laser beams can be digitally controlled from within a laser device. The work was done in the mathematical optics group at the CSIR National Laser Centre. The team was led by Prof Andrew Forbes, chief scientist and research group leader, supported by post-doctoral fellow, Dr Igor Litvin, and doctoral students, Sandile Ngcobo and Liesl Burger. Ngcobo performed the breakthrough experimental work as part of his PhD studies.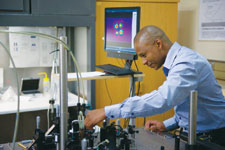 Sandile Ngcobo with the digital laser experimental setup.
Laser devices normally consist of mirrors, light and a casing containing a medium, for example crystal or glass. The medium changes the frequency of the light to create a laser beam with the desired characteristics for the application at hand, whether it be a laser lighting display, a laser printer, DVD player, barcode scanner, surgical device or equipment to cut and weld industrial materials in factories..
In conventional lasers, the shape of the light that comes out is either not controlled at all, or a single shape is selected by expensive optics. For example, when a medical doctor undertakes surgery, the beam must be appropriate for precision cutting.
Alternatively, the laser light can be shaped after exiting the laser using a spatial light modulator – a liquid crystal display (LCD) that can be digitally addressed with greyscale images representing the desired change to the light. The CSIR team has demonstrated for the first time that this can all be done inside the laser.
Forbes explains that the CSIR's digital laser uses the LCD as one of its mirrors that is fitted at one end of the laser cavity. "Just as with LCD televisions, the LCD inside the laser can be sent pictures to display," he says. "When the pictures change on the LCD inside, the properties of the laser beams that exit the device change accordingly."
The researchers have shown that this allows a purely digital control of what comes out of the laser in real time, hence the name 'digital laser'. "We showed that by sending an appropriate picture to the LCD, any desired laser beam could be created inside the laser device. This is a significant advancement from the traditional approach to laser beam control, which requires costly optics and realignment of the laser device for every beam change. Since this is all done with pictures, the digital laser represents a paradigm shift for laser resonators," claims Forbes.
In a groundbreaking experiment at the CSIR's laboratories in Pretoria, the team programmed the LCD to play a video of a selection of images representing a variety of desired laser modes. The result was that the laser output changed in real time from one mode shape to another.
The research team believes that dynamic control of laser modes could open up many future applications, from communications to medicine, and in fact represents a new way of thinking about laser technology and a new platform on which future technologies may be built.
Further reading:
From the editor's desk: Are electromagnetic waves culpable in making us sick?
30 June 2020, Technews Publishing , News
When I started writing my column for this issue, I was determined to come up with a topic and a way to avoid mentioning the 'C' word. I came close – you will only find 'COVID-19' mentioned once or twice 
...
Read more...
---
To fake or not to fake
30 June 2020 , News
Prof. Johan Meyer explores the complex and controversial topic of the potential link between the global rollout of 5G networks and the COVID-19 pandemic.
Read more...
---
Clearing the Static: Curb the spread of COVID-19 with stringent floor hygiene
30 June 2020, Actum Electronics , News
According to the World Health Organisation (WHO), COVID-19 is primarily transmitted from person to person through respiratory droplets that emerge from the nose and mouth when an infected person speaks, 
...
Read more...
---
Personality profile: Warren Mande
30 June 2020, Altron Arrow , News
"It is said that "culture eats strategy for breakfast". Look to join companies whose culture fits your personal belief system."
Read more...
---
Not the end, but a journey
30 June 2020, ExecuKit , News
ExecuKit's Renita Fleischer and Elizna Classen offer local companies a route to help them navigate their way through what has become the 'new normal.'
Read more...
---
Elmatica CEO to vice chair IPC cybersecurity task group
30 June 2020, Elmatica , News
Didrik Bech, CEO of printed circuit broker Elmatica, has been appointed to serve as vice chair for IPC's new cybersecurity task group. The 2-12c Task Group leadership is a representation of IPC as an 
...
Read more...
---
From the editor's desk: Making and sending things to space
29 May 2020, Technews Publishing , News
In this issue, one of the topics we are featuring is the aerospace and military/defence sector. The feature includes an analysis of what it takes to successfully design and manufacture products in this 
...
Read more...
---
Electronics news digest
29 May 2020, Technews Publishing , News
South Africa
• Acting minister of communications and digital technologies, Jackson Mthembu, joined the world in observing World Telecommunication and Information Society Day (WTISD). Proclaimed by the 
...
Read more...
---
Personality profile: David Power
29 May 2020, Cadshop , News
"Aspire to work for a company that you admire, and for a boss that you want to serve, that shares your passion and motivation."
Read more...
---
Designing for military and defence applications
29 May 2020, Omnigo, Kreon Technology , News
No business can stand on its own without strong partnerships and stakeholder relationships. In this regard the military and defence industry is no exception.
Read more...
---