printer friendly version
Poynting develops subterranean cellular base-station
29 January 2014
News
Poynting has succeeded in developing an innovative subterranean cellular base-station solution for Africa, the Sub-T, at what it claims is a tenth of the size and cost of traditional base-stations. The innovation was recently recognised with second prize at the AfricaCom 2013 awards for 'Best Connectivity Solution for Africa.'
It is predicted that between 2013 and 2017, consumers' mobile traffic needs will grow roughly 80% per year. The 'big data' revolution worldwide also calls for a solution that is easily deployable. According to Poynting CEO, Andre Fourie, around 10 times more base-stations are required even to service current users in Africa. "While one base-station may serve 1000 active voice users, it may be insufficient for 100 active data users as data usage has no limits.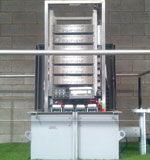 Demo unit showing the Sub-T's insides.
"Cost versus return constraints of traditional base-stations makes expansion in this way commercially impossible and increasing the amount of traditional cellular base-stations is not necessarily a viable option," he continues. "They take up too much space, usually 40 m², are quite expensive and they are not secure against cable and battery theft. Another challenge is to find sites for such proliferation in most urban areas.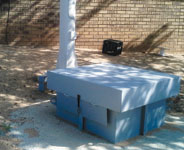 The Sub-T buried in the ground next to an antenna mast.
With 80% of the Sub-T buried underground next to a streetlight-pole like mast, Fourie believes the solution gives African operators a viable alternative to expand connectivity and deploy more base-stations, at a lower cost, with less power requirements, a smaller footprint of roughly 4 m² and inherent security. The system's integrated tri-sector antenna makes it possible to install the base station practically anywhere, including street corners, private properties and parks.
Fourie says careful consideration was given to the total cost of ownership: "In addition to facilitating easy deployment, a smaller solution that allows streetlight poles or flag poles to be used as base-stations reduces costs. Additionally we realised that the product needs to be secure against theft, energy efficient, employ natural geo-thermal cooling, present a small footprint, and be adaptable to different equipment and requirements found in Africa."
Security is a major issue in Africa and further adds to the cost burden. To this end, the Sub-T has all cables ducted from the subterranean enclosure into the pole that houses the antenna with no visible cables or batteries, making it vandal-proof and ensuring uninterrupted connectivity. Its lid construction has unique features making locks inaccessible to bolt cutters and the batteries are stored at the bottom of the buried steel-and-concrete-clad enclosure, making access to these extremely difficult.
Poynting currently has Sub-Ts operating in Oudtshoorn and Polokwane, proving successful in demanding African conditions. To date, 19 base stations have been rolled out by MTN in the Eastern Cape, creating connectivity in previously unconnected areas.
"Flexibility is a necessity for all network service providers as all have different equipment requirements, backup power and other specific needs," says Fourie. Poynting is catering for the needs of two operators in South Africa and one in Zimbabwe. Concept proposals, including diesel generator options, are underway for other African operators.
Credit(s)
Further reading:
Buy a Fluke, get one free
28 October 2020, Comtest , News
Comtest, Fluke's official South African importer, is offering one free Fluke for every Fluke purchased from any South African-based, authorised Fluke dealer. Fluke is a world leader in the manufacture, 
...
Read more...
---
Online Ohm's law calculator from Mouser
28 October 2020 , News
The famous Ohm's law states that the current flowing through a circuit is proportional to the voltage applied across both points. Mouser Electronics' online Ohm's law calculator saves engineers time by 
...
Read more...
---
Clearing the Static
28 October 2020, Actum Group , News
ESD training and compliance
According to Desco Industries, electrostatic discharge (ESD) can change the electrical characteristics of a semiconductor device, degrading or destroying it entirely. ESD 
...
Read more...
---
Coalition calls on European Commission to postpone SCIP deadline
30 September 2020 , News
A coalition of 40 industry organisations has written a letter to European Commission President Ursula von der Leyen calling for decisive action to solve implementation issues within the EU Waste Framework 
...
Read more...
---
Follow this engineering journey of a 3D-printed boat
30 September 2020, RS Components (SA) , News
RS Components is releasing a 10-episode documentary series – titled SeaQuest – featuring members of its DesignSpark engineering community who embarked on a first-of-its-kind challenge to design, test 
...
Read more...
---
Mouser revamps technical resource centre
30 September 2020, TRX Electronics , News
Mouser Electronics has redesigned its Technical Resource Centre, which contains the global distributor's ever-expanding collection of technical articles, blogs, eBooks, and Methods technology and solutions 
...
Read more...
---
From the editor's desk: Electric and autonomous vehicles driving full-speed ahead
28 October 2020, Technews Publishing , News
I still can't stop myself from doing a double-take when I hear that Tesla is rolling out a software update to add some sort of new functionality to its cars. Some of those updates are pointless show-off 
...
Read more...
---
Electronics news digest
28 October 2020 , News
South Africa
• The Department of Defence (DoD) has appointed a special team, called 'Save Denel' to investigate Denel's financial struggles, and the impact they might have on SA National Defence Force 
...
Read more...
---
Clearing the Static
28 October 2020, Actum Group , News
The Importance of ESD audits
An ESD audit is the first step in establishing an effective static control programme. Before you invest money in new ESD equipment, an ESD audit will help you identify vulnerable 
...
Read more...
---
TRX welcomes Hannes Taute as new MD
28 October 2020, TRX Electronics , Editor's Choice, News
We delve into his background, what his plans for TRX Electronics are, and how he envisions what the future of the local electronics industry will look like.
Read more...
---