printer friendly version
Innovative security system developed locally
29 January 2014
News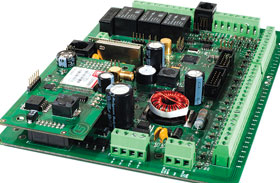 Local electronics developer and manufacturer, Cellsecure Interactive Management Solutions, has developed a security system that it believes not only represents an innovation in the South African market, but is also a world first.
The Cellsecure Miter, which will be available from July, incorporates elements consisting of an intrusion detection panel, built-in power supply, multiple wired and wireless peripherals, LCD keypads, a SBC (single board computer) with Microsoft Windows operating system, up to eight IP CCTV cameras, up to five microphones and full two-way voice communications. According to the company, this solution surpasses any existing alarm intrusion panel and provides the user with full remote control of all elements.
The desire to design and develop a new panel came about when the company decided to upgrade its proven E12 range of intrusion detection alarm panels. New alternate or secondary communications to support primary GSM SMS/GPRS signalling consists of MMS, TCP IP, DTMF, RF and GPS communications.
Whereas a standard alarm intrusion system normally sends an alarm condition to a monitoring control room via an RF transmitter or DTMF telephone dialler, which in turn dispatches a vehicle to investigate, the Miter operates in a far more dynamic way, whereby any activation or trigger of a wired or wireless peripheral results in customisable, simultaneous signals being transmitted to a monitoring control room as well as up to five mobile phones.
The trigger also activates up to eight IP cameras which record (over a pre-determined time) and transfer footage to the camera's SD card as well as to the Cellsecure remote server. Up to 100 authorised mobile phone users are able to retrieve the footage either as single shot stills or video clips. The user may activate the cameras via Android, iPhone or PC with modem for continual video streaming.
In addition to viewing, the user is also able to listen in via the microphones and to make voice calls via built-in speakers. Incorporating the SBC allows the system to be used as a full BMS (building management system), while onboard relays provide the facility to remotely activate electrical appliances such as internal/external lights, air conditioners, sliding gates, electronic door locks, smoke cloaks etc.
The system's onboard RF receiver accommodates local and international frequencies. Dual SIM cards with tri- or quad- band GSM engines are supported, and GSM and RF jamming detection are provided, with notification via alternate communication mediums.
For more information contact Allen Hepburn, Cellsecure Interactive Management Solutions, +27 (0)12 644 1285, allen@cellsecuregroup.com
Further reading:
Buy a Fluke, get one free
28 October 2020, Comtest , News
Comtest, Fluke's official South African importer, is offering one free Fluke for every Fluke purchased from any South African-based, authorised Fluke dealer. Fluke is a world leader in the manufacture, 
...
Read more...
---
Online Ohm's law calculator from Mouser
28 October 2020 , News
The famous Ohm's law states that the current flowing through a circuit is proportional to the voltage applied across both points. Mouser Electronics' online Ohm's law calculator saves engineers time by 
...
Read more...
---
Clearing the Static
28 October 2020, Actum Group , News
ESD training and compliance
According to Desco Industries, electrostatic discharge (ESD) can change the electrical characteristics of a semiconductor device, degrading or destroying it entirely. ESD 
...
Read more...
---
Coalition calls on European Commission to postpone SCIP deadline
30 September 2020 , News
A coalition of 40 industry organisations has written a letter to European Commission President Ursula von der Leyen calling for decisive action to solve implementation issues within the EU Waste Framework 
...
Read more...
---
Follow this engineering journey of a 3D-printed boat
30 September 2020, RS Components (SA) , News
RS Components is releasing a 10-episode documentary series – titled SeaQuest – featuring members of its DesignSpark engineering community who embarked on a first-of-its-kind challenge to design, test 
...
Read more...
---
Mouser revamps technical resource centre
30 September 2020, TRX Electronics , News
Mouser Electronics has redesigned its Technical Resource Centre, which contains the global distributor's ever-expanding collection of technical articles, blogs, eBooks, and Methods technology and solutions 
...
Read more...
---
From the editor's desk: Electric and autonomous vehicles driving full-speed ahead
28 October 2020, Technews Publishing , News
I still can't stop myself from doing a double-take when I hear that Tesla is rolling out a software update to add some sort of new functionality to its cars. Some of those updates are pointless show-off 
...
Read more...
---
Electronics news digest
28 October 2020 , News
South Africa
• The Department of Defence (DoD) has appointed a special team, called 'Save Denel' to investigate Denel's financial struggles, and the impact they might have on SA National Defence Force 
...
Read more...
---
Clearing the Static
28 October 2020, Actum Group , News
The Importance of ESD audits
An ESD audit is the first step in establishing an effective static control programme. Before you invest money in new ESD equipment, an ESD audit will help you identify vulnerable 
...
Read more...
---
TRX welcomes Hannes Taute as new MD
28 October 2020, TRX Electronics , Editor's Choice, News
We delve into his background, what his plans for TRX Electronics are, and how he envisions what the future of the local electronics industry will look like.
Read more...
---