printer friendly version
Inkjet printers can print electrical circuits, too
29 January 2014
News
A method has been developed to make electrical circuits cheaply and quickly by printing them with commodity inkjet printers and off-the-shelf materials. According to the researchers from Georgia Tech, the University of Tokyo and Microsoft Research, this technique can produce working electrical circuits in the 60 seconds it takes to print them and for just $300 in equipment costs.
The technique, which has been dubbed 'instant inkjet circuits', allows the printing of arbitrary-shaped conductors onto rigid or flexible materials, and could speed prototyping of relatively basic circuits.

A single-sided wiring pattern for an Arduino microcontroller printed on a transparent sheet of coated PET film.
Recent advances in chemically bonding metal particles allowed the researchers to use silver nanoparticle ink to print the circuits and avoid thermal bonding, or sintering, a time consuming and potentially damaging technique due to the heat. The research showed that printing the circuits on resin-coated paper, PET film and glossy photo paper worked best, while materials such as canvas cloths and magnet sheets are best avoided.
"Everything we introduced in our research is available in the market and makes it possible for people to try this at home," said Yoshihiro Kawahara, associate professor at the University of Tokyo and the primary investigator who developed the methodology while in Atlanta. "The method can be used to print circuit boards, sensors and antennas with little cost, and it opens up many new opportunities."
To make the technique possible, researchers optimised commercially available tools and materials including printers, adhesive tape and the silver ink.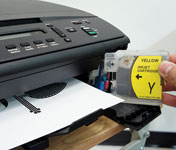 Silver nanoparticle ink is injected into an empty cartridge and used in conjunction with an off-the-shelf inkjet printer to enable 'instant inkjet circuit' prototyping.
Designing the circuit itself was accomplished with desktop drawing software, and apparently even a photocopy of a drawing can produce a working circuit.
Once printed, the circuits can be attached to electronic components using conductive double-sided tape or silver epoxy adhesive, allowing full-scale prototyping in mere hours. The homemade circuits might allow tinkerers to quickly prototype crude calculators, thermostat controls, battery chargers or any number of electronic devices.
"Using this technology in the classroom, it would be possible to introduce students to basic electronics principles very cheaply, and they could use a range of electronic components to augment the experience," said Steve Hodges, a team member from Microsoft Research.
To demonstrate the capabilities of the new technique for capacitive touch sensing and the flexibility of the printed circuits, the researchers attached a capacitive ribbon with embedded inkjet-printed circuits into a drinking glass. The capacitive ribbon sensor formed to the contour of the glass and, when connected to a microcontroller, was able to measure how much liquid was left in the glass.
Further reading:
Buy a Fluke, get one free
28 October 2020, Comtest , News
Comtest, Fluke's official South African importer, is offering one free Fluke for every Fluke purchased from any South African-based, authorised Fluke dealer. Fluke is a world leader in the manufacture, 
...
Read more...
---
Online Ohm's law calculator from Mouser
28 October 2020 , News
The famous Ohm's law states that the current flowing through a circuit is proportional to the voltage applied across both points. Mouser Electronics' online Ohm's law calculator saves engineers time by 
...
Read more...
---
Clearing the Static
28 October 2020, Actum Group , News
ESD training and compliance
According to Desco Industries, electrostatic discharge (ESD) can change the electrical characteristics of a semiconductor device, degrading or destroying it entirely. ESD 
...
Read more...
---
Coalition calls on European Commission to postpone SCIP deadline
30 September 2020 , News
A coalition of 40 industry organisations has written a letter to European Commission President Ursula von der Leyen calling for decisive action to solve implementation issues within the EU Waste Framework 
...
Read more...
---
Follow this engineering journey of a 3D-printed boat
30 September 2020, RS Components (SA) , News
RS Components is releasing a 10-episode documentary series – titled SeaQuest – featuring members of its DesignSpark engineering community who embarked on a first-of-its-kind challenge to design, test 
...
Read more...
---
Mouser revamps technical resource centre
30 September 2020, TRX Electronics , News
Mouser Electronics has redesigned its Technical Resource Centre, which contains the global distributor's ever-expanding collection of technical articles, blogs, eBooks, and Methods technology and solutions 
...
Read more...
---
From the editor's desk: Electric and autonomous vehicles driving full-speed ahead
28 October 2020, Technews Publishing , News
I still can't stop myself from doing a double-take when I hear that Tesla is rolling out a software update to add some sort of new functionality to its cars. Some of those updates are pointless show-off 
...
Read more...
---
Electronics news digest
28 October 2020 , News
South Africa
• The Department of Defence (DoD) has appointed a special team, called 'Save Denel' to investigate Denel's financial struggles, and the impact they might have on SA National Defence Force 
...
Read more...
---
Clearing the Static
28 October 2020, Actum Group , News
The Importance of ESD audits
An ESD audit is the first step in establishing an effective static control programme. Before you invest money in new ESD equipment, an ESD audit will help you identify vulnerable 
...
Read more...
---
TRX welcomes Hannes Taute as new MD
28 October 2020, TRX Electronics , Editor's Choice, News
We delve into his background, what his plans for TRX Electronics are, and how he envisions what the future of the local electronics industry will look like.
Read more...
---