In a media statement issued on 20 December 2013, The Department of Communications (DoC) stated that the use of a control system in set-top boxes (STBs), or decoders, for digital television would not be mandatory, as was the case in the previous Broadcasting Digital Migration policy.
The DoC did, however, decide that the STBs would include a control system to protect government's investment in the subsidised STB market, the local electronics manufacturing industry and for future use by broadcasters who might not immediately adopt its use.
Government's investment in the STB control system would be recovered from those subscription broadcasters that choose to make use of the STB control system. The DoC claims that the STB control policy aims to stimulate the local electronics manufacturing industry, encourage emerging entrepreneurs and create jobs, and therefore cannot be seen simply as a broadcasting issue.
It emphasised that broadcasters are free to choose whether they wish to use conditional access (CA) and that the costs will be R20 per box plus other costs associated with implementing the technology.
The DoC highlighted the fact that dropping the control system would result in specific problems, including having to change the relevant draft standard SANS 862 which could take up to six months. In addition, it has concerns that the South African market will be flooded with cheap, low-quality STB imports.
NAMEC's alternative
The National Association of Manufacturers in Electronic Components (NAMEC) wants government to amend the draft policy to read that no form of encryption or conditional access is to be implemented in the set-top boxes, based on acceptance of its alternative proposal to STB conditional access in free-to-air services.
Vijay Panday.
Vijay Panday, CEO of NAMEC Electronic Manufacturing, believes that it will be nothing short of miraculous if South Africa manages to meet the ITU's deadline of 17 June 2015. "For one, the SANS 862 specifications have not yet been finalised for either the STBs or the conditional access control systems," he says. "This was recently confirmed by the dti and SABS.
"Additionally, manufacturers need to be appointed using a request for pricing (RFP). Finally, component supply currently takes from 16 to 18 weeks. Add to this the fact that if allowances are to be made for emerging black manufacturers, they will have to be given an opportunity to step up their production facilities."
NAMEC believes that government's attempts to use a conditional access system to protect against migration of the STBs is a complicated and expensive route to follow. It also believes that it will disadvantage black manufacturers and make implementation and ongoing maintenance problematic.
Another argument NAMEC presents is that conditional access system manufacture will entail increasing security levels around manufacturing facilities, which will further add to the costs involved. "The total cost of ownership per set-top box will be in excess of US$30. Nowhere in the world has conditional access been deployed at $2 as proposed by the DoC," says Panday.
"Cheap imports can only be prevented by increasing custom duties on set-top boxes. Whatever the DoC proposes to use as the CA system, this can and will be accessible to all manufacturers around the world. This availability of technology is governed by the WTO. No CA system in the world will be made available only to the SA Department of Communications," he points out.
The association has proposed an alternative to conditional access systems, in the form of a network locking system. Panday says that in order to prevent an STB which has been taken from South Africa to an adjacent or nearby country from working, it is necessary to access and control the digital video broadcasting (DVB) protocols.
In the case of a digital terrestrial television (DTT) platform, any such changes to the DVB protocols at the transmitter must be configured in such a way that the retail and subsidised STB continues to work in the original territory that it was designed for.
However, moving the subsidised STB to a region where the DVB protocols do not conform to the broadcast standard will cause the STB to switch off, he points out. In this way, the additional cost of adding the software, changing the hardware and configuring the system would be around 30 US cents per STB. No additional equipment would be required at the head end and the manufacturers would pick up this cost per box.
"The association's view is clear on this matter. Pay-TV broadcasters are trying to piggy-back onto a government rollout using taxpayer's money. They are welcome to use their own resources to do so and pay for their own set-top boxes with CA, which is only used in a pay-TV environment, worldwide. If this system is implemented, we as South Africans will again be the laughing stock of the world," Panday says.
"It makes no sense economically for government to spend this kind of money to protect a simple $30 box which no one in their right frame of mind would try to sell or steal. Government should rather use this money to create and stimulate the ICT manufacturing sector, create more jobs by making it easier for new black entrepreneurs to enter the ICT market, and not raise barriers to entry by introducing complexity, which will only benefit the previously advantaged companies in SA," he continues.
Panday says this will not only reduce the total cost of ownership but it will also offer job creation, as the software will be written by South Africans, implemented by South Africans, and managed by South Africans, through the DoC, in collaboration with the CSIR.
"CA does not give you protection from illegal downloads should anyone want to corrupt the software. Every CA vendor in the world has been hacked. But why would anyone want to corrupt software on a simple free-to-air box? Where has this been done in the world?" Panday asks.
"All we are trying to do here is to get the country to move from analog to digital (as per the ITU directive) and free up spectrum. This project is not set up as IPTV, pay-TV or OTT service over this STB platform for broadcasters to spin-off a government-subsidised box using tax payers' money. Should broadcasters wish to provide these services, then they should spend their own money," Panday adds.
"Namec has strongly opposed the draft policy on conditional access. Namec and its social partners will have no option but to settle this matter in court should the Minister decide to go ahead with conditional access," Panday says.
The manufacturers' perspective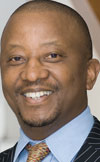 Muzi Makhaye.
Dataweek spoke to two potential STB manufacturers about government's decision and the impact it will have on industry. Muzi Makhaye, CEO of ABT, says it is important to remember that digital rollout is a process rather than a single event. He therefore believes that aspects of the rollout have already started and that South Africa will meet the deadline in terms of the digital implementation.
"Government will be expected to report back to the International Telecommunications Union (ITU) on its progress in migration and it is likely that there will be questions raised around the fact that the STB process took so long. The delays are also having a negative impact on those companies that have geared up in anticipation of being awarded contracts to manufacture the STBs," he explains.
Makhaye points out that huge costs have been borne by these companies in terms of procuring, upgrading or implementing production facilities and employing both local and international technology specialists. These specialists were secured to ensure that products would be of a high, international standard and that these skills would be passed on to local engineers.
The resultant delay has meant that these potential manufacturers have had to retrench these specialists, again at huge cost. In addition, uncertainty around appointment as manufacturers has caused a souring of relationships with the overseas suppliers of components, who have no sympathy with the processes in South Africa.
Makhaye states that STBs should be designed with future upgradeability in mind. This means that should add-ons such as interactive and communication applications be required, they must be easily incorporated and integrated into the STB at little cost. "An STB should have at least a 10-year lifespan and therefore their designs should add functionality and be forward-looking. Operators who choose to should be able to effect conditional access control remotely at no inconvenience to the home user of the STB."
He is adamant that a clause should be written into the policy to protect South African manufacturers against the influx of imported products. Overall, though, Makhaye is happy with Cabinet's decision, believing that they have applied their minds to a number of complex and contradictory aspects.
"They realise that time is running out and they have taken cognisance of both the private and public/government sectors' needs, he says. "The decision was balanced and will ensure that while no party will ever be 100% happy with it, they will also not be 100% dissatisfied. South African stakeholders need to be more accommodating towards one another as, ultimately, nobody should lose out."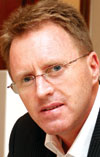 Rodger Warren.
Rodger Warren, managing director of Altech UEC SA, says that a number of deadlines (14 January 2014 being the most recent) have passed for the selection of STB manufacturers. "This is a disappointing state of affairs since manufacturers have developed STB prototypes in line with the original RFP and specifications and now we are left hanging," he explains.
"It will therefore be impossible to meet the ITU deadline, since the process involves the issuing of a new RFP, the appointment of manufacturers, developing a test jig, undertaking testing, commencement of manufacturing and developing a distribution chain. We acknowledge the dual period of illumination, but this obviously cannot be extended indefinitely."
Warren says that the investment in the design of STBs, on the previously stipulated Nagra 1.4 specifications, is wasted. "The design has now morphed into something totally different with the introduction of a satellite inclusion for black spots, primarily in the rural areas. Our understanding is that the development of a satellite version of the STB will be prioritised over the standard STB. We are therefore unclear on what the new specifications will be since we have had no communication on this matter from the DoC."
Opposing broadcaster views
So what side do the broadcasters weigh in on, being as it was objections from this arena that led to the review of the conditional access matter? Well, e.tv is very much in favour of a conditional access control system for STBs, while the SABC and Multichoice have voiced their disapproval of the system.
Multichoice believes that a control system will result in taxpayers footing the bill for the development of an STB that e.tv and other free-to-air broadcasters can then use to launch paid-TV services.
e.tv on the other hand is pushing hard for conditional access implementation to ensure the breaking of the monopoly that Multichoice currently has in the paid-TV market. e.tv claims that it does not have any plans to offer pay services on the free-to-air STBs.
The Department of Communications was contacted to participate in this article but at the time of going to press, had not contributed.