printer friendly version
Digital TV antenna designed and made in SA
2 April 2014
News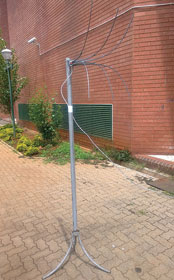 A locally developed antenna for digital terrestrial television has come one step closer to mass production with the official opening of the Tshwane East Manufacturing Incubation Centre (TEMIC).
Incepted as a joint venture between Poynting Antennas and Lawrence Global Manufacturing, the centre will not only be the site where the DigiAnt antenna will be made, but will also provide opportunities for small manufacturing enterprises to actively participate in the digital migration process.
Speaking at the launch event held at the Eerste-rust Civic Centre on 25 February were representatives from Poynting Antennas and Lawrence Global Manufacturing, the chairperson of TEMIC, as well as Tervern Jaftha of the Small Enterprise Development Agency (SEDA) who spoke on behalf of the Department of Trade and Industry (the dti).
Jaftha stated that the joint venture will contribute to the first technology-based incubator for the steel manufacturing sector, and will provide invaluable structural support for small businesses. The joint venture has been made possible in part through a grant obtained by Lawrence Global Manufacturing via the Incubation Support Programme of the dti, with Poynting Antennas contributing 50% of the capital towards the venture.
Eduard Walker, Poynting Antenna's digital television (DTV) business unit manager and newly appointed director of TEMIC, is also one of the engineers behind the design and technology of the DigiAnt. The antenna is aptly named in that its skeleton has six ant-like 'legs' through which the digital signal is conducted.
Walker explained that television antennas have traditionally utilised the Yagi, grid and dipole (or 'bunny ears') types of antennas, whereas DigiAnt utilises a Vivaldi Horn antenna. "The DigiAnt signals the first time that this kind of antenna is used in the television environment," he claimed. "No form of a Vivaldi Horn has previously been commercially used or sold as a television antenna. What we're looking at here is a totally new type of television antenna in a very old environment."
What makes the DigiAnt a highly viable solution is a combination of low production costs and ease of manufacture. Its production requires only one process, whereas existing television antennas use multiple processes that are more time consuming and less cost-effective.
Walker says that the DigiAnt, which was demonstrated at the launch, offers sound performance, is 100% locally produced from local products, and is 100% recyclable. Additionally, it comes packaged in a box of 5000 cm², making it compact and easy to transport. This is a key benefit for South Africa's digital migration process which will require the delivery of around 12 million TV antennas across the country.
Assembly of the DigiAnt is scheduled begin in March this year, and should take six months to reach the pre-production phase locally and a further nine months to meet full capacity. It is anticipated that TEMIC will produce 1,5 million television antennas per year.
Credit(s)
Further reading:
SAAB Avionics approves Elmatica auditor for PCB subcontractors
29 January 2020, Elmatica , News
Expanding on its international relationship with SAAB Avionics, printed circuit board supplier Elmatica's Jan Pedersen successfully completed the Part 21, Subpart G training, regarding auditing of printed 
...
Read more...
---
Electronics news digest
29 January 2020 , News
South Africa
• More than 2400 people braved pouring rain in Gauteng to attend the 5th Science Forum South Africa (SFSA) at the CSIR International Convention Centre in December. The annual Department 
...
Read more...
---
Appointment: ExecuKit
29 January 2020, ExecuKit , News
ExecuKit has appointed Marshant Benadie in a technical support role.    His duties will include developing business with clients within the electronics distribution and manufacturing industry; managing 
...
Read more...
---
Repro installs new SMT production line
29 January 2020 , News
The company is actively seeking business for this new assembly line, which promises extensive flexibility and high accuracy, and can easily be expanded for higher production volumes.
Read more...
---
AREI's plans for 2020
29 January 2020 , Editor's Choice, News
Erich Nast, chairman of AREI, discusses what the association's plans are to tackle the challenges and opportunities that lie ahead.
Read more...
---
Check out Dataweek's new-look website
29 January 2020, Technews Publishing , Editor's Choice, News
Our technical design elves have been locked away in our basement for months, improving the visual design and functionality of the Dataweek website.
Read more...
---
From the editor's desk: A fresh start, but a sad farewell?
29 January 2020, Technews Publishing , News
A couple of years ago, not many people had heard of Yekani. The company bought a stake in the well-known East London-based satellite decoder maker, Vektronix, and subsequently acquired it in its entirety. When 
...
Read more...
---
Actum Group merges its brands under one roof
29 January 2020, Actum Electronics , News
Over the years, Actum Group has been built through partnerships, collaborations and acquisitions of leading companies with a long history and rich legacy in the industry. These companies include Actum 
...
Read more...
---
Company profile: ETION Create
EMP 2020 Electronics Manufacturing & Production Handbook, ETION Create , News
ETION Create is an original design manufacturer (ODM) that has been in operation for more than 25 years. Originally known as Parsec, the company was founded in 1993, focusing on the design, development 
...
Read more...
---
Company profile: Laser Stencil Technology
EMP 2020 Electronics Manufacturing & Production Handbook, Laser Stencil Technology , News
Since its inception in 2004, Laser Stencil Technology has grown into a prominent figure in the South African electronics manufacturing industry. Having been involved in circuit board manufacturing using 
...
Read more...
---