printer friendly version
I think it's the fresh machine oil that does it
23 April 2014
News
A few months ago I was approached to write two articles for Dataweek about subjects that were relevant to my situation as a business owner in the electronics industry in South Africa: to wit, what are the things that keep me up at night and conversely, what gets me up every morning.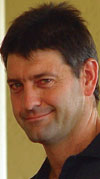 Mike Goodyer.
I chose the first topic as it relates to the challenges I face on a daily basis, but as in life every downside has a bright side and every dark cloud does eventually bring rain, and therefore one has to highlight some of the positive things that happen all day in and around the workplace.
I think as South Africans we tend to spend too much time complaining and seeing the downside rather than just getting over ourselves and looking at the good things that we are blessed with every day.
I would really like to thank the many of you reading this who gave me feedback on my last article. I was flooded with comments from people who share some of my sentiments and thanked me for simply putting my cards on the table, so to speak. The feedback was so encouraging that I decided to get right down to the second part of the brief so as not to dwell on the negative side of things for too long.
Following a couple of tough years at Microtronix spanning 2011 and 2012, I decided to move my desk down into the main admin office of the building together with my key operations staff. This move probably goes against all recommendations for a CEO and defies all logic in Business 101 but I decided I needed to get in touch with everyone again and get stuck into the business and re-discover our real purpose.
From my new 'strategic position' in the downstairs office I can now see all my customers arriving and leaving and I can quickly get a feel for their mood based on our service and delivery. It has given me the chance to share their frustrations and also enjoy the compliments that come our way on a regular basis.
I get to hear the staff in the factory singing Happy Birthday to a fellow staff member and occasionally some cheering and singing when a happy announcement is made. I think by being close to the action I have become part of the solution and get to help everyone with their daily challenges.
I enjoy the interaction with all my staff and, by being easily accessible, I get to hear more about each individual's life and answer questions that one would assume everyone should know but sometimes don't. I am now able to help avoid some mistakes that might have occurred without any intervention.
By being closer to my people and very visible, I was able to find out why there was some consternation amongst the staff. I have learnt never to underestimate what are small things to me as these are often big issues for other people.
Having reached a critical mass as a business we were finally able to have a full time HR person on board and I have over the past year put a huge emphasis on making sure that every single staff member's administration is 100%. I know that large corporate companies have these types of things perfect as a norm but as a small business grows there are many things that get overlooked by the owners as they are simply trying to make ends meet, pay salaries, keep customers happy and grow the business. Sometimes, we overlook the smaller details.
Having the MEIBC, provident fund, medical, UIF, skills and levies perfect for every member of staff has allowed them to concentrate on work instead of trying to sort out personal problems that are almost impossible to overcome with the current shambles at some of the State run offices.
I have spent a year simply removing all the obstacles from each area and person in the company and bringing the staff together as a team. It is simply impossible to do everything yourself so it has been of utmost importance to get every cog in the machine turning together to achieve a common goal.
I am pleased to say that the results have been higher productivity and an improvement in overall quality standards. I am hopeful that one day I can return to my office upstairs and focus on growing the business again and see if I can work consistently for over four minutes without an interruption; but for now I love coming to work and being inside the scrum and lineouts.
I love the interaction with my suppliers and customers daily, I love going outside at lunch time and watching the lunchtime netball fracas between the sections. I enjoy the enthusiasm shown by the Microtronix soccer team before a weekend game. I love the interaction with the staff at a Friday afternoon braai, especially when the house music comes blaring from a car boot.
I love using a crowbar to open a crate containing a new machine and the smell of fresh machine oil. I get excited to see the high-tech equipment that clever people are making around the world to make our jobs easier. I love seeing hot shiny PCBs coming off a production line. I get a warm feeling when we land a good order and I know we can do it well and on time.
Finally, one of the most rewarding moments in my life is to get a short note or email from a customer who simply says well done to the Microtronix team or thanks us for excellent service or the fact that we had a 100% pass rate. I think those rewards are exactly what we are all trying to achieve and so when people do take the time to thank us it really means a lot to me. It is great to be a small part of so many people's lives and to have an active role in our common goals.
And that is enough to get me up every day.
As a company, our prime focus is to make a perfect solder joint every time for our valued customers. And as for the challenges, I am sure as an industry we will work through them one by one. Thank you to my staff, customers and suppliers for the great support so far this year.
For more information contact Mike Goodyer, Microtronix, +27 (0)11 792 5322, mike@microtronix.co.za, www.microtronix.co.za
Credit(s)
Further reading:
Locked down but not knocked out
25 March 2020, ExecuKit , News
As a business, we are facing extremely hard times with the current worldwide pandemic and isolation. We are all maintaining social distancing and must learn how to do business with an enforced lockdown 
...
Read more...
---
From the editor's desk: A new era – after mourning comes rebuilding
29 April 2020, Technews Publishing , News
When I sit down to write these columns once a month, even if the topic I decide to write about is not all sunshine and roses, I always try and look for a silver lining. I'm simply not able to do that 
...
Read more...
---
Personality profile: Chris Viveiros
29 April 2020, Otto Wireless , News
The operations director of Otto Wireless Solutions shares his background, experience, advice and thoughts on the future.
Read more...
---
Locked down but not knocked out
29 April 2020, ExecuKit , News
We as a company salute the component suppliers who have supported us and are there to assist during this time even if the requests we pose are not always realistic.
Read more...
---
Electronics industry tackling the coronavirus
29 April 2020 , News
2020 has been a crazy year already. From Australian bushfires to climate emergencies to US trade tariffs, the start of the decade hasn't been very positive. Not only this, within the last few months there 
...
Read more...
---
SqwidNet becomes first Sigfox-accredited lab in southern hemisphere
29 April 2020, iSERT , News
iSERT (Safety, EMC, RF, Testing), a leader in the provision of turnkey testing solutions for EMC, RF and safety testing, has collaborated with SqwidNet, the only licenced Sigfox operator in South Africa, 
...
Read more...
---
Clearing the Static: ESD cleaning and hygiene products
29 April 2020, Altico Static Control Solutions , News
In light of the current COVID-19 pandemic, Actum Group would like to remind electronics manufacturers of our range of antistatic cleaning agents, cleanroom materials and PPE.      
Cleanroom garments and 
...
Read more...
---
Jemstech continuing its growth path
29 April 2020, Jemstech , News
Since its inception in 2005 and especially during the past five years, Jemstech has grown from a medium-sized electronic manufacturing services (EMS) provider into one of the major players for electronics 
...
Read more...
---
Company profile: Phoenix Contact
29 April 2020, Phoenix Contact , News
Phoenix Contact was founded in 1923 in Essen, Germany, by Hugo Knümann. It entered the South African market in 1969 through a local distributor, and was later established as a wholly owned subsidiary 
...
Read more...
---
In memoriam: Vivienne Caroline Dorrington - 19 June 1958 – 21 April 2020
29 April 2020, Technews Publishing , News
It is with great sadness that we announce the death of our CEO, Vivienne Dorrington, after a long and brave battle with cancer. Like her father, Ray Beaumont, who founded Technews Publishing in 1985, 
...
Read more...
---