printer friendly version
I think it's the fresh machine oil that does it
23 April 2014
News
A few months ago I was approached to write two articles for Dataweek about subjects that were relevant to my situation as a business owner in the electronics industry in South Africa: to wit, what are the things that keep me up at night and conversely, what gets me up every morning.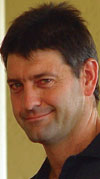 Mike Goodyer.
I chose the first topic as it relates to the challenges I face on a daily basis, but as in life every downside has a bright side and every dark cloud does eventually bring rain, and therefore one has to highlight some of the positive things that happen all day in and around the workplace.
I think as South Africans we tend to spend too much time complaining and seeing the downside rather than just getting over ourselves and looking at the good things that we are blessed with every day.
I would really like to thank the many of you reading this who gave me feedback on my last article. I was flooded with comments from people who share some of my sentiments and thanked me for simply putting my cards on the table, so to speak. The feedback was so encouraging that I decided to get right down to the second part of the brief so as not to dwell on the negative side of things for too long.
Following a couple of tough years at Microtronix spanning 2011 and 2012, I decided to move my desk down into the main admin office of the building together with my key operations staff. This move probably goes against all recommendations for a CEO and defies all logic in Business 101 but I decided I needed to get in touch with everyone again and get stuck into the business and re-discover our real purpose.
From my new 'strategic position' in the downstairs office I can now see all my customers arriving and leaving and I can quickly get a feel for their mood based on our service and delivery. It has given me the chance to share their frustrations and also enjoy the compliments that come our way on a regular basis.
I get to hear the staff in the factory singing Happy Birthday to a fellow staff member and occasionally some cheering and singing when a happy announcement is made. I think by being close to the action I have become part of the solution and get to help everyone with their daily challenges.
I enjoy the interaction with all my staff and, by being easily accessible, I get to hear more about each individual's life and answer questions that one would assume everyone should know but sometimes don't. I am now able to help avoid some mistakes that might have occurred without any intervention.
By being closer to my people and very visible, I was able to find out why there was some consternation amongst the staff. I have learnt never to underestimate what are small things to me as these are often big issues for other people.
Having reached a critical mass as a business we were finally able to have a full time HR person on board and I have over the past year put a huge emphasis on making sure that every single staff member's administration is 100%. I know that large corporate companies have these types of things perfect as a norm but as a small business grows there are many things that get overlooked by the owners as they are simply trying to make ends meet, pay salaries, keep customers happy and grow the business. Sometimes, we overlook the smaller details.
Having the MEIBC, provident fund, medical, UIF, skills and levies perfect for every member of staff has allowed them to concentrate on work instead of trying to sort out personal problems that are almost impossible to overcome with the current shambles at some of the State run offices.
I have spent a year simply removing all the obstacles from each area and person in the company and bringing the staff together as a team. It is simply impossible to do everything yourself so it has been of utmost importance to get every cog in the machine turning together to achieve a common goal.
I am pleased to say that the results have been higher productivity and an improvement in overall quality standards. I am hopeful that one day I can return to my office upstairs and focus on growing the business again and see if I can work consistently for over four minutes without an interruption; but for now I love coming to work and being inside the scrum and lineouts.
I love the interaction with my suppliers and customers daily, I love going outside at lunch time and watching the lunchtime netball fracas between the sections. I enjoy the enthusiasm shown by the Microtronix soccer team before a weekend game. I love the interaction with the staff at a Friday afternoon braai, especially when the house music comes blaring from a car boot.
I love using a crowbar to open a crate containing a new machine and the smell of fresh machine oil. I get excited to see the high-tech equipment that clever people are making around the world to make our jobs easier. I love seeing hot shiny PCBs coming off a production line. I get a warm feeling when we land a good order and I know we can do it well and on time.
Finally, one of the most rewarding moments in my life is to get a short note or email from a customer who simply says well done to the Microtronix team or thanks us for excellent service or the fact that we had a 100% pass rate. I think those rewards are exactly what we are all trying to achieve and so when people do take the time to thank us it really means a lot to me. It is great to be a small part of so many people's lives and to have an active role in our common goals.
And that is enough to get me up every day.
As a company, our prime focus is to make a perfect solder joint every time for our valued customers. And as for the challenges, I am sure as an industry we will work through them one by one. Thank you to my staff, customers and suppliers for the great support so far this year.
For more information contact Mike Goodyer, Microtronix, +27 (0)11 792 5322, mike@microtronix.co.za, www.microtronix.co.za
Credit(s)
Further reading:
Plan your media strategy with Technews Publishing
23 October 2019, Technews Publishing , News
Dear Marketer, Have you ever looked back on a year and wondered how you survived it? For the majority of South Africans, 2019 started benignly enough, cosily wrapped in the blanket of Ramaphoria that 
...
Read more...
---
From the editor's desk: Getting charged up for the new year
25 November 2019, Technews Publishing , News
The Springboks' Rugby World Cup triumph in Japan couldn't have come at a better time for South Africa, as the country was in desperate need of a jolt of positive energy going into the festive season. 
...
Read more...
---
Battery Technologies Conference 2019
25 November 2019 , News, Editor's Choice
Batteries are a critical enabler of the Fourth Industrial Revolution, powering technology in products from laptops and handheld devices to electric vehicles and renewable energy storage.
Read more...
---
Boom, doom and gloom, or something completely different?
25 November 2019, Technews Publishing , News, Editor's Choice
As the end of 2019 looms, it's time to look ahead to what next year might have in store, and reflect on the year gone by. And what a year it's been.
Read more...
---
Actum Group remains resilient and optimistic for 2020
25 November 2019, Actum Electronics , News
Running a profitable business in South Africa is not for the fainthearted. With the national treasury downgrading this year's growth forecast from 1,5% to 0,5%, and state-owned entities like Eskom negotiating 
...
Read more...
---
Additional renewable energy development zones proposed
25 November 2019 , News
The second phase of the Strategic Environmental Assessment (SEA) for wind and solar photovoltaic (PV) energy in South Africa proposes three additional Renewable Energy Development Zones (REDZs) for wind 
...
Read more...
---
Locally developed electronic circuit builder for students
25 November 2019, K Measure , News, Editor's Choice
K Measure, creator of the award-winning Seebox engineering education solution, has created a new innovation to enable quick and easy electronic circuit-building. The SeeBlocks electronic circuit creator 
...
Read more...
---
Clearing the Static:Topic 9: Time to audit your ESD environment
25 November 2019, Actum Electronics , News
Now that we are nearing the end of the year, it is a good time to audit your existing static control products and procedures. The first line of defence should be your antistatic floor, since this is the 
...
Read more...
---
Winning hackathon entry curbs cell tower battery theft
25 November 2019 , News
The fourth annual TADHackJHB was held at MTN's head office in Fairland, Johannesburg, on 12 and 13 October, with a cell tower protection app emerging as the winner. The theme for the 2019 global TADHack 
...
Read more...
---
Products of the Year 2019
25 November 2019 , News
SmartServer IoT by Adesto
BAW-based chips for comms infrastructure
Cellular modules for LPWA applications
SoCs and software for smart home and IIoT
Secure element for IoT authentication
MPU for embedded 
...
Read more...
---