printer friendly version
Electronics news digest
16 August 2017
News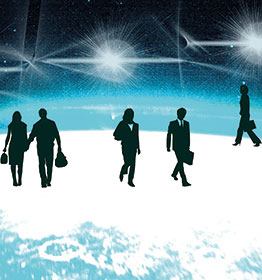 South Africa
• The CEO of ICASA has been placed on formal suspension. A statement read: "The Council of the Independent Communications Authority of South Africa (ICASA) hereby notifies all stakeholders and the media that it has decided to place the Chief Executive Officer, Mr Pakamile Pongwana, on precautionary suspension, pending an internal disciplinary process. The Chief Operations Officer, Mr Willington Ngwepe, will be acting in this position until such time that the internal processes have been concluded. No reason was given or has come to light for the suspension.
• Altron subsidiary Powertech has entered into an agreement whereby it will dispose of Crabtree Electrical Accessories to Siemens AG. Crabtree produces and distributes low-voltage components for the South African construction market, including light switches, power outlets, cable routing systems and adapters. The transaction is subject to the grant of approvals by the relevant competition authorities.
• On 5 August at Nelson Mandela University in Port Elizabeth, minister of science and technology, Naledi Pandor, launched National Science Week under the theme 'Advancing science tourism'. The theme, in recognition of the United Nation's International Year of Sustainable Tourism for Development, explored the country's numerous scientific attractions.
Overseas
Business
• Cypress Semiconductor announced its second quarter 2017 results, with revenue of $593,8 million which was up 11,6% sequentially and exceeded guidance. Net loss was $22,9 million or $0,07 per diluted share, compared to net loss of $45,8 million or $0,14 in the first quarter of 2017. The company paid a cash dividend of $36,3 million, or $0,11 per share, to stockholders on 20 July.
• Revenue for Texas Instruments' second quarter of 2017 increased 13% from the same quarter a year ago, to reach a total of $3,7 billion, resulting in earnings per share (EPS) of $1,03. In its core businesses, analog revenue grew 18% and embedded processing revenue grew 15% year-on-year. Third-quarter outlook is for revenue in the range of $3,74 billion to $4,06 billion, and earnings per share between $1,04 and $1,18.
• STMicroelectronics' second quarter net revenues totalled $1,92 billion, gross margin was 38,3%, and net income was $151 million, or $0,17 per share. Comparatively, in the prior quarter net revenues were $1,82 billion, gross margin was 37,6%, and net income was $108 million; in the second quarter a year ago, net revenues totalled $1,70 billion, gross margin was 33,9%, and net income was $23 million.
• Revenue in the second quarter of Silicon Labs' 2017 fiscal year exceeded the high end of guidance at $190 million, up from $179 million in the first quarter. The growth was fuelled primarily by IoT revenue which established a new record, increasing to $98 million, up 11% sequentially and 27% year-on-year. Second quarter earnings per share were $0,38.
• Maxim Integrated Products reported net revenue of $602 million for its fourth quarter of fiscal 2017 ended 24 June, a 4% increase from the $581 million revenue recorded in the prior quarter, and a 6% increase from the same quarter of last year. Diluted EPS in the June quarter was $0,57.
Industry
• The UK's Electronic Components Supply Network (ECSN) has issued a warning on lead times for electronic components, citing a rise in global demand. The organisation warned of a 'perfect storm' in the supply chain, which is causing a build-up of extended lead times. One UK
distributor has allegedly reported that allocation is now in place on products such as chip resistors and chip capacitors, and it is feared more distributors may soon join the alarm call and the list of affected components may grow.
• IC Insights forecasts that the 2017 global electronic systems market will grow by only 2% to $1493 billion while the worldwide semiconductor market is expected to surge by 15% this year to $419,1 billion. Moreover, it forecasts that the total semiconductor market will exceed $500 billion four years from now in 2021. If the 2017 forecasts come to fruition, the average semiconductor content in an electronic system will reach 28,1%, an all-time record.
• Samsung has met widely held predictions that it would surpass Intel in semiconductor sales in the second quarter of 2017. Samsung's
$15,8 billion in sales beat Intel by almost $1 billion, marking the first time Intel has been surpassed by any company since it first topped the quarterly rankings in 1993. Given the notorious volatility in memory chip pricing (a market which Samsung leads) it remains to be seen whether Samsung can maintain its lead for the rest of the year.
Further reading:
Coalition calls on European Commission to postpone SCIP deadline
30 September 2020 , News
A coalition of 40 industry organisations has written a letter to European Commission President Ursula von der Leyen calling for decisive action to solve implementation issues within the EU Waste Framework 
...
Read more...
---
Follow this engineering journey of a 3D-printed boat
30 September 2020, RS Components (SA) , News
RS Components is releasing a 10-episode documentary series – titled SeaQuest – featuring members of its DesignSpark engineering community who embarked on a first-of-its-kind challenge to design, test 
...
Read more...
---
Mouser revamps technical resource centre
30 September 2020, TRX Electronics , News
Mouser Electronics has redesigned its Technical Resource Centre, which contains the global distributor's ever-expanding collection of technical articles, blogs, eBooks, and Methods technology and solutions 
...
Read more...
---
IPC teams up with PSMA on standards and more
30 September 2020 , News
IPC and the Power Sources Manufacturers Association (PSMA) have signed a memorandum of understanding (MoU) pledging to build a strong complementary relationship between the two entities with a focus on 
...
Read more...
---
Battery Technologies Conference goes virtual
30 September 2020 , News
Vukani Communications is back again with the 6th edition of the Battery Technologies Conference, and this time around the gathering is virtual. Topics to be discussed include, but are not limited to:
...
Read more...
---
A journey into the automation unknown
31 August 2020 , News
From small-town specialised machine builder to global technology company, Jendamark Automation's business journey has been characterised by calculated leaps into the unknown. And, as South African manufacturers 
...
Read more...
---
Resources for home and building automation
31 August 2020, TRX Electronics , News
Mouser Electronics is expanding its comprehensive range of building automation solutions from Silicon Labs, TE Connectivity (TE), and Littelfuse for the rapidly growing smart home and building automation 
...
Read more...
---
From the editor's desk: Enough of 2020 already
31 August 2020, Technews Publishing , News
Forgive me, but I don't think I'm alone in being a bit all over the place mentally at the moment. So far, two of my colleagues have been diagnosed positive for COVID-19 and have fortunately recovered. 
...
Read more...
---
Tribute to Paul Soteriou
31 August 2020 , News
Paul Soteriou, a man always willing to share what he had with a smile and with a deep-found love for South Africa, passed away earlier this year.
Read more...
---
Personality profile: Brian Andrew
31 August 2020, RS Components (SA) , News
With a father who is a civil engineer and an older brother who is a chemical engineer, you could say engineering was in the DNA of Brian Andrew.
Read more...
---