Following the recent NEW Exhibition held at Gallagher Estate I am happy to say that this industry still excites me! It is always good to catch up with customers and discuss the opportunities they see in the market.
The general economy might be down but there are always companies looking to do something different and carve out their own success in a tough market.
I always get excited when I see a customer move into new premises or commission a new production line. This tells me that people are still committed to this industry and investment is still being made.
Traditionally the electronics industry was always very cyclical with big upturns followed by big downturns. We knew to brace ourselves for longer lead-times and price increases during market upturns and we enjoyed shorter lead-times and lower prices during the market downturns.
What we are currently experiencing is a state somewhere in between with no real 'fireworks' with regards to the electronics industry. Some lead-times are being pushed out by component manufacturers but this relates more to a reduction in capacity than market upturn. We haven't heard the word 'allocation' being used by component manufacturers for a long time.
I believe that we have very innovative customers in South Africa. From a design point of view we have customers designing and developing products that can compete on the world stage. From a manufacturing point of view we have customers that can hold their own against many offshore manufacturers – that goes for price and build quality.
What we need is for our government to acknowledge the innovation and expertise of local electronics companies. I believe there could be a significant number of jobs created within the electronics industry if it was better supported by government.
With the backing of a global company like Avnet, Avnet Kopp is well positioned to support our local customers from design to manufacture. With an experienced team of field applications engineers and field sales engineers we are always looking to support our customers with exciting products from our key suppliers.
After some restructuring in the business I can safely say that our logistics is working really well with on time delivery to our customers at an all time high. With real-time access to our inventory in Europe we have the benefit of being able to offer customers aggressive market related pricing. We have between eight and 10 shipments a week from three different warehouses in the UK, Belgium and Germany – delivered directly to our customers.
Component distribution remains a tough business in South Africa with a number of small companies shipping in grey products primarily from the East. Our focus remains on customers looking for quality products shipped through the official channel where there is recourse should there be any component failures. We have the support of the major component manufactures which add value in a number of different ways – sampling, development tools and reference designs to support our customers.
We are well positioned to offer customers very creative supply chain solutions to meet the varied requirements that they need to succeed. These range from consignment stock held at customer premises to active forecasts and keeping buffer stock in reserve. Our supply chain services team is always happy to discuss specific customer requirements to find a logistics solution that fits.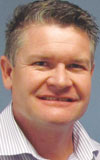 Our product offering has expanded beyond components. Apart from our traditional offering of semiconductors, connectors, passives and electromechanical products, we are offering a vast range of embedded solutions. Customers are often looking for products to help them achieve a faster time to market, and our embedded product offering fills this gap with GPS, GSM, lighting, display and embedded computing solutions. We can support customers with hardware and software for their embedded solutions.
We are certainly optimistic about the future of the electronics industry in South Africa. Even though we face many challenges I believe there are equally a good number of opportunities for us as designers, distributors and manufacturers to succeed in the electronics industry.
For more information contact Hannes Taute, Avnet Kopp, +27 (0)11 319 8600, hannes.taute@avnet.eu, www.avnet.co.za