printer friendly version
Electronics news digest
31 January 2018
News
South Africa
• Reunert delivered strong results for fiscal 2017, with revenue of R9,77 billion representing a 15% year-on-year increase and profit increasing by 19% to R1,14 billion. Headline earnings per share were R6,97, a 5% improvement over 2016. The applied electronics segment's revenue increased by 14% to R1,7 billion, while operating profit reduced by 10% to R276 million due to lower export orders in the first six months. The strong Rand negatively impacted export margins particularly in the areas of export fuzes, mining surveillance radars and electronic subassemblies.
• During the six months ending 31 August 2017, Altron delivered a 5% increase in revenue to R6,8 billion and a 19% increase in EBITDA to R501 million. According to chief executive Mteto Nyati, this growth was driven by the performance of the group's international operations, and work continues to deliver consistent double digit growth rates at the EBITDA level. "We are placing more emphasis on cross-selling and upselling as one Altron," he stated. "Furthermore, we want to build on our innovation heritage and leverage our R&D capabilities to deliver solutions that have a positive and meaningful impact on society."
Overseas
Business
• Analog Devices announced financial results for its fourth quarter and fiscal year 2017, which ended 28 October 2017. Revenue for the quarter totalled $1,54 billion, up 8% sequentially and 54% year-over-year, while annual revenue surged 49% higher than the previous year to reach $5,1 billion. Looking ahead to the seasonally slower first quarter of fiscal 2018, the company is planning for revenue to be in the range of $1,44 billion to $1,54 billion.
• For the fourth quarter of Infineon Technologies' 2017 fiscal year, revenue fell sequentially by 1% to 1,82 billion Euros, a seasonally atypical decrease which the company attributed to a significantly weaker US dollar in the period from July to September. Net income also decreased quarter-on-quarter, from 253 million Euros to 176 million Euros, and earnings per share fell from 0,22 Euros to 0,16 Euros.
• Microchip Technology reported net sales of $1,01 billion for the second quarter of its fiscal year 2018, which was up 4,1% sequentially and up 16,2% from the year-ago quarter. Net income was $189,2 million, or 77 cents per diluted share, up from $35,6 million, or 15 cents per diluted share, in the prior year's second fiscal quarter.
Companies
• In what would be the largest tech acquisition of all time, Broadcom has launched an unsolicited $103 billion bid to acquire its larger rival Qualcomm. Given that Qualcomm is itself in the process of trying to acquire NXP Semiconductors, a combination of the three companies would be the third largest global chip company. The proposal comes at a relatively slow time in terms of acquisitions in the semiconductor industry, but analysts think a Broadcom-Qualcomm deal is unlikely to come to fruition. Qualcomm's share price is currently in decline as it battles a series of patent disputes with companies including Apple.
• XP Power has acquired the business and assets of Comdel, a Massachusetts, US-based designer and manufacturer of radio frequency (RF) power supplies. Comdel will become the RF Power Division of XP Power and Comdel's CEO, Scott Johnson, will remain with the business to head up the new division. The deal also brings new customers to XP Power, particularly in photovoltaic and induction heating industries.
• Dialog Semiconductor has completed its acquisition of Silego Technology, a pioneer in integrating multiple analog, logic and discrete component functionality into a single chip. The deal was sealed with a cash payment of $276 million with additional contingent consideration of up to $30,4 million.
• Premier Farnell celebrated the sale of its 10 millionth Raspberry Pi, less than six years after it first began producing the computers. The company now sells over 50 000 Raspberry Pi computers each week to makers, industry and education across the globe. It has been working with the Raspberry Pi Foundation since the launch of Raspberry Pi 1 Model B in 2012 and has a global agreement for the manufacture, distribution and exclusive customisation of the Raspberry Pi.
• STMicroelectronics has acquired software-development tools specialist Atollic, for $7 million in cash plus a deferred earn-out of up to $1 million. Atollic is the supplier of TrueSTUDIO, a professionally recognised and highly regarded Integrated Development Environment (IDE) for the embedded development community focusing on ARM Cortex -M microcontrollers, like ST's 32-bit STM32 family.
• Silicon Labs announced a definitive agreement to acquire Sigma Designs for $7,05 per share in a cash transaction valued at approximately $282 million. Sigma Designs provides solutions for the connected home including Z-Wave, a leading Internet of Things (IoT) technology for smart home solutions. Z-Wave supplies some of the world's largest ecosystems of smart home IoT products with more than 2100 certified, interoperable devices available from more than 600 manufacturers.
Industry
• The Semiconductor Industry Association (SIA) announced worldwide sales of semiconductors reached $37,7 billion for the month of November 2017, an increase of 21,5% compared to the November 2016 total and 1,6% more than the October 2017 total. All major regional markets posted both year-to-year and month-to-month sales increases in November, with the Americas market leading the way. Regionally, year-to-year sales increased in the Americas (40,2%), Europe (18,8%), China (18,5%), Asia Pacific/All Other (16,2%), and Japan (10,6%).
• Integrated circuit sales for automotive systems and the Internet of Things are forecast to grow 70% faster than total IC revenues between 2016 and 2021, according to IC Insights. ICs used in automobiles and other vehicles are forecast to generate worldwide sales of $42,9 billion in 2021 compared to $22,9 billion in 2016, while integrated circuit revenues for Internet of Things (IoT) functionality in a wide range of systems, sensors and objects are expected to reach $34,2 billion in four years compared to $18,4 billion in 2016. Between 2016 and 2021, automotive and IoT IC sales are projected to rise by compound annual growth rates (CAGRs) of 13,4% and 13,2%, respectively, compared to 7,9% for the entire IC market, which is projected to reach $434,5 billion in four years versus $297,7 billion last year.
• Worldwide semiconductor revenue totalled $419,7 billion in 2017, a 22,2% increase from 2016, according to preliminary results by Gartner. Undersupply helped drive 64% revenue growth in the memory market, which accounted for 31% of total semiconductor revenue in 2017. The largest memory supplier, Samsung Electronics, gained the most market share and took the No. 1 position from Intel, while other major memory vendors, including SK Hynix and Micron Technology, also performed strongly in 2017 and rose in the rankings (see accompanying table).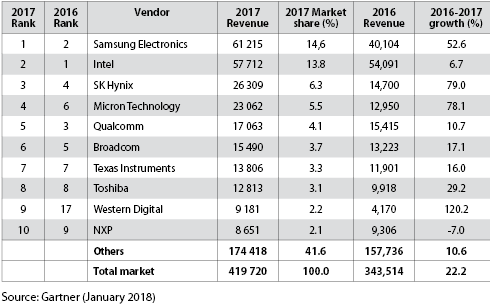 Technology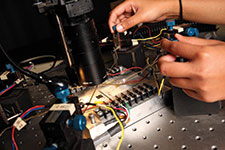 Georgia Institute of Technology researchers demonstrated paper-based, wearable thermoelectric generators that can harvest energy from body heat.
• Using flexible conducting polymers and novel circuitry patterns printed on paper, researchers at the Georgia Institute of Technology in the USA have demonstrated proof-of-concept wearable thermoelectric generators that can harvest energy from body heat to power simple biosensors for measuring heart rate, respiration or other factors. Because of their symmetrical fractal wiring patterns, the devices can be cut to the size needed to provide the voltage and power requirements for specific applications. The modular generators could be inkjet printed on flexible substrates, including fabric, and manufactured using inexpensive roll-to-roll techniques. The research was supported by PepsiCo and the Air Force Office of Scientific Research.
Further reading:
Buy a Fluke, get one free
28 October 2020, Comtest , News
Comtest, Fluke's official South African importer, is offering one free Fluke for every Fluke purchased from any South African-based, authorised Fluke dealer. Fluke is a world leader in the manufacture, 
...
Read more...
---
Online Ohm's law calculator from Mouser
28 October 2020 , News
The famous Ohm's law states that the current flowing through a circuit is proportional to the voltage applied across both points. Mouser Electronics' online Ohm's law calculator saves engineers time by 
...
Read more...
---
From the editor's desk: Where monsters, viruses and technology meet
25 November 2020, Technews Publishing , News
I clearly remember the moment it really sank in that the world as we know it has become almost unrecognisable from a year ago. It would be hard not to remember really, because it happened only two days 
...
Read more...
---
Clearing the Static: ESD training and compliance
25 November 2020, Actum Group , News
According to Desco Industries, electrostatic discharge (ESD) can change the electrical characteristics of a semiconductor device, degrading or destroying it entirely. ESD could also potentially damage 
...
Read more...
---
SA project receives international energy award
25 November 2020 , News
South Africa's largest energy efficiency initiative, the SA Industrial Energy Efficiency Project, has won the highest international accolade for an energy programme – the International Energy Project 
...
Read more...
---
Intelsat brings space STEM to students in Africa
25 November 2020 , News
Intelsat is partnering with XinaBox to deliver space-focused science, technology, engineering and mathematics (STEM) learning tools to teenagers across the African continent. Intelsat is sponsoring 
...
Read more...
---
DesignSpark racks up one million members
25 November 2020 , News
RS Components recently marked a significant milestone when its DesignSpark engineering platform surpassed one million members. This comes just a few months after DesignSpark celebrated ten years of 
...
Read more...
---
Personality profile: Dereck Styane
25 November 2020, Phoenix Contact , Editor's Choice, News
"We do try and develop people and promote them from within the company, so I savour people's personal growth that I've overseen."
Read more...
---
MTN and Siyavula enabling maths and science learners
25 November 2020 , News
Lockdown or no lockdown, South African learners will do what it takes to ensure that they are ready for their year-end exams. So says the MTN SA Foundation, which partnered with digital teaching and learning 
...
Read more...
---
Production Logix appoints new business development manager
25 November 2020, Production Logix , News
KwaZulu-Natal based electronics contract manufacturer, Production Logix, is broadening its scope and sharpening its focus as it expands its footprint across South Africa and into southern Africa. As part 
...
Read more...
---