printer friendly version
Reducing the huge volumes of e-waste is everybody's responsibility
EMP Handbook 2015 News Manufacturing / Production Technology, Hardware & Services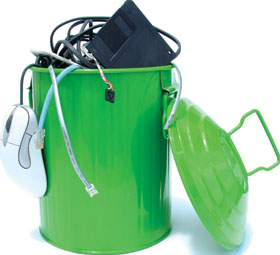 According to a survey conducted by the e-Waste Association of South Africa (eWASA) a staggering estimated 322 000 tons of electronic waste, or e-waste, is generated domestically per annum. What's more, this excludes the e-waste produced by motor vehicles. These estimates underline the critical nature of this problem and should be a strong motivator for businesses and consumers to become willing participants in recycling e-waste.
Keith Anderson, chairman of eWASA, a non-profit organisation that was started in 2008, says that 77 000 tons of the e-waste is IT equipment, 78 000 tons is from consumer equipment, 40 000 tons comes from small household appliances (kettles and toasters, for example) and 125 000 tons is from large household appliances (fridges, stoves and so forth).
The StEP Initiative has produced a world e-waste map that provides an overview of each country's e-waste related information (see Table 1 for South Africa's statistics). A disturbing fact is that in South Africa to date, e-waste has not been defined as a priority waste.

Hopefully this is changing. Anderson explains that eWASA, in conjunction with ITA PEG, has drafted the Industry Waste Management Plan (IWMP) which outlines due process for end-of-life (EoL) electronics.
This comprehensive 41-page document defines categories of e-waste, discusses transport contractors and their obligations, the tender process and appointment of e-waste processors, and explains the proposed Green Fee as well as the abatement process for legacy stockpiles. Job creation, training and development, as well as reporting are also discussed in the document.
The IWMP is currently in the hands of industry stakeholders who are reviewing the first draft. Once amendments have been made, the finalised IWMP will be submitted to the Minister of Environmental Affairs for consideration.
Anderson explains that EoL electronics have garnered significant interest amongst policymakers because they are a waste stream with a unique combination of characteristics. "Firstly, levels of EoL electronics, or e-waste, have been increasing and are expected to continue on this path. Secondly, e-waste contains materials that are considered toxic, such as lead, mercury and cadmium, which have led to increased environmental concern about improper disposal of these products.
"Thirdly," he continues, "there are valuable materials in e-waste and recovery of these materials can alleviate mining of virgin materials. For example, a metric ton of EoL personal computers contains more gold than that recovered from 17 tons of gold ore. Finally, in many cases the costs of recycling e-waste exceed the revenues generated from the recovered materials. This is primarily due to the difficulty of separating highly commingled materials in complex products. These concerns have led policymakers across the world to create systems to collect and process e-waste, also known as take-back systems."

According to Anderson, currently only 45 000 tons (12%) of all e-waste is collected for refurbishment or recycling. To date, the majority of e-waste has been dumped in landfills. However, with municipalities placing limitations on new landfills and the existing landfills reaching capacity, there is simply no space left for the burgeoning volume of e-waste.
Government is driving the initiative to reduce e-waste at landfills by substantially increasing the tariff paid to dump EoL electronics at these sites. This will prompt businesses and consumers to realise the cost efficiency of recycling EoL electronics through recognised recycling centres.
Anderson estimates the current waste collection market to comprise of approximately 40 000 people in the informal sector (trolley collectors, landfill collectors and other casual collectors), 784 semi-formal e-waste collectors and 40 formal e-waste collectors and recyclers.
A gold mine?
Most electronic goods contain a quantity of gold, silver and other precious and semi-precious metals which can be harvested. When correctly extracted, the uncontaminated fraction obtained from EoL electronics can be redirected back into the production process.
Anderson says that the fraction is generally 99% pure and has a reasonable value for recyclers. He cautions, however, that most of the recycling is undertaken offshore, which means that the value leaves the country and we are then forced to buy the fractions back from the recyclers. The aim is to have all recycling conducted in South Africa, hence keeping the money within our borders.
He gives the example of a laptop which costs R10 to recycle and will produce about R50 in fraction value. However, an old computer monitor or television set will cost R15 to recycle and contains a number of harmful elements, including lead. In this instance, incentives to recycle it would need to be in place to make this a sustainable operation.
The intention is to introduce a nominal fee into the production of all electronics goods which would cover the cost of recycling once the item reaches end of life. Consumers and businesses will receive instruction when purchasing the items that when the product has reached EoL it can be taken to a designated collection point from where it will be transported to a recycling centre.
Education
Making consumers (organisational and private) aware of the critical need for recycling of EoL electronics remains a challenge. As a non-profit organisation, eWASA has limited funds and resources, and depends on the goodwill of its members to drive the recycling initiative.
Anderson points out that national e-waste days do assist in raising funds, but the light at the end of the tunnel is the alignment with product responsible organisations (PROs), through the IWMP, which will assist with the marketing of eWASA and its e-waste programme. eWASA has 300 collection points throughout the country and is encouraging schools to become involved in collecting EoL electronics, for which they will receive a collection fee.
A number of manufacturers of electronic goods are working with organisations like eWASA to promote e-waste recycling and have instituted buy-back programmes. Examples include Incredible Connection and Samsung, who offer consumers a discount on Samsung products when they bring in EoL electronics. Similarly, HP and Standard Bank have a programme whereby the manufacturer provides a discount on IT equipment upgrades when EoL IT products are returned.
Conclusion
Given the fact that the world produces almost 49 million tons of e-waste annually, it is incumbent upon each responsible member of society to take a proactive stance in recycling and refurbishing EoL electronics.
Visit www.ewasa.org to become involved.
Further reading:
From the editor's desk: Are electromagnetic waves culpable in making us sick?
30 June 2020, Technews Publishing , News
When I started writing my column for this issue, I was determined to come up with a topic and a way to avoid mentioning the 'C' word. I came close – you will only find 'COVID-19' mentioned once or twice 
...
Read more...
---
To fake or not to fake
30 June 2020 , News
Prof. Johan Meyer explores the complex and controversial topic of the potential link between the global rollout of 5G networks and the COVID-19 pandemic.
Read more...
---
Clearing the Static: Curb the spread of COVID-19 with stringent floor hygiene
30 June 2020, Actum Electronics , News
According to the World Health Organisation (WHO), COVID-19 is primarily transmitted from person to person through respiratory droplets that emerge from the nose and mouth when an infected person speaks, 
...
Read more...
---
Personality profile: Warren Mande
30 June 2020, Altron Arrow , News
"It is said that "culture eats strategy for breakfast". Look to join companies whose culture fits your personal belief system."
Read more...
---
Not the end, but a journey
30 June 2020, ExecuKit , News
ExecuKit's Renita Fleischer and Elizna Classen offer local companies a route to help them navigate their way through what has become the 'new normal.'
Read more...
---
Elmatica CEO to vice chair IPC cybersecurity task group
30 June 2020, Elmatica , News
Didrik Bech, CEO of printed circuit broker Elmatica, has been appointed to serve as vice chair for IPC's new cybersecurity task group. The 2-12c Task Group leadership is a representation of IPC as an 
...
Read more...
---
From the editor's desk: Making and sending things to space
29 May 2020, Technews Publishing , News
In this issue, one of the topics we are featuring is the aerospace and military/defence sector. The feature includes an analysis of what it takes to successfully design and manufacture products in this 
...
Read more...
---
Electronics news digest
29 May 2020, Technews Publishing , News
South Africa
• Acting minister of communications and digital technologies, Jackson Mthembu, joined the world in observing World Telecommunication and Information Society Day (WTISD). Proclaimed by the 
...
Read more...
---
Personality profile: David Power
29 May 2020, Cadshop , News
"Aspire to work for a company that you admire, and for a boss that you want to serve, that shares your passion and motivation."
Read more...
---
Designing for military and defence applications
29 May 2020, Omnigo, Kreon Technology , News
No business can stand on its own without strong partnerships and stakeholder relationships. In this regard the military and defence industry is no exception.
Read more...
---