Overseas
Business
• Silicon Labs reported financial results for its fourth quarter ended 30 December 2017. Revenue in the fourth quarter ended at the high end of guidance at $201 million, up from $199 million in the third quarter, and establishing a new all-time record. Fourth quarter loss per share was $0,11, which includes an approximate $0,60 per share negative impact from US corporate tax reform. IoT revenue established a record, increasing to $109 million, up 10% sequentially and 28% year-on-year.
• In 2016, Cypress Semiconductor embarked on a business strategy it calls 'Cypress 3.0', focusing on the fast-growing automotive, industrial and consumer markets and fuelled by the proliferation of IoT. That ploy seems to be paying off, as the company announced fourth quarter 2017 revenue of $597,5 million – a 12,7% increase – and record annual revenue of $2,33 billion. Diluted loss per share for 2017 was $0,28, compared to $2,15 in 2016.
• Texas Instruments reported fourth quarter revenue of $3,75 billion, net income of $344 million and earnings per share of 34 cents. In its core businesses, analog revenue grew 11% and embedded processing grew 20% from the same quarter a year ago. Earnings per share include 75 cents in tax-related expenses not in the company's original guidance, primarily due to the recently passed US tax reform act.
• Samsung Electronics capped off a year in which it overtook Intel to become the world's largest semiconductor supplier, by posting strong financials for the fourth quarter of 2017. Fourth quarter sales were approximately $61,4 billion and profit $14 billion, driven mainly by the company's components division, with the largest contribution coming from the memory business that manufactures DRAM and NAND.
• Maxim Integrated Products reported net revenue of $623 million for its second quarter of fiscal 2018 ended 30 December 2017, an 8% increase over the prior quarter and a 13% increase over the same quarter of last year. However, the company suffered a net loss of $75,01 million, compared to a net income of $154,53 million in the prior quarter, primarily due to $244 million in charges due to US corporate tax reform.
• Net sales for Microsemi's first quarter of fiscal year 2018 were $468,7 million, up 7,6% from the $435,5 million reported in the first quarter of 2017. Net income was $47,9 million or $0,40 per diluted share for the first quarter of 2018, compared to $19,5 million or $0,17 per diluted share for the first quarter of 2017. The company expects net sales in the second quarter of fiscal year 2018 of between $477 million and $502 million.
• The European Union hit Qualcomm with a $1,2 billion fine for violating antitrust laws in its dealings with Apple. The EU's antitrust commission accused Qualcomm of paying Apple billions of dollars between 2011 and 2016 to use its chips exclusively in the iPhone and iPad. Qualcomm announced that it will appeal the fine.
Companies
• Broadcom has made what it described as its "best and final offer" to acquire Qualcomm, with an increased bid of $82 per share, amounting to a total purchase price of $121 billion. The improved offer is contingent upon Qualcomm either closing its acquisition of NXP Semiconductors for the disclosed terms of $110 per share, or terminating the transaction.
Industry
• Annual semiconductor sales reached a record high of $412,2 billion in 2017, the Semiconductor Industry Association (SIA) has announced. That was a 21,6% increase over 2016, and came off the back of a record December and fourth quarter, based on numbers compiled by the World Semiconductor Trade Statistics (WSTS) organisation. Memory was the largest semiconductor category by sales with $124,0 billion in 2017, and the fastest growing, with sales increasing 61,5%. Logic ($102,2 billion) and micro-ICs ($63,9 billion) – a category that includes microprocessors – rounded out the top three product categories in terms of total sales. Annual sales increased substantially across all regions: the Americas (35,0%), China (22,2%), Europe (17,1%), Asia Pacific/All other (16,4%) and Japan (13,3%).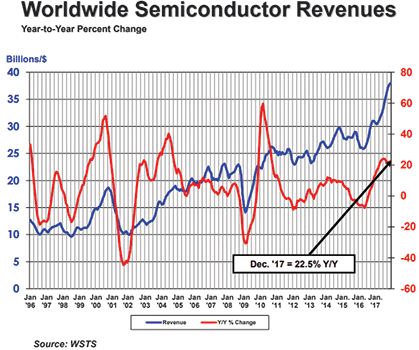 • Samsung Electronics and Apple remained the top two semiconductor chip buyers in 2017 (for the seventh year running), representing 19,5% of the total worldwide market, according to research firm Gartner. The two companies consumed $81,8 billion worth of semiconductors in 2017, an increase of more than $20 billion from 2016. Eight of the top 10 companies in 2016 remained in the top 10 in 2017, with the top five chip buyers (Samsung, Apple, Dell, Lenovo and Huawei) remaining in the same positions.