printer friendly version
Modern teaching tools are learning new tricks
8 April 2015
News
Kids these days have it easy. A simple Internet search on Google can accomplish in an instant what might have taken hours of scouring through textbooks back in my day.
Rote memorisation has been rendered redundant by computer hard drives. Repetitive tasks that take a human an inordinate amount of time and cause untold boredom can be performed by even the most basic computer in the blink of an eye.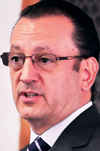 Bez Sangari, CEO of Sangari South Africa.
But then, today's students face an ever escalating set of challenges too. As Bez Sangari, CEO of Sangari South Africa points out, even Isaac Newton, for all his genius, had to master only a fraction of the knowledge in his specific field that students today must know and apply. His brain also wouldn't have been littered with anywhere near the enormous volume of incidental information and distractions that now confront us on a daily basis.
In the everyday computing power we take for granted, we have created the perfect tool to complement our innate mental abilities by transcending our shortcomings. It is the harnessing of this power for the purposes of learning that lies at the core of Sangari's existence.
In the simplest terms, the company could be described as a provider of technology for teaching technology and related subjects, but for those of us twentieth century dinosaurs who grew up on a diet of times tables, printed textbooks and a backbreaking regimen of schoolbag lifting, it represents the leading edge of a seismic shift in the way students learn.
STEMming from modern teaching challenges
Sangari supplies teaching aids for the STEM subjects (science, technology, engineering and mathematics) from Grade 4 through tertiary level. These include electronic whiteboards, student response devices (clickers), tablets for teachers and learners, real-time classroom assessment software and digital curriculum content.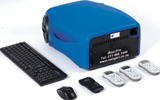 Sangari's locally designed and manufactured iBox provides a 'plug-and-teach' system in a box.
One of these systems is the iBox, which was commissioned for design by Sangari and manufactured locally. It provides a complete, interactive tool that even teachers with little computer know-how can use to enhance their lessons with everything from simple slides to multimedia playback. By virtue of its portability, it can be packed up after a lesson to be stored in a secure location to prevent its theft. This also allows it to be shared between teachers for use in their own classrooms, mitigating the investment cost for the school compared to buying a system for each classroom.
But teaching by means of a one-way transmission of information from teacher to pupils has been done through different media for centuries; it is in their interactivity that lies the true potential of teaching aids like this, and it opens the way for things that have simply never been possible before.
For instance, teachers can conduct 'spot' tests at any time during a lesson to gauge their students' level of understanding and engagement. Since each one inputs their answers on their own electronic device, a teacher can get real-time feedback on whether their lesson is missing the mark, or if a particular student is struggling.
Consequently, they also have a measure of how these results are affected by modifying their teaching approach, encouraging experimentation to find what works best. These results can even be shared and compared between teachers to raise the overall quality of education.
On the subject of experimentation, these systems can, by handing over control to the students themselves, give them the freedom to test ideas in a visceral, digital format without risk or fear of failure. Think along the lines of clicking on the image of a beaker containing some chemical on a tablet computer's touch screen, then another chemical, and adding a flame to set in motion a chemical reaction. In this way a lesson can be learned just as effectively as the real thing, while sparing the cost of consumables (not to mention preventing singed eyebrows).
In the field of electronics, Sangari supplies a software solution that enables learners to design, create and test virtual circuit boards. Simply called Electronics Software Simulator, it combines the basic tools needed in an intuitive graphical user interface.
Learning to make a difference
Predictably, a good deal of Bez Sangari's time is spent forging relationships with educational institutions. But equally important are the relationships he forms with commercial enterprises, in an effort to convince them that education is one of the most worthwhile causes for their corporate social investment (CSI) budgets.
By forming a bridge between the two parties, Sangari serves as a platform through which educational institutions – and their students – can benefit from modern teaching tools they might not otherwise be able to afford.
'Weld' done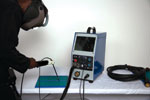 Soldamatic augmented reality simulator for trainee welders.
The coolest toy Sangari has set up in the lab at its Kyalami Business Park headquarters is an augmented reality (AR) simulator for teaching welding. Part of the Soldamatic range made by Spain's Seabery, this machine's faceplate features all the knobs, buttons and dials an aspiring welder would be likely to encounter in the real world. It also has a realistic looking welding grip with retractable rod, a colour LCD screen and, most important of all, a pair of AR goggles.
Upon fitting these goggles, one's eyes are treated to a view of the actual workbench over which they're standing, overlaid with a virtual welding spark and visual guides that either confirm correct technique or draw attention to faults. The instructor can see what their student is doing on the exterior LCD and offer advice, as well as save results to a PC for subsequent review. (A video can describe this far better than words, and is easy to find using a search phrase like 'Soldamatic augmented reality' on YouTube.
While it doesn't come cheap, this system incurs no costs on consumables or throwaways, and effectively allows students to train themselves through a risk-free process of trial and error. I got to test it myself and can confirm three things: 1) it is very responsive and intuitive to use; 2) I was impressed by the novelty factor; 3) if, for some reason, a welding licence is ever issued bearing my name, every man, woman and child on planet Earth will forever after live in imminent danger of injury or death from any object that falls prey to my welding skills – Sangari's instructor didn't actually tell me to keep my day job, but I can still see the disappointment in his eyes.
For more information contact Bez Sangari, Sangari South Africa, +27 (0)11 466 1440, [email protected]
Further reading:
Quectel masterclass: IoT device application development
iCorp Technologies News
Quectel has announced the latest masterclass in a series of technical webinars titled "Accelerate wireless IoT device application development with Azure RTOS on STM32 MCUs".
Read more...
---
ST announces status of common share repurchase programme
News
The repurchase programme took place over the period from 11 to 15 July 2022 and saw ST repurchasing 210 462 ordinary shares.
Read more...
---
Actum Group leads in the interconnect industry
Actum Electronics News
Actum Group is a specialist importer and distributor of industrial and electronic products in Southern Africa and a leader in the interconnect industry.
Read more...
---
From the editor's desk: Do we have the power?
Technews Publishing News
On a recent trip to Grahamstown in the Eastern Cape I was reminded, quite rudely and abruptly to be honest, of the load shedding that has plagued South Africa for the last few years. Living in KZN, we 
...
Read more...
---
Top five MPU suppliers strengthen market dominance
Editor's Choice News
The new ranking shows that long-time leader in microprocessor units, Intel, has moved downwards closer to half the total worldwide sales in microprocessors.
Read more...
---
New meta-lens revolutionises vacuum UV optics
News
A research team co-led by City University of Hong Kong have successfully developed a novel vacuum ultra-violet (VUV) meta-lens which can generate and focus the UV light.
Read more...
---
Electronics news digest
Technews Publishing Electronic News Digest News
The Semiconductor Industry Association (SIA) has announced global semiconductor industry sales were $51,8 billion in the month of May 2022, an increase of 18,0% over the May 2021 total of $43,9 billion 
...
Read more...
---
EVENTS
Events News
IFA Berlin
2-6 September Berlin, Germany This event aims to present the latest products and innovations in the commercial electronics industry. It will offer a comprehensive overview of the international 
...
Read more...
---
Going beyond with HONOR
MyKay Tronics Editor's Choice News
The tempo of business in China is lightning fast. But if you are responsive and go a step beyond, the rewards can be great. In just 15 days, Mycronic delivered 30 dispensing systems to HONOR.
Read more...
---
Global cellular IoT connections increase 22%
News
A new report says that the global number of cellular IoT subscribers increased by 22% during 2021 and that the number of cellular IoT devices will reach 4,3 billion by 2026.
Read more...
---