printer friendly version
Electronics news digest
16 May 2018
News
Overseas
Business
• STMicroelectronics achieved a massive 22,2% year-over-year improvement to its net revenue, which totalled $2,23 billion for the first quarter of its 2018 financial year. The company reported that this growth was reflected by double-digit sales growth across all product groups and regions. Net income for the quarter was $239 million, or $0,26 diluted earnings per share (EPS).
• NXP Semiconductors delivered first quarter revenue of $2,27 billion, an increase of approximately 3% year-on-year, and a decrease of 8% as compared to the prior quarter, with the annual period comparison impacted by the divestment of the standard products business during the first quarter of 2017. The company is still awaiting regulatory approvals for its acquisition by Qualcomm; the purchase offer of $127,50 per share expires on 25 July 2018.
• Total revenue for ON Semiconductor's first quarter of 2018 was $1377,6 million, down approximately 4% compared to the first quarter of last year and flat sequentially. At $139,6 million ($0,31 per diluted share), net income improved year-on-year by 79%.
• Silicon Labs' first quarter revenue exceeded the high end of guidance at $205 million, up from $201 million in the prior quarter, and establishing a new all-time record for the company. The company expects revenue in the second quarter to be in the range of $211 million to $217 million.
• Quarter-on-quarter, revenue grew by 3% to 1,836 billion Euros for Infineon Technologies' second quarter of 2018. The automotive and industrial power control segments reported significant growth, while the power management and multimarket, and chip card and security segments remained almost unchanged compared to the preceding quarter. Net income improved sequentially from 205 million Euros to 457 million Euros.
• Texas Instruments reported first-quarter revenue of $3,79 billion, net income of $1,37 billion and earnings per share of $1,35 for its first 2018 quarter. Revenue increased 11% from the same quarter a year ago, driven by strong demand for the company's analog and embedded processing products in the industrial and automotive markets. The second-quarter outlook is for revenue in the range of $3,78 billion to $4,10 billion, and earnings per share between $1,19 and $1,39.
• Cypress Semiconductor announced first quarter revenue of $582,2 million, a 9,5% year-over-year increase, boosted by a rise in revenue from the automotive end market of 14,8%. Net income for the first quarter of 2018 was $9,08 million ($0,02 EPS) compared with a net loss of $43 million in the first quarter of 2017.
Companies
• Intel is selling its embedded software business, Wind River, to the global equity group TPG. The sale comes nine years after Intel acquired Wind River for $884 million in cash. The financial terms of the sale to TPG have not been disclosed.
Industry
• The Semiconductor Industry Association announced that worldwide sales of semiconductors reached $111,1 billion during the first quarter of 2018, an increase of 20% compared to the first quarter of 2017, but 2,5% less than the fourth quarter of 2017. Sales for the month of March 2018 came in at $37,0 billion, an increase of 20% compared to the March 2017 total of $30,8 billion and 0,7% more than the February 2018 total of $36,8 billion.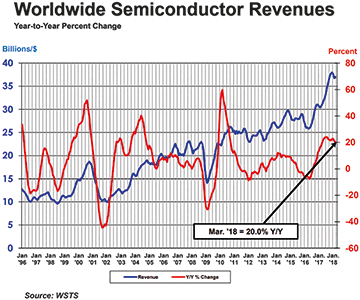 • According to the SEMI trade association, the global market for materials used to manufacture semiconductors grew 9,6% in 2017, and is projected to grow by another 4% in 2018 to reach an all-time high of $48,7 billion. For the eighth consecutive year, Taiwan, at $10,3 billion, was the largest consumer of semiconductor materials due to its large foundry and advanced packaging base. China solidified its hold on second spot, followed by South Korea and Japan.
• A benchmarking system for machine-learning applications, called MLPerf, is being developed as a collaboration between industry and academia. Expected to be ready for use in August this year, MLPerf has enjoyed research contributions from such institutions as Harvard and Stanford Universities, and is supported by leading tech companies including AMD, Baidu, Google and Intel. The benchmark's approach will be to select a set of machine-learning problems, each defined by a dataset and quality target, then measure the wall clock time to train a model for each problem.
Further reading:
Buy a Fluke, get one free
28 October 2020, Comtest , News
Comtest, Fluke's official South African importer, is offering one free Fluke for every Fluke purchased from any South African-based, authorised Fluke dealer. Fluke is a world leader in the manufacture, 
...
Read more...
---
Online Ohm's law calculator from Mouser
28 October 2020 , News
The famous Ohm's law states that the current flowing through a circuit is proportional to the voltage applied across both points. Mouser Electronics' online Ohm's law calculator saves engineers time by 
...
Read more...
---
From the editor's desk: Where monsters, viruses and technology meet
25 November 2020, Technews Publishing , News
I clearly remember the moment it really sank in that the world as we know it has become almost unrecognisable from a year ago. It would be hard not to remember really, because it happened only two days 
...
Read more...
---
Clearing the Static: ESD training and compliance
25 November 2020, Actum Group , News
According to Desco Industries, electrostatic discharge (ESD) can change the electrical characteristics of a semiconductor device, degrading or destroying it entirely. ESD could also potentially damage 
...
Read more...
---
SA project receives international energy award
25 November 2020 , News
South Africa's largest energy efficiency initiative, the SA Industrial Energy Efficiency Project, has won the highest international accolade for an energy programme – the International Energy Project 
...
Read more...
---
Intelsat brings space STEM to students in Africa
25 November 2020 , News
Intelsat is partnering with XinaBox to deliver space-focused science, technology, engineering and mathematics (STEM) learning tools to teenagers across the African continent. Intelsat is sponsoring 
...
Read more...
---
DesignSpark racks up one million members
25 November 2020 , News
RS Components recently marked a significant milestone when its DesignSpark engineering platform surpassed one million members. This comes just a few months after DesignSpark celebrated ten years of 
...
Read more...
---
Personality profile: Dereck Styane
25 November 2020, Phoenix Contact , Editor's Choice, News
"We do try and develop people and promote them from within the company, so I savour people's personal growth that I've overseen."
Read more...
---
MTN and Siyavula enabling maths and science learners
25 November 2020 , News
Lockdown or no lockdown, South African learners will do what it takes to ensure that they are ready for their year-end exams. So says the MTN SA Foundation, which partnered with digital teaching and learning 
...
Read more...
---
Production Logix appoints new business development manager
25 November 2020, Production Logix , News
KwaZulu-Natal based electronics contract manufacturer, Production Logix, is broadening its scope and sharpening its focus as it expands its footprint across South Africa and into southern Africa. As part 
...
Read more...
---