printer friendly version
Tellumat's contract manufacturing unit forges ahead under new guise
12 August 2015
News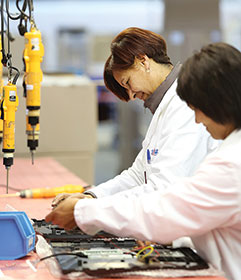 In the industrial area of Retreat in Cape Town's deep south sits a large but unassuming factory, whose slumbering façade belies a hive of activity on the inside, and whose output touches the lives of South Africans on a daily basis.
The factory floor of Grand Tellumat Manufacturing (formerly Tellumat Electronic Manufacturing) is abuzz with the activity of technicians in white lab coats and antistatic protection, busily overseeing automated production lines doing rapid-fire, precise electronic component placements as well as manual product assembly, testing, quality checks and packing.
Many would be surprised at just what's being pumped out of the 9000 m² facility's parallel production lines. "In a busy month, we've made tens of thousands of LED TVs for the likes of Sony and other global brands," says Murison Kotzé, managing executive of Grand Tellumat Manufacturing (GTM).
GTM is one of a very limited number of contract electronic manufacturers in South Africa with the capability to do this. What that means is that it engineers, industrialises, procures, assembles, tests and dispatches thousands of products every month. What's more, it does this for clients that are the electronic brands behind many of the products that automate, regulate, communicate and even protect our lives every day.
'We manufacture and assemble on contract for a wide range of customers and brands – some of them competitors of one another – and that's why confidentiality and the protection of client intellectual property are paramount to us," continues Kotzé. "We can however disclose that the factory manufactures computer monitors, digital commercial display units and TV units for home and office use. In addition, GTM assembles vehicle tracking units, used locally and exported internationally for security as well as fleet management purposes."
Other products manufactured at the plant include control boxes for traffic lights, and even a radar system used locally and internationally in golf pro shops and at driving ranges, for a US-based customer. The radar is used to test and trial new golf clubs and to assist with coaching. Whether outside at a range or indoors at a practice net, the device tracks clubhead speed, ball trajectory and the angle of the club face at impact (amongst other measures) – and, after some quick and clever calculations, displays it on a screen. This graphically shows the distance and trajectory a player would have hit the ball, whether he or she hit a draw or fade, and how clean the strike was.
"We have also manufactured many electricity meters on behalf of our clients," says Kotzé. "We continue to manufacture a number of military avionics devices like the IFF (Identification Friend or Foe) aircraft transponder, on behalf of our sister company Tellumat, that identifies friendly aircraft to other friendly ground, air or sea forces. In the commercial airspace, we manufacture satellite communication antennas which are now used on many commercial airliners.

GTM is also involved in the green energy sector where it has already produced components for solar energy farms on behalf of a German customer, and is presently busy with a similar localisation project for a US-based customer. And lastly, the company is the first true local manufacturer of slot machines in South Africa, thanks to the efforts of its majority shareholder Grand Parade Investments. "Presently, machines are mostly fully imported into SA, but we contract manufacture and assemble limited payout machine cabinets for two international customers. We trust that soon, based on our local and B-BBEE credentials, we will be doing the same for many more slots OEMs."
Making a name
That's some pretty cool stuff right in our own backyard, so why doesn't anyone know about it? Kotzé says the electronic contract manufacturing scene in South Africa is relatively small and unknown. "Further, when you are manufacturing on behalf of a customer and its brand, the customer brand is the point of consumer interaction, so that is where the recognition should and does go. We provide a service to our customers that allows them to focus on product development and sales, and in so doing afford them the opportunity, once a product is developed, to not have to worry about manufacturing. Most companies get excited about developing and selling their ideas; the making is often what lets them down and that is where we come in with our engineering, sourcing and assembly expertise."
But leaving aside GTM's contract electronic manufacturing focus, will we ever see a GTM-branded electronics goodie in our everyday lives? "With our sister company Tellumat, we have developed our own set-top box and hope to be a significant participant in South Africa's pending migration to digital TV, with a locally designed and manufactured unit," says Kotzé.
B-BBEE
Chances are they might just nail it. GTM is a joint venture between JSE-listed Grand Parade Investments Limited (51%) and defence and communications technology company Tellumat (Pty) Ltd (49%). The JV has enviable B-BBEE credentials, offering value to local and international clients alike.
"Most major South African government procurement projects require a large percentage of local content," explains Kotzé. "Added to this, the revised B-BBEE codes place an even larger emphasis on local procurement and enterprise development. This is done, in part, to enforce government's stated objective to drive job creation both directly and indirectly. GTM is perfectly positioned to provide this local content."
One-stop shop
With a full turnkey service portfolio ranging from design to manufacturing, testing and post-manufacturing services, among others, and by being able to handle volumes from prototyping phase to high-volume runs, GTM differentiates itself from many other electronics manufacturers, which either do only product integration, surface mounting or other standalone services.
"We can take on someone with just an idea and, having the ability to take them from concept to a working prototype, provide full manufacturing and ultimately facilitate the packaging and delivery of the product, and even after-sales support," Kotzé continues.
On the flipside GTM can just as easily provide any of the standalone services within the production cycle. "For example, if someone just needs testing done or a PC board populated, we can do that. We can also assist with just design or industrialisation, if that is what a client wants," says Kotzé. "We're literally a one-stop shop. I doubt there is anybody in South Africa, at the moment, who can offer our full suite of services and volume capabilities under one roof."
For more information contact Duncan Pollock, Grand Tellumat Manufacturing, +27 (0)21 710 2911, dpollock@grandtellumat.com, www.grandtellumat.com
Further reading:
Resources for home and building automation
31 August 2020, TRX Electronics , News
Mouser Electronics is expanding its comprehensive range of building automation solutions from Silicon Labs, TE Connectivity (TE), and Littelfuse for the rapidly growing smart home and building automation 
...
Read more...
---
From the editor's desk: Enough of 2020 already
31 August 2020, Technews Publishing , News
Forgive me, but I don't think I'm alone in being a bit all over the place mentally at the moment. So far, two of my colleagues have been diagnosed positive for COVID-19 and have fortunately recovered. 
...
Read more...
---
Tribute to Paul Soteriou
31 August 2020 , News
Paul Soteriou, a man always willing to share what he had with a smile and with a deep-found love for South Africa, passed away earlier this year.
Read more...
---
Personality profile: Brian Andrew
31 August 2020, RS Components (SA) , News
With a father who is a civil engineer and an older brother who is a chemical engineer, you could say engineering was in the DNA of Brian Andrew.
Read more...
---
SA company scores in major international renewable energy project
31 August 2020, ETION Create , News
South African-based Etion Create has been selected as one of the preferred suppliers in the Sofia offshore wind farm project in the United Kingdom, one of the largest in the world. Etion Create, an original 
...
Read more...
---
Company profile: Vepac Electronics
31 August 2020, Vepac Electronics , News
Vepac Electronics was formed in 1987 and has been operating in South Africa since 1976 as Vero UK. Vepac Electronics was formed as a management buyout of Vero UK by the management at the time led by 
...
Read more...
---
South African stakeholders commit to responsible AI
31 August 2020 , News
Much like a microcosm of our socio-economic context, the artificial intelligence (AI) landscape in South Africa is uneven and burdened with regulatory challenges. If not addressed, these challenges could 
...
Read more...
---
Clearing the Static
31 August 2020, Actum Electronics , News
Ionisation and static control
Electronic products normally consist of conductors and insulators. Within the ESD-protected workstation, insulators can be found on products such as PCBs, onthe tools being 
...
Read more...
---
Women taking the lead in engineering
31 August 2020 , Editor's Choice, News
Alaris Antennas is an engineering company specialising in the design and production of (often) customised antennas for electronic warfare. This is not an industry that typically attracts women to steer 
...
Read more...
---
Promoting women in the smart meter sector
31 August 2020 , News
Trade careers have traditionally been more male dominated, but they are also a fantastic opportunity for women and this should be a focus of the smart meter market.
Read more...
---