printer friendly version
CSIR's electronics test pod earns its wings
14 October 2015
News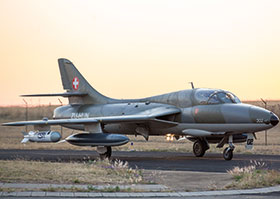 The Council for Scientific and Industrial Research (CSIR) has completed the first flight test of Inundu – its new electronics testing, evaluation and training pod.
Designed to serve as the closest thing to an airborne laboratory environment, it will be used to test electronics during flight on military type platforms without requiring electronic hardware hardening or ruggedisation.
The name Inundu originated from the isiZulu word meaning 'moth'. Tiger Moths 'click' to disrupt a bat's echolocation capability, similar to electronic warfare (EW) techniques. For this reason, Inundu was chosen as the name for the CSIR's first fast jet radar and EW laboratory in the sky. It will serve as an experimental platform for airborne electronics and support EW testing and evaluation, which includes electronic support applications and Synthetic Aperture Radar. The aim is for the pod to support the CSIR, local industry, the South African National Defence Force and international requirements.
The main aim of the instrumented flight test was to perform an initial assessment of the influence of the pod on aircraft handling, determine the performance of the pod airframe structure and conduct an internal environment analysis in preparation for the integration of payload electronics.
On 10 September 2015 at Lanseria airport, Inundu was installed on a Hawker Hunter – a demilitarised, British-designed fighter aircraft – and piloted by the owner, Ron Wheeldon, and South African Air Force retired Major General Desmond Barker, who is also an internationally recognised test pilot and an acting executive director of the CSIR. The pod was tested up to a flight envelope speed of 350 knots (648 km/h) with the flight crew satisfied that the pod had no noticeable influence on aircraft handling. The development team confirmed that the pod was structurally intact and they were confident that the flight envelope would be extended during the next flight test to meet the full design goals.
"As South Africa celebrates 75 years in radar research and development, this is a major leap forward in bringing together aeronautical, EW and radar research," says CSIR's radar and EW research group manager, Erlank Pienaar. "The team has taken significant strides in extending our laboratory and surface based research infrastructure to the airborne environment. This progress would not have been possible without the support we received from Epsilon Engineering Services and other industry members, such as Paramount Advanced Technologies, the National Airways Corporation and e-System Solutions."
Inundu is an agile, multi-purpose electronics technology demonstrator designed to enable the exchange of an electronics payload without affecting its interfaces with the carriage aircraft, thus enabling flight testing of a wide range of electronic technologies. The radome in the front of the pod supports radio frequency transmission and reception, and is designed to facilitate integration with fast jets with minimal additional effort. The pod attenuates the severity of the environment that the payload experiences and provides all the interfaces between the payload and the outside world.
The pod is highly configurable with a modular, interchangeable payload, and offers the option of being electrically independent from the carriage aircraft by using a Ram Air Turbine, Wi-Fi communications and a base station telemetry link. It has on-board GPS and an inertial measurement unit for real-time platform situational awareness, and enables scripted or human-in-the-loop responses according to experimental requirements.
For more information visit www.csir.co.za
Further reading:
Quectel masterclass: IoT device application development
iCorp Technologies News
Quectel has announced the latest masterclass in a series of technical webinars titled "Accelerate wireless IoT device application development with Azure RTOS on STM32 MCUs".
Read more...
---
ST announces status of common share repurchase programme
News
The repurchase programme took place over the period from 11 to 15 July 2022 and saw ST repurchasing 210 462 ordinary shares.
Read more...
---
Actum Group leads in the interconnect industry
Actum Electronics News
Actum Group is a specialist importer and distributor of industrial and electronic products in Southern Africa and a leader in the interconnect industry.
Read more...
---
From the editor's desk: Do we have the power?
Technews Publishing News
On a recent trip to Grahamstown in the Eastern Cape I was reminded, quite rudely and abruptly to be honest, of the load shedding that has plagued South Africa for the last few years. Living in KZN, we 
...
Read more...
---
Top five MPU suppliers strengthen market dominance
Editor's Choice News
The new ranking shows that long-time leader in microprocessor units, Intel, has moved downwards closer to half the total worldwide sales in microprocessors.
Read more...
---
New meta-lens revolutionises vacuum UV optics
News
A research team co-led by City University of Hong Kong have successfully developed a novel vacuum ultra-violet (VUV) meta-lens which can generate and focus the UV light.
Read more...
---
Electronics news digest
Technews Publishing Electronic News Digest News
The Semiconductor Industry Association (SIA) has announced global semiconductor industry sales were $51,8 billion in the month of May 2022, an increase of 18,0% over the May 2021 total of $43,9 billion 
...
Read more...
---
EVENTS
Events News
IFA Berlin
2-6 September Berlin, Germany This event aims to present the latest products and innovations in the commercial electronics industry. It will offer a comprehensive overview of the international 
...
Read more...
---
Going beyond with HONOR
MyKay Tronics Editor's Choice News
The tempo of business in China is lightning fast. But if you are responsive and go a step beyond, the rewards can be great. In just 15 days, Mycronic delivered 30 dispensing systems to HONOR.
Read more...
---
Global cellular IoT connections increase 22%
News
A new report says that the global number of cellular IoT subscribers increased by 22% during 2021 and that the number of cellular IoT devices will reach 4,3 billion by 2026.
Read more...
---