printer friendly version
Bold inventions win at science fair
4 November 2015
News
RS Components was part of the judging panel and one of the sponsors for the special awards at this year's Eskom Expo for Young Scientists that took place at the Birchwood Conference Centre on the 7th and 8th of October.
The event is a science fair where students from all over South Africa, as well as from other countries, exhibit projects based on their own research. It is aimed at increasing students' awareness of the wonders of science, adding to their knowledge and broadening their scientific horizons. Students are required to identify a problem, analyse information, find solutions and communicate their findings effectively.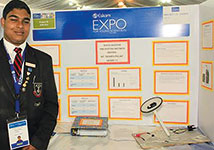 Trishen Pillay, Novel Ignition preventing drunk driving, Dundee High School.
Hundreds of students participated in different categories with innovative ideas to solve everyday problems. Projects ranged from creating bio fuel, automated pill dispensers for people with Alzheimers, to charging a cellphone with a lemon. As much as these are deemed 'school science projects', they have created exposure and opportunities for young South Africans far beyond the classroom. A great example is Siyabulela Xuza, who developed a cheaper, safer rocket fuel as his project and won the gold medal at the Expo in 2006, followed by other international wins, a scholarship to Harvard and global recognition by having a planet named after him.
"It was encouraging to engage with these young scientists at the expo and to discuss all the amazing ideas that are possible and could solve real world challenges. The future of our country will depend on the skills of its young people and we are proud to be a part of an initiative that promotes science, technology and commercial learning amongst learners," said Mellisa Naidoo, head of marketing for RS Components South Africa.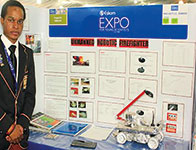 Kibert Kirui, Unmanned Robotic fire fighter, Mbilwi Secondary School.
RS sponsored prizes in the form of two Raspberry Pi systems, each of which included a Raspberry Pi 2, an SD card with software preloaded, 2,8" LCD starter kit, mouse and keyboard. The two systems were part of the special awards at the Eskom Expo.
The two special award winners won for their work on an Unmanned Robotic fire fighter and a Novel Ignition preventing drunken driving. The students are from Mbilwi Secondary School and Dundee High School.
For more information contact RS Components, +27 (0)11 691 9300, sales.za@rs-components.com, www.rsonline.co.za
Credit(s)
Further reading:
Coalition calls on European Commission to postpone SCIP deadline
30 September 2020 , News
A coalition of 40 industry organisations has written a letter to European Commission President Ursula von der Leyen calling for decisive action to solve implementation issues within the EU Waste Framework 
...
Read more...
---
Follow this engineering journey of a 3D-printed boat
30 September 2020, RS Components (SA) , News
RS Components is releasing a 10-episode documentary series – titled SeaQuest – featuring members of its DesignSpark engineering community who embarked on a first-of-its-kind challenge to design, test 
...
Read more...
---
Mouser revamps technical resource centre
30 September 2020, TRX Electronics , News
Mouser Electronics has redesigned its Technical Resource Centre, which contains the global distributor's ever-expanding collection of technical articles, blogs, eBooks, and Methods technology and solutions 
...
Read more...
---
IPC teams up with PSMA on standards and more
30 September 2020 , News
IPC and the Power Sources Manufacturers Association (PSMA) have signed a memorandum of understanding (MoU) pledging to build a strong complementary relationship between the two entities with a focus on 
...
Read more...
---
Battery Technologies Conference goes virtual
30 September 2020 , News
Vukani Communications is back again with the 6th edition of the Battery Technologies Conference, and this time around the gathering is virtual. Topics to be discussed include, but are not limited to:
...
Read more...
---
Grounding jumpers for management of high-power busbars
31 August 2020, RS Components (SA) , Circuit & System Protection
RS Components (RS) has introduced Molex's Triton grounding jumpers for the safe management of high-power busbars. Unique to the industry, the range is UL-certified to deliver quality, safety and reliability.  
...
Read more...
---
A journey into the automation unknown
31 August 2020 , News
From small-town specialised machine builder to global technology company, Jendamark Automation's business journey has been characterised by calculated leaps into the unknown. And, as South African manufacturers 
...
Read more...
---
New digital storage oscilloscope
31 August 2020, RS Components (SA) , Test & Measurement
RS Components is now stocking the Tektronix TBS1000C digital storage oscilloscope. Affordable, compact and easy-to-use, the TBS1000C comes with enhanced user interface and courseware, proving a great 
...
Read more...
---
Resources for home and building automation
31 August 2020, TRX Electronics , News
Mouser Electronics is expanding its comprehensive range of building automation solutions from Silicon Labs, TE Connectivity (TE), and Littelfuse for the rapidly growing smart home and building automation 
...
Read more...
---
Connectors for automotive applications
31 August 2020, RS Components (SA) , Interconnection
RS Components has launched the A Series of high-specification automotive connectors from Amphenol, one of the world's leading makers of interconnection devices suitable for a huge diversity of markets 
...
Read more...
---