printer friendly version
CSIR celebrates 70th anniversary
4 November 2015
News
The Council for Scientific and Industrial Research (CSIR) held its fifth Conference at its convention centre in Pretoria on 8 and 9 October.
The event also commemorated 70 years of the organisation's existence, having been established on 5 October 1945.
In addition to a small exhibition area highlighting the CSIR's history and achievements, as well as a handful of outside companies and government bodies exhibiting their wares, the event featured presentations by CSIR specialists giving insights into their respective fields of expertise. These covered the areas of Information and Communications Technology, Energy, Defence and Security, Industry, Health, Natural Environment and Built Environment, as well as symposia that gave emerging researchers the opportunity to shine. Plenary sessions in each category also gave delegates the chance to enjoy dynamic interactions between South African experts and dignitaries, and specially invited counterparts from outside our borders.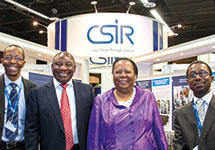 Following a rendition of the national anthem, CSIR CEO, Dr Sibusiso Sibisi, welcomed guests to the conference. Naledi Pandor, minister of science and technology, then offered her congratulations and praise for the organisation's role in national scientific and industrial development, which was echoed by deputy president Cyril Ramaphosa and director-general of the department of science and technology, Dr Phil Mjwara. Also among the luminaries was Ebrahim Patel, minister of economic development, who delivered the keynote address on the second morning of the event.
A panel discussion broadcast on CNBC Africa featured Pandor, Sibisi, Dr Michael Thackery (international energy storage specialist), Dr Kamal Bhattacharya (vice president of IBM Research in Africa) and Jan van Toor (vice president and head of disruptive innovation, Airbus Defence and Space). Discussing the role that science, technology and innovation, and institutions such as the CSIR can play in changing the socio-economic landscape of South Africa and the continent, they gave their views on a range of topics.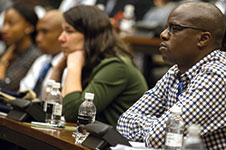 Pandor highlighted the efforts behind attracting investors to SA's science and technology sector, and the positive signs that investment is on the increase following a period of decline. She emphasised the fact that national contact points are a significant part of these efforts, as well as the fact that South Africa is at the forefront of the continent when it comes to attracting investment, but must continue to foster cooperation with other African countries. Pandor also underlined Africa's increasing focus on higher education as an enabler, and stressed that SA must invest at least 1% of its GDP in science and technology.
The panel also raised the point that the most significant progress in pushing technological frontiers often occurs during the most challenging times and under difficult circumstances. In this regard, Thackeray expressed the opinion that South Africa should be leading the way when it comes to renewable energy, not only for the global opportunities this presents but also because it is necessary to overcome the country's continuing energy crisis.
Strong performance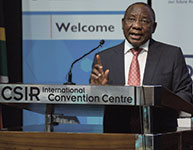 The council also released its annual report for the 2014/15 financial year, which demonstrated sound performance against its scientific and financial targets. It reported that it remains financially sustainable and has exceeded its financial targets, with total operating income increasing by 10,7% to R2,38 billion. Total contract research and development (R&D) income increased by 12% to R1,68 billion, while net profit amounted to R52,4 million.
The financial results report emphasised the key priority of technology transfer, with the organisation exceeding all its scientific and technical targets, including producing 45 new technology demonstrators – well above the targeted 25. It was also granted 18 new patents, against a target of 15.
When it comes to building and transforming human capital, at the end of the financial year 335 CSIR staff members in the science, engineering and technology (SET) base had a doctoral qualification, 15 more than the target of 320. The SET base comprised 55,8% black South Africans and 33,6% female South Africans.
Dr Sibisi reiterated the organisation's commitment to demonstrating the value of investment in R&D, especially in the current tough economic climate. "We need to show how the investment in scientific R&D is able to deliver immediate value for our country through, for example, increasing efficiencies within the private and public sectors, improving our ability to understand the environments within which we work and therefore to make better decisions, and to improve our national ability to deliver services."
Further reading:
Coalition calls on European Commission to postpone SCIP deadline
30 September 2020 , News
A coalition of 40 industry organisations has written a letter to European Commission President Ursula von der Leyen calling for decisive action to solve implementation issues within the EU Waste Framework 
...
Read more...
---
Follow this engineering journey of a 3D-printed boat
30 September 2020, RS Components (SA) , News
RS Components is releasing a 10-episode documentary series – titled SeaQuest – featuring members of its DesignSpark engineering community who embarked on a first-of-its-kind challenge to design, test 
...
Read more...
---
Mouser revamps technical resource centre
30 September 2020, TRX Electronics , News
Mouser Electronics has redesigned its Technical Resource Centre, which contains the global distributor's ever-expanding collection of technical articles, blogs, eBooks, and Methods technology and solutions 
...
Read more...
---
IPC teams up with PSMA on standards and more
30 September 2020 , News
IPC and the Power Sources Manufacturers Association (PSMA) have signed a memorandum of understanding (MoU) pledging to build a strong complementary relationship between the two entities with a focus on 
...
Read more...
---
Battery Technologies Conference goes virtual
30 September 2020 , News
Vukani Communications is back again with the 6th edition of the Battery Technologies Conference, and this time around the gathering is virtual. Topics to be discussed include, but are not limited to:
...
Read more...
---
A journey into the automation unknown
31 August 2020 , News
From small-town specialised machine builder to global technology company, Jendamark Automation's business journey has been characterised by calculated leaps into the unknown. And, as South African manufacturers 
...
Read more...
---
Resources for home and building automation
31 August 2020, TRX Electronics , News
Mouser Electronics is expanding its comprehensive range of building automation solutions from Silicon Labs, TE Connectivity (TE), and Littelfuse for the rapidly growing smart home and building automation 
...
Read more...
---
From the editor's desk: Enough of 2020 already
31 August 2020, Technews Publishing , News
Forgive me, but I don't think I'm alone in being a bit all over the place mentally at the moment. So far, two of my colleagues have been diagnosed positive for COVID-19 and have fortunately recovered. 
...
Read more...
---
Tribute to Paul Soteriou
31 August 2020 , News
Paul Soteriou, a man always willing to share what he had with a smile and with a deep-found love for South Africa, passed away earlier this year.
Read more...
---
Personality profile: Brian Andrew
31 August 2020, RS Components (SA) , News
With a father who is a civil engineer and an older brother who is a chemical engineer, you could say engineering was in the DNA of Brian Andrew.
Read more...
---