After a messy divorce presided over by former president Jacob Zuma in 2014, the departments of telecommunications and postal services (DTPS) and communications (DOC) are set to re-tie the knot this year. This follows calls from industry to merge the two departments to create an environment in which policy can more effectively be written and regulations developed and implemented, in order to move South Africa's telecommunications industry forward.
President Cyril Ramaphosa announced late last year that he had appointed Stella Ndabeni-Abrahams, former deputy minister of communications, to head up the merged entity (which will become known simply as the DTPS) and take charge of the merger process. Ndabeni-Abrahams announced in January that the process is gaining traction, as she sets about meeting the president's target of completing the merger after the 2019 general elections.
But the whole, sordid affair has left scars. Even the aunties and uncles got dragged into it, with eTV and MultiChoice trading legal blows over the issue of encryption. Eventually, grandma (Marian Shinn, the DA's shadow communications minister) felt compelled to step in and pass judgement, declaring that the split in the department was one of the major causes of delays in digital migration.
Which brings me to the innocent victim in all this: what of the welfare of digital migration? The sickly, misbegotten child of that former union has been left out in the cold while the corporates, politicians and (dare I say) champions of state capture have been fighting over the poor, wretched creature like some sort of gilded wishbone.
The answer to that question, quite simply, is "I don't know." After spending R10 billion on the project, government seems to have shrugged its shoulders and declared it somebody else's problem, by saying it will no longer buy, store, transport or install set-up boxes like it promised, but will instead leave it up to the private sector to fix its mess.
I'm not sure about everybody else, but I'm left fairly clueless as to what's actually happening around digital migration at this point in time. Can I go into an electronics store and buy a digital TV decoder? No idea. If I did buy one and plugged it in, are there any TV signals for it to receive in my area? Not the foggiest. Is the whole thing even still happening? I wouldn't even hazard a guess.
Surely the Go Digital SA website, set up by the DOC for the express purpose of informing the public, will give me the answers I need? Well, the 'Digital Coverage' page on the website, which purports to show what areas of the country are covered, has a tiny pink block (representing free-to-air, i.e., SABC and eTV) and a tiny blue block (representing M-Net) in the rough vicinity of Johannesburg, the same somewhere between Pretoria and what looks like it might be Middelburg, the same again at some unlabelled locale between Richards Bay and Pinetown, and one solitary blue block over Cape Town.
The first two lines of text on the page read: "Full market launch of digital TV is expected to take place during the firts [sic] half of 2010. To make sure everything goes smoothly, digital TV broadcasting will be phased in one area at a tim [sic], after launch in 2010." So… not much help then.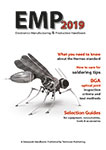 Following my investigative instinct, I fired up google to find out more, before bravely giving up halfway through the second search phrase that came to mind. To be honest, who really even cares anymore seeing as we've got Netflix now? Getting enthused for the year ahead is a far better use of my energy.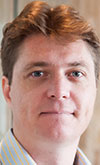 And to start off the year, we bring to you not only the January issue of Dataweek, but also our fourth annual Electronics Manufacturing & Production (EMP) Handbook, featuring news and views from local contract electronics manufacturers, company profiles, technical articles and practical guides, selection guides for equipment, consumables, tools and accessories, and a directory of South African manufacturers, suppliers and service providers.
On behalf of the Dataweek team, I would like to wish all our readers a productive and prosperous 2019!
Brett van den Bosch
Editor