printer friendly version
Electronics news digest
27 March 2019
News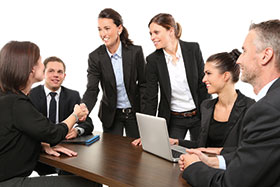 South Africa
Electronic Industry Supplies has gained the South African distribution agency for Stannol, a German company specialising in products for the electronics manufacturing market. Stannol's product range includes solder wires, solder pastes, flux, solder bars, soldering equipment, measurement and testing equipment, conformal coatings and various accessories.
The Council for Scientific and Industrial Research (CSIR) has partnered with Right ePharmacy, a company that dispenses, distributes and collects medication, to develop an innovative pharmacy automation robot for medicine dispensing. The AVA34 robot works like an ATM, using robotic technology to label and dispense chronic medication. It can pick up to 900 sachets, serve up to 10 pharmacists, label up to 550 sachets, and load up to 120 different medicine items, all within an hour. This cuts the waiting periods at clinics and hospitals, relieving pressure on the public healthcare system.
Minister of Communications, Ms Stella Ndabeni-Abrahams, teamed up with Nokia to host a Fourth Industrial Revolution (4IR) Innovation Day at the multinational's corporate office park in Centurion on 15 March 2019. The event saw government officials, young people who are beneficiaries of the TechnoGirl programme and students at the Leadership in Motion Academy (LIMA), exposed to technological innovations that improve the quality of learning, conservation, transportation and fashion, amongst others. The minister is the TechnoGirl brand ambassador, an innovative job-shadowing programme for girls, with a particular bias towards science, technology, engineering and mathematics (STEM) careers.
Department of Trade and Industry (DTI) minister Rob Davies has highlighted the benefits of the newly launched Atlantis Special Economic Zone (SEZ). A combined R1,8 billion is expected to be invested in the SEZ by 2022, with the creation of 1 200 direct jobs. A total of 24 000 full-time equivalent jobs are also expected to be created over the SEZ's 20-year lifespan. This is in line with the department's industrial policy and will contribute towards the objectives of the National Development Plan (NDP).
Overseas
Business
Sierra Wireless reported results for its fourth quarter and fiscal year ended 31 December 2018. For the fourth quarter, revenue was $201,4 million (up 9,7% from the fourth quarter of 2017) and EPS (earnings per share) was a $0,11 loss. Revenue for the full year totalled $793,6 million (up 14,9% from 2017) and EPS was a $0,68 loss.
Industry
The Semiconductor Industry Association (SIA) announced that worldwide sales of semiconductors reached $35,5 billion for the month of January 2019, a decrease of 5,7% from the January 2018 total of $37,6 billion and 7,2% less than the December 2018 total of $38,2 billion. Regionally, year-to-year sales increased slightly in Europe (0,2%), but fell in the Americas (-15,3%), Asia Pacific/All Other (-3,8%), China (-3,2%) and Japan (-1,5%).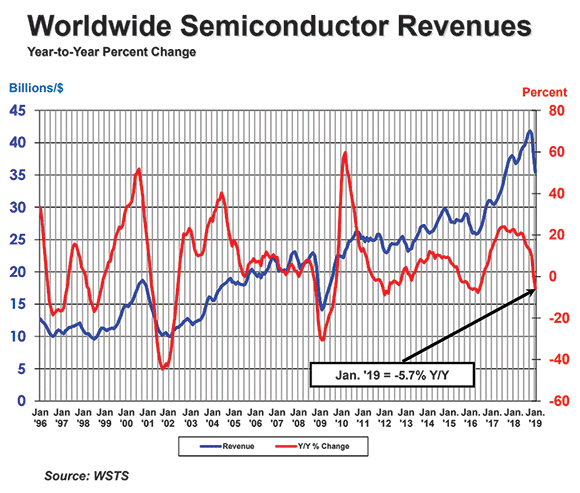 For 2019, a steep 24% drop in the memory market is forecast by IC Insights to pull the total semiconductor market down by 7%. With 83% of Samsung's semiconductor sales being memory devices last year, the memory market downturn is expected to drag the company's total semiconductor sales down by 20% this year. Although Intel's semiconductor sales are forecast to be relatively flat in 2019, the company is poised to regain the number 1 semiconductor supplier ranking this year, a position it held from 1993 through 2016.
Further reading:
Buy a Fluke, get one free
28 October 2020, Comtest , News
Comtest, Fluke's official South African importer, is offering one free Fluke for every Fluke purchased from any South African-based, authorised Fluke dealer. Fluke is a world leader in the manufacture, 
...
Read more...
---
Online Ohm's law calculator from Mouser
28 October 2020 , News
The famous Ohm's law states that the current flowing through a circuit is proportional to the voltage applied across both points. Mouser Electronics' online Ohm's law calculator saves engineers time by 
...
Read more...
---
Clearing the Static
28 October 2020, Actum Group , News
ESD training and compliance
According to Desco Industries, electrostatic discharge (ESD) can change the electrical characteristics of a semiconductor device, degrading or destroying it entirely. ESD 
...
Read more...
---
Coalition calls on European Commission to postpone SCIP deadline
30 September 2020 , News
A coalition of 40 industry organisations has written a letter to European Commission President Ursula von der Leyen calling for decisive action to solve implementation issues within the EU Waste Framework 
...
Read more...
---
Follow this engineering journey of a 3D-printed boat
30 September 2020, RS Components (SA) , News
RS Components is releasing a 10-episode documentary series – titled SeaQuest – featuring members of its DesignSpark engineering community who embarked on a first-of-its-kind challenge to design, test 
...
Read more...
---
Mouser revamps technical resource centre
30 September 2020, TRX Electronics , News
Mouser Electronics has redesigned its Technical Resource Centre, which contains the global distributor's ever-expanding collection of technical articles, blogs, eBooks, and Methods technology and solutions 
...
Read more...
---
From the editor's desk: Electric and autonomous vehicles driving full-speed ahead
28 October 2020, Technews Publishing , News
I still can't stop myself from doing a double-take when I hear that Tesla is rolling out a software update to add some sort of new functionality to its cars. Some of those updates are pointless show-off 
...
Read more...
---
Electronics news digest
28 October 2020 , News
South Africa
• The Department of Defence (DoD) has appointed a special team, called 'Save Denel' to investigate Denel's financial struggles, and the impact they might have on SA National Defence Force 
...
Read more...
---
Clearing the Static
28 October 2020, Actum Group , News
The Importance of ESD audits
An ESD audit is the first step in establishing an effective static control programme. Before you invest money in new ESD equipment, an ESD audit will help you identify vulnerable 
...
Read more...
---
TRX welcomes Hannes Taute as new MD
28 October 2020, TRX Electronics , Editor's Choice, News
We delve into his background, what his plans for TRX Electronics are, and how he envisions what the future of the local electronics industry will look like.
Read more...
---