printer friendly version
Electronics expo completes first lap of Kyalami
13 July 2016
News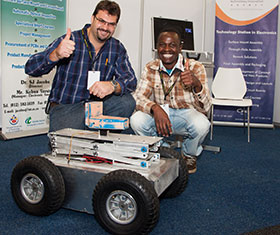 The electronics engineering community came together for its annual exhibition on the 22nd and 23rd of June, under a new guise and at a new venue.
This was the first such event held independently under the auspices of AREI, the Association of Representatives for the Electronics Industry, which evolved out of the former ADEC (Association of Distributors and manufacturers of Electronic Components) near the end of 2014. The event, branded as the 'South African Electronics Industry (SAEI) Expo 2016', was held at the newly revamped Kyalami Exhibition and Conference Centre, right in the heart of the famous race track.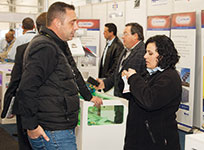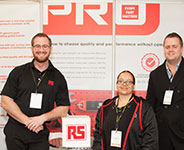 The expo attracted nearly 40 of the country's leading component and equipment distributors, educational institutions, service providers and the likes. In addition to exhibition space, the show featured a seminar venue where local and overseas specialists passed on their knowledge of topics spanning a broad cross-section of electronics engineering spheres. All told, close to 500 visitors attended the 2-day event.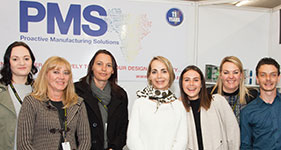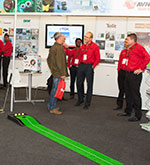 Further reading:
RFiber adds high-reliability supplier to its stable
25 August 2021, RFiber Solutions , News
RFiber Solutions has expanded its portfolio by establishing a distribution channel for X-REL Semiconductor's offering into the South African market. RFiber says it is optimistic about the solutions 
...
Read more...
---
New GlobalFoundries fab to be built in Singapore
28 July 2021 , News
GlobalFoundries (GF) is expanding its global manufacturing footprint with the construction of a new semiconductor fabrication plant (fab) on its Singapore campus.  The global demand for semiconductor 
...
Read more...
---
Avnet celebrates 20 years of 'speedboat' business model
28 July 2021, Avnet Abacus, Avnet Silica , News
Avnet EMEA, the regional business organisation of Avnet Inc., is celebrating the 20th anniversary of its 'speedboat' model, which is the term used by Avnet to describe how its individual distribution 
...
Read more...
---
Electronics News Digest
25 August 2021 , News
South Africa
Defence technology company, Denel, has outlined an extensive restructuring plan to become a sustainable and profitable business within the next five years. Part of this plan includes reducing 
...
Read more...
---
Events
25 August 2021 , News
Nepcon Vietnam
15-17 September 2021 Hanoi, Vietnam Covers SMT, testing technologies, equipment and supporting industries for electronics manufacturing. The event will bring together technologies and 
...
Read more...
---
iCorp Technologies – 'We don't sell components, we provide solutions'
25 August 2021, iCorp Technologies , News
"In a year, around 1 trillion electronic chips are made and for every person on the planet, there are 128 chips produced. An ever-increasing demand for a connected world has led to an increase in demand, 
...
Read more...
---
Task group set up to advance TSN interoperability
25 August 2021 , Telecoms, Datacoms, Wireless, IoT, News
Avnu Alliance, the industry consortium driving open, standards-based deterministic networking, announced a new initiative to drive alignment on TSN (time sensitive networking) interoperability in the 
...
Read more...
---
From the Editor's desk: Turning off the 2G taps
25 August 2021, Technews Publishing , News
Update: Following the publication of this article, specifically the part about Cell C, the company reached out to set the record straight on its strategy around the decommissioning of its RAN (radio area 
...
Read more...
---
Company profile: Membrane Switch Technologies
25 August 2021, Membrane Switch Technologies , News
Membrane Switch Technologies' (MST) origins date back to 1983 when Technor/Molex started manufacturing membrane switches in South Africa. Molex was the second largest connector manufacturer in the world 
...
Read more...
---
Research collaboration strengthened between CSIR and UNDP
25 August 2021 , News
The Council for Scientific and Industrial Research (CSIR) and the United Nations Development Programme (UNDP) have committed to strengthening research, development and innovation (RDI) into the fourth 
...
Read more...
---