printer friendly version
Electronics news digest
30 April 2019
News
South Africa
• The CSIR (Council for Scientific and Industrial Research) – which will turn 75 in 2020 – has plotted a new strategic direction built around the vision of accelerating socioeconomic prosperity in South Africa by building on industrial development opportunities, to ultimately create a more balanced focus on scientific and industrial development. The strategy focuses on nine synergistic clusters and enabling initiatives which span several industries and rely on collaboration with a host of public and private sector stakeholders, funding partners, industry associations, higher education institutions and innovation partners.
• The minister of science and technology, Mmamoloko Kubayi-Ngubane, has welcomed the approval by Cabinet of the new white paper on science, technology and innovation (STI), which identifies the Fourth Industrial Revolution as a key focus and purports to place STI at the centre of South Africa's development agenda. Reviews of the national system of innovation by the department of science and technology have revealed that the system is not inclusive – for example, the number of women (particularly black women) in research, science, technology and innovation is very low – so government's agenda will also place a strong emphasis on social concerns.
• ExecuKit has relocated to new business premises at Unit B04, Micro Industrial Park, Strijdompark. The company's landline phone number is set to change, but managing director Renita Fleischer can still be reached on her mobile number of +27 82 744 9660.
• Otto Marketing has relocated from its long-time home in Strijdompark to Unit 6, Anglo Industrial Park, 319 Waltloo Road, Waltloo, Pretoria. Its landline number has changed to +27 12 803 7373.
Overseas
Business
• Analog Devices announced financial results for its first quarter of fiscal 2019, which ended 2 February. Compared to the same quarter last year, revenue decreased by 2% to reach $1,54 billion, while diluted earnings per share (EPS) were 22% higher at $0,95. For the second quarter of this year, the company is forecasting revenue of about $1,50 billion and EPS in the region of $0,94.
Companies
• Qorvo has entered into a definitive agreement to acquire Active-Semi International, a private fabless supplier of programmable analog power solutions. Active-Semi will become part of Qorvo's Infrastructure and Defence Products (IDP) group. Active-Semi's technologies are positioned to intersect multiple long-term secular trends in 5G, industrial, data centre, automotive and smart home by addressing the increased demand for efficient power solutions.
• ON Semiconductor has agreed to acquire Quantenna Communications, a Wi-Fi chip and software vendor, for approximately $1,07 billion. The acquisition is another step towards strengthening ON's presence in low-power connectivity for the industrial and automotive markets.
Industry
• The Semiconductor Industry Association (SIA) announced worldwide sales of semiconductors reached $32,9 billion for the month of February 2019, a decrease of 7,3% from the January 2019 total of $35,5 billion and 10,6% less than the February 2018 total of $36,8 billion. Regionally, sales decreased both month-to-month and year-to-year across all regional markets: Europe (-2,3% month-to-month/ -3,0% year-to-year), Asia Pacific/All Other (-5,1%/ -7,2%), Japan (-5,3% / -5,9%), China (-7,8%/ -8,5%), and the Americas (-12,9%/ -22,9%).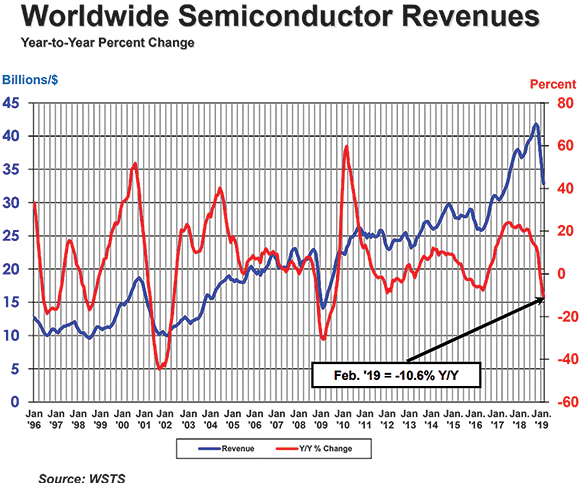 Further reading:
A journey into the automation unknown
31 August 2020 , News
From small-town specialised machine builder to global technology company, Jendamark Automation's business journey has been characterised by calculated leaps into the unknown. And, as South African manufacturers 
...
Read more...
---
Resources for home and building automation
31 August 2020, TRX Electronics , News
Mouser Electronics is expanding its comprehensive range of building automation solutions from Silicon Labs, TE Connectivity (TE), and Littelfuse for the rapidly growing smart home and building automation 
...
Read more...
---
From the editor's desk: Enough of 2020 already
31 August 2020, Technews Publishing , News
Forgive me, but I don't think I'm alone in being a bit all over the place mentally at the moment. So far, two of my colleagues have been diagnosed positive for COVID-19 and have fortunately recovered. 
...
Read more...
---
Tribute to Paul Soteriou
31 August 2020 , News
Paul Soteriou, a man always willing to share what he had with a smile and with a deep-found love for South Africa, passed away earlier this year.
Read more...
---
Personality profile: Brian Andrew
31 August 2020, RS Components (SA) , News
With a father who is a civil engineer and an older brother who is a chemical engineer, you could say engineering was in the DNA of Brian Andrew.
Read more...
---
SA company scores in major international renewable energy project
31 August 2020, ETION Create , News
South African-based Etion Create has been selected as one of the preferred suppliers in the Sofia offshore wind farm project in the United Kingdom, one of the largest in the world. Etion Create, an original 
...
Read more...
---
Company profile: Vepac Electronics
31 August 2020, Vepac Electronics , News
Vepac Electronics was formed in 1987 and has been operating in South Africa since 1976 as Vero UK. Vepac Electronics was formed as a management buyout of Vero UK by the management at the time led by 
...
Read more...
---
South African stakeholders commit to responsible AI
31 August 2020 , News
Much like a microcosm of our socio-economic context, the artificial intelligence (AI) landscape in South Africa is uneven and burdened with regulatory challenges. If not addressed, these challenges could 
...
Read more...
---
Clearing the Static
31 August 2020, Actum Electronics , News
Ionisation and static control
Electronic products normally consist of conductors and insulators. Within the ESD-protected workstation, insulators can be found on products such as PCBs, onthe tools being 
...
Read more...
---
Women taking the lead in engineering
31 August 2020 , Editor's Choice, News
Alaris Antennas is an engineering company specialising in the design and production of (often) customised antennas for electronic warfare. This is not an industry that typically attracts women to steer 
...
Read more...
---