printer friendly version
Electronics news digest
30 April 2019
News
South Africa
• The CSIR (Council for Scientific and Industrial Research) – which will turn 75 in 2020 – has plotted a new strategic direction built around the vision of accelerating socioeconomic prosperity in South Africa by building on industrial development opportunities, to ultimately create a more balanced focus on scientific and industrial development. The strategy focuses on nine synergistic clusters and enabling initiatives which span several industries and rely on collaboration with a host of public and private sector stakeholders, funding partners, industry associations, higher education institutions and innovation partners.
• The minister of science and technology, Mmamoloko Kubayi-Ngubane, has welcomed the approval by Cabinet of the new white paper on science, technology and innovation (STI), which identifies the Fourth Industrial Revolution as a key focus and purports to place STI at the centre of South Africa's development agenda. Reviews of the national system of innovation by the department of science and technology have revealed that the system is not inclusive – for example, the number of women (particularly black women) in research, science, technology and innovation is very low – so government's agenda will also place a strong emphasis on social concerns.
• ExecuKit has relocated to new business premises at Unit B04, Micro Industrial Park, Strijdompark. The company's landline phone number is set to change, but managing director Renita Fleischer can still be reached on her mobile number of +27 82 744 9660.
• Otto Marketing has relocated from its long-time home in Strijdompark to Unit 6, Anglo Industrial Park, 319 Waltloo Road, Waltloo, Pretoria. Its landline number has changed to +27 12 803 7373.
Overseas
Business
• Analog Devices announced financial results for its first quarter of fiscal 2019, which ended 2 February. Compared to the same quarter last year, revenue decreased by 2% to reach $1,54 billion, while diluted earnings per share (EPS) were 22% higher at $0,95. For the second quarter of this year, the company is forecasting revenue of about $1,50 billion and EPS in the region of $0,94.
Companies
• Qorvo has entered into a definitive agreement to acquire Active-Semi International, a private fabless supplier of programmable analog power solutions. Active-Semi will become part of Qorvo's Infrastructure and Defence Products (IDP) group. Active-Semi's technologies are positioned to intersect multiple long-term secular trends in 5G, industrial, data centre, automotive and smart home by addressing the increased demand for efficient power solutions.
• ON Semiconductor has agreed to acquire Quantenna Communications, a Wi-Fi chip and software vendor, for approximately $1,07 billion. The acquisition is another step towards strengthening ON's presence in low-power connectivity for the industrial and automotive markets.
Industry
• The Semiconductor Industry Association (SIA) announced worldwide sales of semiconductors reached $32,9 billion for the month of February 2019, a decrease of 7,3% from the January 2019 total of $35,5 billion and 10,6% less than the February 2018 total of $36,8 billion. Regionally, sales decreased both month-to-month and year-to-year across all regional markets: Europe (-2,3% month-to-month/ -3,0% year-to-year), Asia Pacific/All Other (-5,1%/ -7,2%), Japan (-5,3% / -5,9%), China (-7,8%/ -8,5%), and the Americas (-12,9%/ -22,9%).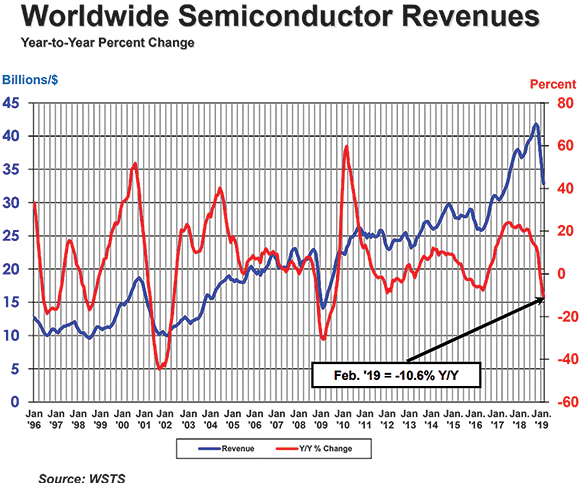 Further reading:
Plan your media strategy with Technews Publishing
23 October 2019, Technews Publishing , News
Dear Marketer, Have you ever looked back on a year and wondered how you survived it? For the majority of South Africans, 2019 started benignly enough, cosily wrapped in the blanket of Ramaphoria that 
...
Read more...
---
From the editor's desk: Getting charged up for the new year
25 November 2019, Technews Publishing , News
The Springboks' Rugby World Cup triumph in Japan couldn't have come at a better time for South Africa, as the country was in desperate need of a jolt of positive energy going into the festive season. 
...
Read more...
---
Battery Technologies Conference 2019
25 November 2019 , News, Editor's Choice
Batteries are a critical enabler of the Fourth Industrial Revolution, powering technology in products from laptops and handheld devices to electric vehicles and renewable energy storage.
Read more...
---
Boom, doom and gloom, or something completely different?
25 November 2019, Technews Publishing , News, Editor's Choice
As the end of 2019 looms, it's time to look ahead to what next year might have in store, and reflect on the year gone by. And what a year it's been.
Read more...
---
Actum Group remains resilient and optimistic for 2020
25 November 2019, Actum Electronics , News
Running a profitable business in South Africa is not for the fainthearted. With the national treasury downgrading this year's growth forecast from 1,5% to 0,5%, and state-owned entities like Eskom negotiating 
...
Read more...
---
Additional renewable energy development zones proposed
25 November 2019 , News
The second phase of the Strategic Environmental Assessment (SEA) for wind and solar photovoltaic (PV) energy in South Africa proposes three additional Renewable Energy Development Zones (REDZs) for wind 
...
Read more...
---
Locally developed electronic circuit builder for students
25 November 2019, K Measure , News, Editor's Choice
K Measure, creator of the award-winning Seebox engineering education solution, has created a new innovation to enable quick and easy electronic circuit-building. The SeeBlocks electronic circuit creator 
...
Read more...
---
Clearing the Static:Topic 9: Time to audit your ESD environment
25 November 2019, Actum Electronics , News
Now that we are nearing the end of the year, it is a good time to audit your existing static control products and procedures. The first line of defence should be your antistatic floor, since this is the 
...
Read more...
---
Winning hackathon entry curbs cell tower battery theft
25 November 2019 , News
The fourth annual TADHackJHB was held at MTN's head office in Fairland, Johannesburg, on 12 and 13 October, with a cell tower protection app emerging as the winner. The theme for the 2019 global TADHack 
...
Read more...
---
Products of the Year 2019
25 November 2019 , News
SmartServer IoT by Adesto
BAW-based chips for comms infrastructure
Cellular modules for LPWA applications
SoCs and software for smart home and IIoT
Secure element for IoT authentication
MPU for embedded 
...
Read more...
---