printer friendly version
Electronics news digest
29 May 2019
News
South Africa
• South Africa will soon join the World Economic Forum's (WEF) Centre for the Fourth Industrial Revolution Network (C4IR Network) alongside China, India and Japan by launching an affiliate centre. The WEF established the C4IR in San Francisco, USA in March 2017 as a hub for global, multi-stakeholder cooperation to develop policy frameworks and advance collaborations that accelerate the benefits of science and technology. The South African government, through the Department of Science and Technology (DST), intends to establish an affiliate centre as a public-private partnership based at the Council for Scientific and Industrial Research (CSIR).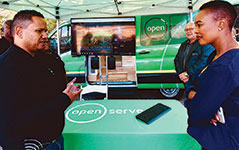 Communications minister Stella Ndabeni-Abrahams attending the launch of Telkom's fibre connectivity in Soweto.
• Stella Ndabeni-Abrahams, the minister of communications, marked the 50th anniversary of the International Telecommunications Union (ITU) on 17 May when she delivered a keynote address at the launch of Telkom's fibre connectivity in Soweto. World Telecommunications and Information Society Day (WTISD) marks the signature of the first International Telegraph Convention in 1865, which led to the creation of the ITU.
Overseas
Business
• In the second quarter of the 2019 fiscal year, Infineon Technologies' revenue grew by 1% from 1,97 billion Euros to 1,98 billion Euros quarter-on-quarter. Revenue was up in the automotive and digital security solutions segments, marginally down in the industrial power control segment, and somewhat more significantly down in the power management and multimarket segment. Net income for the quarter amounted to 231 million Euros, compared to 254 million Euros in the previous quarter. Quarter-on-quarter, earnings per share from continuing operations remained unchanged at 0,22 Euros (basic and diluted).
• Maxim Integrated Products reported net revenue of $542 million for its third quarter of fiscal 2019 ended 30 March 2019, a 6% decrease from the $577 million revenue recorded in the prior quarter, and a 16% decrease from the same quarter of last year. Diluted earnings per share (EPS) in the March quarter were $0,47. Looking ahead to the June quarter, the company expects to achieve revenue of $540 million to $580 million, and EPS between $0,53 and $0,59.
• National Instruments announced Q1 2019 revenue of $311 million, flat year over year. GAAP net income for the quarter was $23 million, with fully diluted EPS of $0,17. Excluding the impact of foreign currency exchange, revenue was up 3% in the Americas, up 6% in APAC, and down 3% in EMEIA.
• NXP Semiconductor delivered revenue of $2,1 billion during the first quarter of 2019, just above its guidance but still a year-on-year decrease of 8%. Due to a richer mix of sales and expense control measures, the company managed to deliver improved profitability toward the higher end of its guidance range, and returned $788 million to its shareholders during the quarter, consistent with its long-term capital return policy.
• Revenue in ON Semiconductor's first quarter of 2019 was $1,39 billion, up approximately 1% compared to revenue in the first quarter of 2018, but down approximately 8% as compared to revenue in the fourth quarter of 2018. Net income for the latest quarter was $114,1 million or $0,27 per diluted share, compared to $139,6 million or $0,31 per diluted share in the same quarter of 2018, and $165,6 million or $0,39 per diluted share in the immediately prior quarter.
• For Silicon Labs' first quarter of 2019, revenue was at the midpoint of guidance at $188,1 million, down from $215,5 million in the previous quarter, and diluted EPS were $0,12. IoT revenue was down 11% sequentially and up 3% year-on-year; infrastructure revenue was about flat sequentially and down 7% year-on-year; broadcast revenue was down 25% sequentially and 27% year-on-year; and access revenue was down 36% sequentially and 43% year-on-year. The company expects second quarter revenue to be in the range of $202 million to $212 million.
• STMicroelectronics achieved first quarter net revenues of $2,08 billion, and net income of $178 million or $0,20 diluted earnings per share. For the full year 2019, it expects net revenues to be in the range of about $9,45 to $9,85 billion, and therefore plans for strong sequential growth in the second half of the year compared with the first half, across the industrial, automotive and personal electronics end markets.
• Texas Instruments reported first-quarter revenue of $3,59 billion, net income of $1,22 billion and earnings per share of $1,26. This represented a 5% year-on-year decline in revenue, with the company's core analog and embedded processing businesses experiencing 2% and 14% declines, respectively.
Companies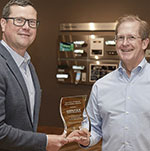 Microchip Technology presented Gentex with a plaque commemorating the delivery of its 25 billionth MCU.
• Microchip Technology has delivered its 25 billionth microcontroller (MCU), in the same year the company marks its 25th anniversary. The company awarded the milestone purchase of its PIC24 MCU to Gentex, a long-time supplier of electro-optical products for the global automotive industry. Gentex integrates the PIC MCU into its HomeLink car-to-home automation system, which consists of in-vehicle buttons that can be programmed to operate garage doors, security gates and other home automation devices.
Industry
• The Semiconductor Industry Association (SIA) announced worldwide sales of semiconductors totalled $96,8 billion during the first quarter of 2019, a decrease of 15,5% over the previous quarter and 13% less than the first quarter of 2018. For the month of March, sales decreased on a year-to-year basis across all major regional markets and semiconductor product categories, consistent with the cyclical trend the global market has experienced recently.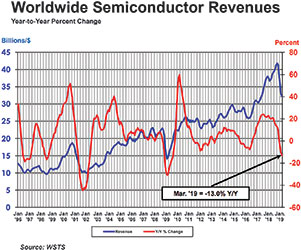 Source: WSTS
Further reading:
Locked down but not knocked out
25 March 2020, ExecuKit , News
As a business, we are facing extremely hard times with the current worldwide pandemic and isolation. We are all maintaining social distancing and must learn how to do business with an enforced lockdown 
...
Read more...
---
From the editor's desk: A new era – after mourning comes rebuilding
29 April 2020, Technews Publishing , News
When I sit down to write these columns once a month, even if the topic I decide to write about is not all sunshine and roses, I always try and look for a silver lining. I'm simply not able to do that 
...
Read more...
---
Personality profile: Chris Viveiros
29 April 2020, Otto Wireless , News
The operations director of Otto Wireless Solutions shares his background, experience, advice and thoughts on the future.
Read more...
---
Locked down but not knocked out
29 April 2020, ExecuKit , News
We as a company salute the component suppliers who have supported us and are there to assist during this time even if the requests we pose are not always realistic.
Read more...
---
Electronics industry tackling the coronavirus
29 April 2020 , News
2020 has been a crazy year already. From Australian bushfires to climate emergencies to US trade tariffs, the start of the decade hasn't been very positive. Not only this, within the last few months there 
...
Read more...
---
SqwidNet becomes first Sigfox-accredited lab in southern hemisphere
29 April 2020, iSERT , News
iSERT (Safety, EMC, RF, Testing), a leader in the provision of turnkey testing solutions for EMC, RF and safety testing, has collaborated with SqwidNet, the only licenced Sigfox operator in South Africa, 
...
Read more...
---
Clearing the Static: ESD cleaning and hygiene products
29 April 2020, Altico Static Control Solutions , News
In light of the current COVID-19 pandemic, Actum Group would like to remind electronics manufacturers of our range of antistatic cleaning agents, cleanroom materials and PPE.      
Cleanroom garments and 
...
Read more...
---
Jemstech continuing its growth path
29 April 2020, Jemstech , News
Since its inception in 2005 and especially during the past five years, Jemstech has grown from a medium-sized electronic manufacturing services (EMS) provider into one of the major players for electronics 
...
Read more...
---
Company profile: Phoenix Contact
29 April 2020, Phoenix Contact , News
Phoenix Contact was founded in 1923 in Essen, Germany, by Hugo Knümann. It entered the South African market in 1969 through a local distributor, and was later established as a wholly owned subsidiary 
...
Read more...
---
In memoriam: Vivienne Caroline Dorrington - 19 June 1958 – 21 April 2020
29 April 2020, Technews Publishing , News
It is with great sadness that we announce the death of our CEO, Vivienne Dorrington, after a long and brave battle with cancer. Like her father, Ray Beaumont, who founded Technews Publishing in 1985, 
...
Read more...
---