printer friendly version
Electronics news digest
26 June 2019
News
South Africa
• South Africa is looking to take on a leading role in the international space weather monitoring community. Space weather events are capable of seriously disrupting modern technologies such as satellites, GPS, power grids, and navigation and communication systems. Based in Hermanus in the Western Cape, the South African National Space Agency (SANSA) facility is the only such centre on the continent, and has been designated by the International Civil Aviation Organisation (ICAO) as one of two regional centres around the world that will monitor space weather for the global aviation sector, providing crucial safety-related services such as solar storm forecasts and warnings.
Overseas
Companies
• A wholly owned subsidiary of NXP Semiconductors has signed an agreement to acquire Marvell's wireless connectivity portfolio in an all-cash, asset transaction valued at $1,76 billion. The acquisition encompasses Marvell's Wi-Fi connectivity business unit, Bluetooth technology portfolio and related assets. The acquisition, which includes approximately 550 people worldwide, will enable NXP to deliver complete, scalable processing and connectivity solutions to its customers across its focus end markets. The transaction is expected to close by the first quarter of 2020.
• Infineon Technologies has struck a deal to buy Cypress Semiconductor for $23,85 per share in cash, corresponding to an enterprise value of 9 billion Euros. Cypress has a differentiated portfolio of microcontrollers as well as software and connectivity components that Infineon sees as being highly complementary to its power semiconductors, sensors and security solutions, better positioning the company for high-growth markets. Based on pro forma revenues of 10 billion Euros in 2018, the transaction will make Infineon the eighth biggest chip manufacturer in the world, and the number one supplier to the automotive market.
Industry
• According to the Semiconductor Industry Association (SIA) and based on numbers compiled by the World Semiconductor Trade Statistics (WSTS) organisation, worldwide sales of semiconductors were $32,1 billion in April 2019, a decrease of 14,6% from the April 2018 total of $37,6 billion and 0,4% less than the March 2019 total of $32,3 billion. On a year-to-year basis, sales were down across all regional markets: Europe (-8,0%), Asia Pacific/All Other (-10,7%), China (-10,9%), Japan (-10,9%), and the Americas (-29,5%). WSTS also forecast that the industry's worldwide sales will be $412,1 billion in 2019, which would be a 12,1% decrease from the 2018 total.
• Intel has regained its place as the number one quarterly semiconductor supplier in the fourth quarter of 2018, after losing the lead spot to Samsung in the second quarter of 2017. While Samsung held the full-year number one ranking in 2017 and 2018, IC Insights has forecast that Intel will easily recapture the number one ranking for the full year of 2019, a position it previously held from 1993 through 2016. With the collapse of the DRAM and NAND Flash markets over the past year, a complete switch has occurred, with Samsung having 23% more total semiconductor sales than Intel in 1Q18 but Intel having 23% more semiconductor sales than Samsung just one year later in 1Q19.
• Based on the premise that Dhrystone and Coremark (which have been the de facto standard microcontroller benchmark suites for the last 30 years) no longer reflect the needs of modern embedded systems, the new EmBench industry group is touting its offering as an alternative to established EEMBC benchmarks. Free-to-use and open-source, EmBench ( www.embench.org) is open for all to join, and will aim to deliver a single performance score based on a suite of about 20 real-world applications.
• In what could well be seen as a consequence of the ongoing US-China trade war, the SEMI industry association reported that worldwide semiconductor manufacturing equipment billings for the first quarter of 2019 dropped 8% from the previous quarter and 19% from the same quarter in 2018 to $13,8 billion. The association expects global semiconductor fabrication equipment spending to rebound in 2020, growing 20% to $58,4 billion after dropping 19% to $48,4 billion in 2019.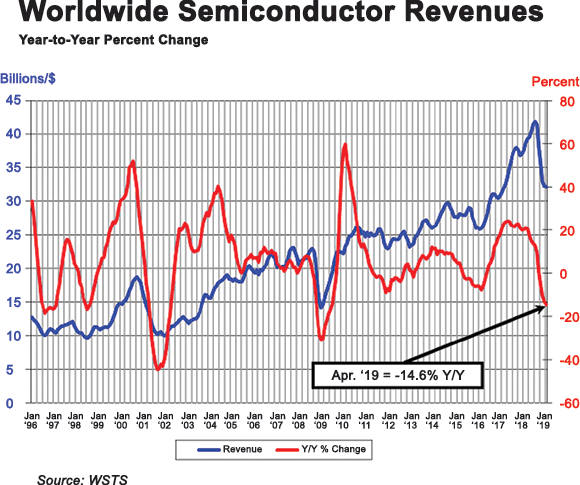 Further reading:
Electronics news digest
29 January 2020 , News
South Africa
• More than 2400 people braved pouring rain in Gauteng to attend the 5th Science Forum South Africa (SFSA) at the CSIR International Convention Centre in December. The annual Department 
...
Read more...
---
Appointment: ExecuKit
29 January 2020, ExecuKit , News
ExecuKit has appointed Marshant Benadie in a technical support role.    His duties will include developing business with clients within the electronics distribution and manufacturing industry; managing 
...
Read more...
---
Repro installs new SMT production line
29 January 2020 , News
The company is actively seeking business for this new assembly line, which promises extensive flexibility and high accuracy, and can easily be expanded for higher production volumes.
Read more...
---
AREI's plans for 2020
29 January 2020 , Editor's Choice, News
Erich Nast, chairman of AREI, discusses what the association's plans are to tackle the challenges and opportunities that lie ahead.
Read more...
---
Check out Dataweek's new-look website
29 January 2020, Technews Publishing , Editor's Choice, News
Our technical design elves have been locked away in our basement for months, improving the visual design and functionality of the Dataweek website.
Read more...
---
From the editor's desk: A fresh start, but a sad farewell?
29 January 2020, Technews Publishing , News
A couple of years ago, not many people had heard of Yekani. The company bought a stake in the well-known East London-based satellite decoder maker, Vektronix, and subsequently acquired it in its entirety. When 
...
Read more...
---
Company profile: ETION Create
EMP 2020 Electronics Manufacturing & Production Handbook, ETION Create , News
ETION Create is an original design manufacturer (ODM) that has been in operation for more than 25 years. Originally known as Parsec, the company was founded in 1993, focusing on the design, development 
...
Read more...
---
Company profile: Laser Stencil Technology
EMP 2020 Electronics Manufacturing & Production Handbook, Laser Stencil Technology , News
Since its inception in 2004, Laser Stencil Technology has grown into a prominent figure in the South African electronics manufacturing industry. Having been involved in circuit board manufacturing using 
...
Read more...
---
Company profile: Repro Supplies
EMP 2020 Electronics Manufacturing & Production Handbook , News
Repro Supplies is a systems integration company that specialises in turnkey systems for the mining industry, industrial, traffic and LED markets, both locally as well as internationally. The company was 
...
Read more...
---
Company profile: Saflec
EMP 2020 Electronics Manufacturing & Production Handbook, Saflec , News
Saflec was founded in 1980 as an owner-managed company, designing, manufacturing and marketing security and industrial metal detectors. The staff complement consisted of a handful of key people, but grew 
...
Read more...
---