printer friendly version
Electronics news digest
26 June 2019
News
South Africa
• South Africa is looking to take on a leading role in the international space weather monitoring community. Space weather events are capable of seriously disrupting modern technologies such as satellites, GPS, power grids, and navigation and communication systems. Based in Hermanus in the Western Cape, the South African National Space Agency (SANSA) facility is the only such centre on the continent, and has been designated by the International Civil Aviation Organisation (ICAO) as one of two regional centres around the world that will monitor space weather for the global aviation sector, providing crucial safety-related services such as solar storm forecasts and warnings.
Overseas
Companies
• A wholly owned subsidiary of NXP Semiconductors has signed an agreement to acquire Marvell's wireless connectivity portfolio in an all-cash, asset transaction valued at $1,76 billion. The acquisition encompasses Marvell's Wi-Fi connectivity business unit, Bluetooth technology portfolio and related assets. The acquisition, which includes approximately 550 people worldwide, will enable NXP to deliver complete, scalable processing and connectivity solutions to its customers across its focus end markets. The transaction is expected to close by the first quarter of 2020.
• Infineon Technologies has struck a deal to buy Cypress Semiconductor for $23,85 per share in cash, corresponding to an enterprise value of 9 billion Euros. Cypress has a differentiated portfolio of microcontrollers as well as software and connectivity components that Infineon sees as being highly complementary to its power semiconductors, sensors and security solutions, better positioning the company for high-growth markets. Based on pro forma revenues of 10 billion Euros in 2018, the transaction will make Infineon the eighth biggest chip manufacturer in the world, and the number one supplier to the automotive market.
Industry
• According to the Semiconductor Industry Association (SIA) and based on numbers compiled by the World Semiconductor Trade Statistics (WSTS) organisation, worldwide sales of semiconductors were $32,1 billion in April 2019, a decrease of 14,6% from the April 2018 total of $37,6 billion and 0,4% less than the March 2019 total of $32,3 billion. On a year-to-year basis, sales were down across all regional markets: Europe (-8,0%), Asia Pacific/All Other (-10,7%), China (-10,9%), Japan (-10,9%), and the Americas (-29,5%). WSTS also forecast that the industry's worldwide sales will be $412,1 billion in 2019, which would be a 12,1% decrease from the 2018 total.
• Intel has regained its place as the number one quarterly semiconductor supplier in the fourth quarter of 2018, after losing the lead spot to Samsung in the second quarter of 2017. While Samsung held the full-year number one ranking in 2017 and 2018, IC Insights has forecast that Intel will easily recapture the number one ranking for the full year of 2019, a position it previously held from 1993 through 2016. With the collapse of the DRAM and NAND Flash markets over the past year, a complete switch has occurred, with Samsung having 23% more total semiconductor sales than Intel in 1Q18 but Intel having 23% more semiconductor sales than Samsung just one year later in 1Q19.
• Based on the premise that Dhrystone and Coremark (which have been the de facto standard microcontroller benchmark suites for the last 30 years) no longer reflect the needs of modern embedded systems, the new EmBench industry group is touting its offering as an alternative to established EEMBC benchmarks. Free-to-use and open-source, EmBench ( www.embench.org) is open for all to join, and will aim to deliver a single performance score based on a suite of about 20 real-world applications.
• In what could well be seen as a consequence of the ongoing US-China trade war, the SEMI industry association reported that worldwide semiconductor manufacturing equipment billings for the first quarter of 2019 dropped 8% from the previous quarter and 19% from the same quarter in 2018 to $13,8 billion. The association expects global semiconductor fabrication equipment spending to rebound in 2020, growing 20% to $58,4 billion after dropping 19% to $48,4 billion in 2019.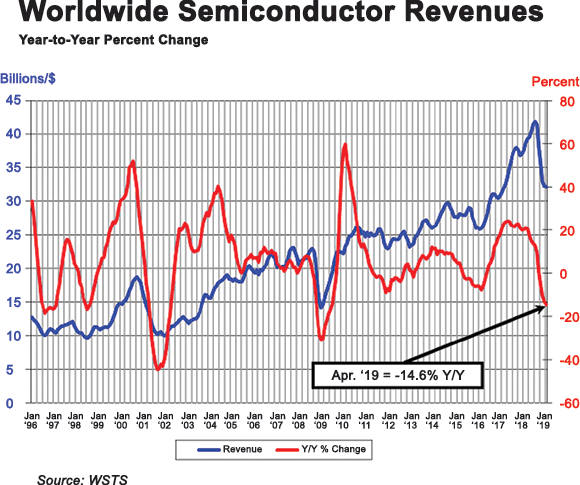 Further reading:
From the editor's desk: Yes, it's that thing everyone's talking about
25 March 2020, Technews Publishing , News
Call me a pessimist, but I'm absolutely, 100% certain that I'm going to catch COVID-19 (or the 'novel coronavirus' if you prefer to call it that) – if I haven't done so already. At least the mortality 
...
Read more...
---
Electronics news digest
25 March 2020 , News
Overseas
Business
• ams reported record revenues and results for full year 2019, with revenues up 32% year-on-year, and fourth quarter revenues exceeding expectations with strong adjusted operating 
...
Read more...
---
XinaBox – Reaching for the stars
25 March 2020, RS Components (SA) , News
From collecting data in sub-zero Antarctica to rapid circuit prototyping on the International Space Station this South African company is reinventing the way we approach IoT while inspiring students to follow STEM careers.
Read more...
---
Electrocomp launches new website
25 March 2020, Electrocomp , News
Electrocomp is inviting visitors to explore its new website, which has been designed to offer a user-friendly experience with improved navigation and functionality while allowing customers to see their 
...
Read more...
---
Looking beyond radar, the car's virtual eye
25 March 2020, Altron Arrow , News
Faster, higher-resolution radar sensors have enabled the next generation of driver assistance technologies through improvements in vehicle safety and comfort in view.
Read more...
---
Disposing of e-waste in space
26 February 2020 , News
According to BBC, there are over half a million pieces of debris floating around the Earth's orbit. Most debris within the atmosphere are lost parts from space crafts, disused rocket stages or waste from 
...
Read more...
---
IPC revises five standards
26 February 2020 , News
IPC announced the release of five newly revised standards covering several areas of the supply chain:      
· IPC/WHMA-A-620D, Requirements and Acceptance for Cable and Wire Harness Assemblies. · IPC-2223E, 
...
Read more...
---
Testerion to represent ITW EAE in SA
26 February 2020, Testerion , News
ITW EAE announced a new extended partnership agreement with Testerion South Africa to represent and distribute all ITW EAE equipment including MPM printers, Camalot dispensers, Electrovert soldering systems, 
...
Read more...
---
Würth helps produce PCBs for ventilators
25 March 2020, Würth Elektronik eiSos , News
The worldwide spread of the coronavirus is not only increasing the demand for personal protective equipment, but also for medical ventilators. In order to ensure the supply in Germany, the German government 
...
Read more...
---
u-blox acquires Thingstream
25 March 2020 , News
u-blox has acquired IoT communication-as-a-service provider, Thingstream. Thingstream provides a comprehensive, end-to-end solution for global IoT connectivity using the industry standard MQTT protocol. 
...
Read more...
---