South Africa
The Council for Scientific and Industrial Research (CSIR) has appointed Sipho Mbhokota as the new executive manager for CSIR Defence and Security. His career in the defence and security sector spans over 20 years, with 10 of those years spent as a member of the South African Air Force, where he was a systems engineer in the VIP Squadron, as well as a project engineer on the RSA Airbus A400M aircraft acquisition team. Prior to joining the CSIR, he was the divisional manager: Engineering Services at Armscor's dockyard in Simon's Town.
The Department of Science and Technology has received a R360 million boost to its budget allocation, and recently announced how it plans to spend its R8,15 billion over the 2019/20 period. Among its key priorities, it will spend R2,6 billion on human capital development, in particular on assisting Honours, Master's and PhD students. In addition, about 120 knowledge products are expected to be generated with an allocation of R1,2 billion, focusing on bio-innovation, hydrogen fuel cell technology, renewable energy and energy storage applications.
Industry
World Semiconductor Trade Statistics (WSTS) figures showed that worldwide sales of semiconductors were $33,1 billion in May 2019, a decrease of 14,6 percent from the May 2018 total of $38,7 billion and 1,9 percent more than the April 2019 total of $32,5 billion. Regionally, sales increased on a month-to-month basis in China (5,4 percent), the Americas (1,4 percent), and Japan (0,9 percent), but decreased in Europe (-0,4 percent) and Asia Pacific/All Other (-1,1 percent). On a year-to-year basis, sales were down across all regional markets: Europe (-9,0 percent), China (-9,8 percent), Asia Pacific/All Other (-12,6 percent), Japan (-13,6 percent), and the Americas (-27,9 percent).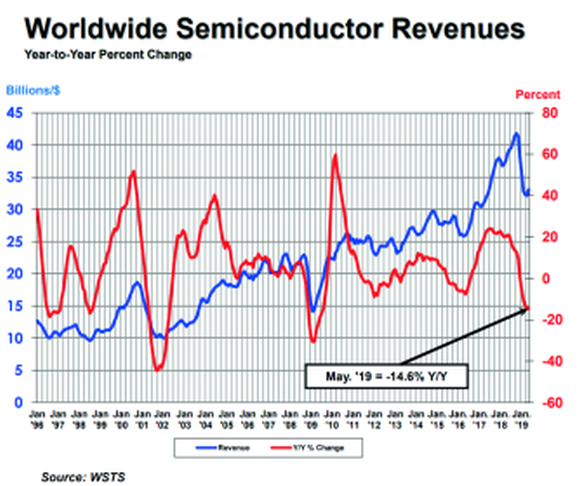 Although Asian semiconductor companies' market share has surged hugely over recent years, market research from IC Insights shows that US firms continue to dominate the global IC (integrated circuit) scene. US companies held just over 50% of the total worldwide IC market in 2018, followed by the South Korean companies with a 27% share, up three percentage points from 2017. Taiwanese companies, on the strength of their fabless company IC sales, held the same 6% share of total IC sales as European companies.
Technology
Imec revealed at the European Electric Vehicle Batteries Summit a solid-state Li-metal battery cell with double the energy density of its previous efforts – 400 Wh/litre at a charging speed of 0,5 coulombs (2 hours). It has also started to upscale the materials and processes in a pilot line for fabrication of solid-state pouch cells at the EnergyVille Campus in Genk (Belgium). With its engineering roadmap for solid-state batteries, Imec aims to surpass wet Li-ion battery performance and reach 1000 Wh/litre at 2 to 3 coulombs by 2024.