printer friendly version
Norway chooses South African antennas for rescue services
31 January 2017
News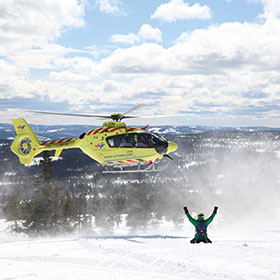 The Norwegian Air Ambulance Foundation, with nearly 700 000 members, strives to save lives by strengthening air ambulance service throughout Norway. This is done through thorough research, development and cooperation with other emergency services.
One of the main challenges is the weather patterns in secluded areas. In the past air ambulance crews had no other meteorological data or information than that provided by the Norwegian meteorological service. Often they had to turn back when the weather suddenly changed or had to fly around mountains, losing precious, life saving time.
"I wished we could have more accurate and real-time information about the weather conditions along our route," thought one of the pilots. He then came up with the idea of weather stations which could be installed in what amounts to the middle of nowhere.
A climate-controlled small weather station (locker) was developed, with two to three high-end cameras, computers, various measurement tools/sensors and electronics. All data could now be sent over the mobile network via a robust mobile broadband router from Advantech/B+B SmartWorx. Since the weather stations are spread around in the mountains and rural areas of Norway with demanding coverage situations, there was a need for robust and reliable antennas that withstand the rough climate. Antennas from South Africa's Poynting Antennas were appropriately recommended and chosen for the project.
Each weather station is equipped with the LR77 Libratum 4G router and one or two antennas, with data sent continuously in both directions. Depending on the topography and coverage, they use either the XPOL-2 directional antenna or the omnidirectional OMNI-69/OMNI-121 from Poynting.
The result is access to unique weather patterns and live pictures in time to save lives. Air ambulance bases and pilots, police helicopters, 330 Squadron and other operators in the air ambulance service now have access to 100 weather stations/cameras around the country. Each station transmits images of very good quality (even at night) and also provides information about pressure and temperature. The information gives pilots a much better basis for choosing the best route and saving time when seconds often count.
"With more specific information we choose the shortest path or decide that a helicopter from another base should be used. We win valuable minutes. An additional bonus is much greater aviation safety," enthuses Jens Fjelnset, the pilot who came up with the idea.
According to Håvard Vinsrygg, CEO of Emcom which was involved in the project, "it was absolutely necessary to deliver stable and robust products that we could count on. The mobile broadband router equipped with high gain antennas secure the vital communication of current meteorological data and live pictures. We recommended a cellular router from Advantech B+B SmartWorx and antennas from Poynting Antennas. We are very proud that our products are part of this unique solution used by the Norwegian Air Ambulance and other emergency services in Norway."
For more information contact Poynting Antennas, +27 (0)12 657 0050, info@poynting.tech, www.poynting.tech
Credit(s)
Further reading:
SAAB Avionics approves Elmatica auditor for PCB subcontractors
29 January 2020, Elmatica , News
Expanding on its international relationship with SAAB Avionics, printed circuit board supplier Elmatica's Jan Pedersen successfully completed the Part 21, Subpart G training, regarding auditing of printed 
...
Read more...
---
Electronics news digest
29 January 2020 , News
South Africa
• More than 2400 people braved pouring rain in Gauteng to attend the 5th Science Forum South Africa (SFSA) at the CSIR International Convention Centre in December. The annual Department 
...
Read more...
---
Appointment: ExecuKit
29 January 2020, ExecuKit , News
ExecuKit has appointed Marshant Benadie in a technical support role.    His duties will include developing business with clients within the electronics distribution and manufacturing industry; managing 
...
Read more...
---
Repro installs new SMT production line
29 January 2020 , News
The company is actively seeking business for this new assembly line, which promises extensive flexibility and high accuracy, and can easily be expanded for higher production volumes.
Read more...
---
AREI's plans for 2020
29 January 2020 , Editor's Choice, News
Erich Nast, chairman of AREI, discusses what the association's plans are to tackle the challenges and opportunities that lie ahead.
Read more...
---
Check out Dataweek's new-look website
29 January 2020, Technews Publishing , Editor's Choice, News
Our technical design elves have been locked away in our basement for months, improving the visual design and functionality of the Dataweek website.
Read more...
---
From the editor's desk: A fresh start, but a sad farewell?
29 January 2020, Technews Publishing , News
A couple of years ago, not many people had heard of Yekani. The company bought a stake in the well-known East London-based satellite decoder maker, Vektronix, and subsequently acquired it in its entirety. When 
...
Read more...
---
Actum Group merges its brands under one roof
29 January 2020, Actum Electronics , News
Over the years, Actum Group has been built through partnerships, collaborations and acquisitions of leading companies with a long history and rich legacy in the industry. These companies include Actum 
...
Read more...
---
Company profile: ETION Create
EMP 2020 Electronics Manufacturing & Production Handbook, ETION Create , News
ETION Create is an original design manufacturer (ODM) that has been in operation for more than 25 years. Originally known as Parsec, the company was founded in 1993, focusing on the design, development 
...
Read more...
---
Company profile: Laser Stencil Technology
EMP 2020 Electronics Manufacturing & Production Handbook, Laser Stencil Technology , News
Since its inception in 2004, Laser Stencil Technology has grown into a prominent figure in the South African electronics manufacturing industry. Having been involved in circuit board manufacturing using 
...
Read more...
---