printer friendly version
Electronics news digest
28 August 2019
News
South Africa
•Canadian technology company Sciencetech is now distributed in South Africa by Intercal. For over 33 years, Sciencetech's products have been exported to countries around the world, within a variety of applications and fields, including medical research, biotechnology, space, food sciences, environmental and academic research, aerospace, and photovoltaic testing. Its main product categories are solar simulators, photovoltaic test systems, light sources, monochromators and spectrographs, modular optical systems and components, with full system customisation on all products.
Overseas
Business
•Infineon Technologies reported results for the third quarter of the 2019 fiscal year, the highlights of which were revenue of 2,015 billion Euros, segment result of 317 million Euros, and segment result margin of 15,7 percent. Based on an assumed exchange rate of US$1,15 to the Euro, revenue for the fourth quarter is expected to grow by 1 percent (plus or minus 2 percentage points) quarter-on-quarter.
•Maxim Integrated Products reported net revenue of $557 million for its fourth quarter of fiscal 2019 ended 29 June, a 3 percent increase from the $542 million revenue recorded in the prior quarter, and a 12 percent decrease from the same quarter of last year. Diluted earnings per share (EPS) in the June quarter were $1,33.
•Cypress Semiconductor achieved $532,2 million in second-quarter revenue, down 1,3 percent sequentially, but up 4,8 percent sequentially after adjusting for the divestiture of its NAND business, which was completed on 1 April. The company's connect and compute solutions continued to gain strong momentum, including in IoT where revenue was up 30 percent sequentially in Q2, driven by strength in Wi-Fi/Bluetooth combos as well as standalone Bluetooth.
•For its second quarter, NXP Semiconductors' revenue of $2,2 billion was down 3 percent year-on-year, but 6 percent up on the first quarter of 2019. For the latest quarter, net income was $41 million (or $0,14 per diluted share), compared with net income of $54 million (or $0,16 per diluted share) in the same quarter a year ago.
•STMicroelectronics reported second quarter net revenues of $2,17 billion, gross margin of 38,2 percent, operating margin of 9,0 percent, and net income of $160 million or $0,18 diluted earnings per share. Looking at the third quarter, the company expects strong sequential revenue growth of about 15,3 percent at the midpoint. This growth will be driven by engaged customer programmes and new products in a softer than expected legacy automotive and industrial market.
•Texas Instruments reported second quarter revenue of $3,67 billion (a 9 percent year-on-year decrease), net income of $1,31 billion (down 7 percent) and earnings per share of $1,36 (down 3 percent). Its third quarter outlook is for revenue in the range of $3,65 billion to $3,95 billion, and earnings per share between $1,31 and $1,53.
Companies
•Antenna specialist Taoglas announced the acquisition of Firmwave, an IoT product design and engineering company, to deliver next-generation technology to applications such as healthcare, energy and utilities, supply chain and logistics, transportation, agriculture and construction. According to Taoglas co-CEO Ronan Quinlan, the move aims to satisfy demands from customers looking for a one-stop-shop for IoT engineering services.
•u-blox has acquired Rigado's Bluetooth modules business in an asset purchase agreement. Rigado is a leading provider of edge-as-a-service gateway solutions for commercial IoT, and began offering certified wireless modules in 2015.The Rigado Bluetooth modules portfolio will be rebranded under the u-blox name and integrated into its short-range radio offering.
Industry
•The Semiconductor Industry Association announced that worldwide sales of semiconductors reached $98,2 billion during the second quarter of 2019, a small increase of 0,3 percent over the previous quarter, but 16,8 percent less than the second quarter of last year. Cumulatively, year-to-date sales during the first half of 2019 were 14,5 percent lower than they were through the same point in 2018. On a year-to-year basis, sales were down across all regional markets: Europe (-10,9 percent), Japan (-12,8 percent), Asia Pacific/All Other (-13,7 percent), China (-13,9 percent), and the Americas (-29,5 percent).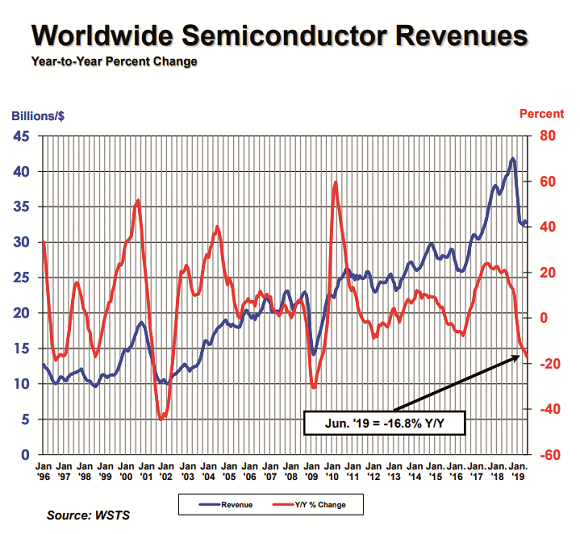 Further reading:
Buy a Fluke, get one free
28 October 2020, Comtest , News
Comtest, Fluke's official South African importer, is offering one free Fluke for every Fluke purchased from any South African-based, authorised Fluke dealer. Fluke is a world leader in the manufacture, 
...
Read more...
---
Online Ohm's law calculator from Mouser
28 October 2020 , News
The famous Ohm's law states that the current flowing through a circuit is proportional to the voltage applied across both points. Mouser Electronics' online Ohm's law calculator saves engineers time by 
...
Read more...
---
Clearing the Static
28 October 2020, Actum Group , News
ESD training and compliance
According to Desco Industries, electrostatic discharge (ESD) can change the electrical characteristics of a semiconductor device, degrading or destroying it entirely. ESD 
...
Read more...
---
Coalition calls on European Commission to postpone SCIP deadline
30 September 2020 , News
A coalition of 40 industry organisations has written a letter to European Commission President Ursula von der Leyen calling for decisive action to solve implementation issues within the EU Waste Framework 
...
Read more...
---
Follow this engineering journey of a 3D-printed boat
30 September 2020, RS Components (SA) , News
RS Components is releasing a 10-episode documentary series – titled SeaQuest – featuring members of its DesignSpark engineering community who embarked on a first-of-its-kind challenge to design, test 
...
Read more...
---
Mouser revamps technical resource centre
30 September 2020, TRX Electronics , News
Mouser Electronics has redesigned its Technical Resource Centre, which contains the global distributor's ever-expanding collection of technical articles, blogs, eBooks, and Methods technology and solutions 
...
Read more...
---
From the editor's desk: Electric and autonomous vehicles driving full-speed ahead
28 October 2020, Technews Publishing , News
I still can't stop myself from doing a double-take when I hear that Tesla is rolling out a software update to add some sort of new functionality to its cars. Some of those updates are pointless show-off 
...
Read more...
---
Electronics news digest
28 October 2020 , News
South Africa
• The Department of Defence (DoD) has appointed a special team, called 'Save Denel' to investigate Denel's financial struggles, and the impact they might have on SA National Defence Force 
...
Read more...
---
Clearing the Static
28 October 2020, Actum Group , News
The Importance of ESD audits
An ESD audit is the first step in establishing an effective static control programme. Before you invest money in new ESD equipment, an ESD audit will help you identify vulnerable 
...
Read more...
---
TRX welcomes Hannes Taute as new MD
28 October 2020, TRX Electronics , Editor's Choice, News
We delve into his background, what his plans for TRX Electronics are, and how he envisions what the future of the local electronics industry will look like.
Read more...
---