printer friendly version
Electronics news digest
25 September 2019
News
South Africa
• The Institute of Electrical and Electronics Engineers (IEEE) has awarded South Africa's IEEE section the prestigious 2019 MGA Outstanding Medium Section Award. The award is in recognition of outstanding work in fulfilling the educational and scientific goals of the IEEE by promoting technological innovation for the benefits of humanity. This is the first time that South Africa has won such an award. Under the leadership of the CSIR's Dr Albert Lysko, principal researcher at NextGeneration Enterprises and Institutions, South Africa's IEEE section edged out over 300 other IEEE sections globally.
Overseas
Business
• Analog Devices announced financial results for its third quarter of fiscal 2019, which ended 3 August: Revenue was $1,48 billion, with business-to-business markets down 3% and diluted earnings per share down 10% year-over-year, but the company still managed to return over $300 million to shareholders during the quarter through dividends and share repurchases. Its forecast for the next quarter is pessimistic at around $1,45 billion in revenue.
Companies
• ams has launched a 'voluntary public' bid to take over OSRAM Licht AG, the holding company of the multinational lighting manufacturer headquartered in Munich. ams' offer of 38,50 Euros per share represents a 10% premium over the prior offer of 35,00 Euros from Bain Capital and The Carlyle Group. The deal, if it goes through, will create a global leader in sensor solutions and photonics with approximately 5 billion Euros of annual revenue. The offer is subject to a 70% minimum acceptance threshold and customary closing conditions.
Industry
• The Semiconductor Industry Association (SIA) announced that worldwide sales of semiconductors were $33,4 billion in July 2019 – 1,7% more than the June 2019 total of $32,8 billion, but 15,5% less than the July 2018 total of $39,5 billion. Regionally, sales increased on a month-to-month basis in Asia Pacific/All Other (3,1%), the Americas (2,5%), China (1,1%), and Japan (0,7%), but decreased in Europe (-0,5%). On a year-to-year basis, sales were down across all regional markets: Europe (-8,6%), Asia Pacific/All Other (-11,0%), Japan (-12,0%), China (-14,1%), and the Americas (-27,8%).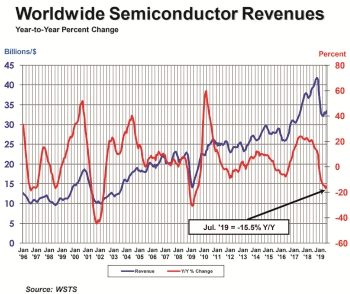 • Accelerating demand for embedded security in industrial and automotive segments is driving the market for technologies such as secure microcontrollers (MCU) and trusted platform modules (TPM). ABI Research forecasts that total global shipments of secure embedded hardware will double by 2023, surpassing the 4 billion mark. In parallel, emergence of secure varieties of microcontrollers for the IoT market is gaining traction, and is seeing demand in smart cities, homes and buildings, as well as in utilities and the industrial IoT. Improved processing and performance capabilities for MCUs has allowed the inclusion of security features that work well with embedded and deterministic imperatives.
• GlobalFoundries (GF) has filed several patent-infringement lawsuits in an effort to prevent semiconductors produced by arch-rival TSMC (Taiwan Semiconductor Manufacturing Company) from being imported into Germany and the USA. Defendants include TSMC itself, as well as, inter alia, Apple, Asus, Broadcom, Cisco, Google, HiSense, Lenovo, Mediatek, Motorola, Nvidia, Qualcomm and Xilinx. Distributors Avnet/EBV, Digi-key and Mouser are furthermore named in the lawsuits.
Technology
• MIT researchers have built a modern microprocessor from carbon nanotube transistors, which are widely seen as a faster, greener alternative to their traditional silicon counterparts. Having invented new techniques to improve fabrication of carbon nanotube field-effect transistors (CNFETs), they demonstrated a 16-bit microprocessor based on the RISC-V open-source chip architecture. The researchers' microprocessor was able to execute the full set of instructions accurately, and also executed a modified version of the classic 'Hello, World!' program, printing out, "Hello, World! I am RV16XNano, made from CNTs."
• Xilinx unveiled the world's largest ever FPGA (field-programmable gate array), the Virtex UltraScale+ VU19P, boasting no less than 35 billion transistors. The chip features 9 million system logic cells, up to 1,5 terabits per second of DDR4 memory bandwidth and up to 4,5 terabits per second of transceiver bandwidth, and over 2000 user I/Os. It enables the prototyping and emulation of today's most complex SoCs as well as the development of emerging, complex algorithms such as those used for artificial intelligence, machine learning, video processing and sensor fusion.
Further reading:
Plan your media strategy with Technews Publishing
23 October 2019, Technews Publishing , News
Dear Marketer, Have you ever looked back on a year and wondered how you survived it? For the majority of South Africans, 2019 started benignly enough, cosily wrapped in the blanket of Ramaphoria that 
...
Read more...
---
From the editor's desk: Getting charged up for the new year
25 November 2019, Technews Publishing , News
The Springboks' Rugby World Cup triumph in Japan couldn't have come at a better time for South Africa, as the country was in desperate need of a jolt of positive energy going into the festive season. 
...
Read more...
---
Battery Technologies Conference 2019
25 November 2019 , News, Editor's Choice
Batteries are a critical enabler of the Fourth Industrial Revolution, powering technology in products from laptops and handheld devices to electric vehicles and renewable energy storage.
Read more...
---
Boom, doom and gloom, or something completely different?
25 November 2019, Technews Publishing , News, Editor's Choice
As the end of 2019 looms, it's time to look ahead to what next year might have in store, and reflect on the year gone by. And what a year it's been.
Read more...
---
Actum Group remains resilient and optimistic for 2020
25 November 2019, Actum Electronics , News
Running a profitable business in South Africa is not for the fainthearted. With the national treasury downgrading this year's growth forecast from 1,5% to 0,5%, and state-owned entities like Eskom negotiating 
...
Read more...
---
Additional renewable energy development zones proposed
25 November 2019 , News
The second phase of the Strategic Environmental Assessment (SEA) for wind and solar photovoltaic (PV) energy in South Africa proposes three additional Renewable Energy Development Zones (REDZs) for wind 
...
Read more...
---
Locally developed electronic circuit builder for students
25 November 2019, K Measure , News, Editor's Choice
K Measure, creator of the award-winning Seebox engineering education solution, has created a new innovation to enable quick and easy electronic circuit-building. The SeeBlocks electronic circuit creator 
...
Read more...
---
Clearing the Static:Topic 9: Time to audit your ESD environment
25 November 2019, Actum Electronics , News
Now that we are nearing the end of the year, it is a good time to audit your existing static control products and procedures. The first line of defence should be your antistatic floor, since this is the 
...
Read more...
---
Winning hackathon entry curbs cell tower battery theft
25 November 2019 , News
The fourth annual TADHackJHB was held at MTN's head office in Fairland, Johannesburg, on 12 and 13 October, with a cell tower protection app emerging as the winner. The theme for the 2019 global TADHack 
...
Read more...
---
Products of the Year 2019
25 November 2019 , News
SmartServer IoT by Adesto
BAW-based chips for comms infrastructure
Cellular modules for LPWA applications
SoCs and software for smart home and IIoT
Secure element for IoT authentication
MPU for embedded 
...
Read more...
---