printer friendly version
Electronics news digest
25 September 2019
News
South Africa
• The Institute of Electrical and Electronics Engineers (IEEE) has awarded South Africa's IEEE section the prestigious 2019 MGA Outstanding Medium Section Award. The award is in recognition of outstanding work in fulfilling the educational and scientific goals of the IEEE by promoting technological innovation for the benefits of humanity. This is the first time that South Africa has won such an award. Under the leadership of the CSIR's Dr Albert Lysko, principal researcher at NextGeneration Enterprises and Institutions, South Africa's IEEE section edged out over 300 other IEEE sections globally.
Overseas
Business
• Analog Devices announced financial results for its third quarter of fiscal 2019, which ended 3 August: Revenue was $1,48 billion, with business-to-business markets down 3% and diluted earnings per share down 10% year-over-year, but the company still managed to return over $300 million to shareholders during the quarter through dividends and share repurchases. Its forecast for the next quarter is pessimistic at around $1,45 billion in revenue.
Companies
• ams has launched a 'voluntary public' bid to take over OSRAM Licht AG, the holding company of the multinational lighting manufacturer headquartered in Munich. ams' offer of 38,50 Euros per share represents a 10% premium over the prior offer of 35,00 Euros from Bain Capital and The Carlyle Group. The deal, if it goes through, will create a global leader in sensor solutions and photonics with approximately 5 billion Euros of annual revenue. The offer is subject to a 70% minimum acceptance threshold and customary closing conditions.
Industry
• The Semiconductor Industry Association (SIA) announced that worldwide sales of semiconductors were $33,4 billion in July 2019 – 1,7% more than the June 2019 total of $32,8 billion, but 15,5% less than the July 2018 total of $39,5 billion. Regionally, sales increased on a month-to-month basis in Asia Pacific/All Other (3,1%), the Americas (2,5%), China (1,1%), and Japan (0,7%), but decreased in Europe (-0,5%). On a year-to-year basis, sales were down across all regional markets: Europe (-8,6%), Asia Pacific/All Other (-11,0%), Japan (-12,0%), China (-14,1%), and the Americas (-27,8%).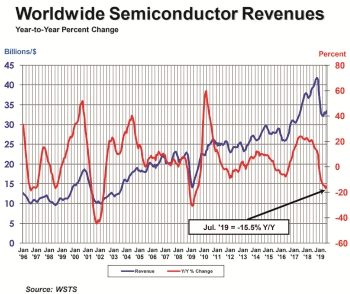 • Accelerating demand for embedded security in industrial and automotive segments is driving the market for technologies such as secure microcontrollers (MCU) and trusted platform modules (TPM). ABI Research forecasts that total global shipments of secure embedded hardware will double by 2023, surpassing the 4 billion mark. In parallel, emergence of secure varieties of microcontrollers for the IoT market is gaining traction, and is seeing demand in smart cities, homes and buildings, as well as in utilities and the industrial IoT. Improved processing and performance capabilities for MCUs has allowed the inclusion of security features that work well with embedded and deterministic imperatives.
• GlobalFoundries (GF) has filed several patent-infringement lawsuits in an effort to prevent semiconductors produced by arch-rival TSMC (Taiwan Semiconductor Manufacturing Company) from being imported into Germany and the USA. Defendants include TSMC itself, as well as, inter alia, Apple, Asus, Broadcom, Cisco, Google, HiSense, Lenovo, Mediatek, Motorola, Nvidia, Qualcomm and Xilinx. Distributors Avnet/EBV, Digi-key and Mouser are furthermore named in the lawsuits.
Technology
• MIT researchers have built a modern microprocessor from carbon nanotube transistors, which are widely seen as a faster, greener alternative to their traditional silicon counterparts. Having invented new techniques to improve fabrication of carbon nanotube field-effect transistors (CNFETs), they demonstrated a 16-bit microprocessor based on the RISC-V open-source chip architecture. The researchers' microprocessor was able to execute the full set of instructions accurately, and also executed a modified version of the classic 'Hello, World!' program, printing out, "Hello, World! I am RV16XNano, made from CNTs."
• Xilinx unveiled the world's largest ever FPGA (field-programmable gate array), the Virtex UltraScale+ VU19P, boasting no less than 35 billion transistors. The chip features 9 million system logic cells, up to 1,5 terabits per second of DDR4 memory bandwidth and up to 4,5 terabits per second of transceiver bandwidth, and over 2000 user I/Os. It enables the prototyping and emulation of today's most complex SoCs as well as the development of emerging, complex algorithms such as those used for artificial intelligence, machine learning, video processing and sensor fusion.
Further reading:
Electrocomponents backs Engineering for People Design Challenge
26 February 2021, RS Components (SA) , News
Electrocomponents, of which RS Components is a trading brand, has signed a one-year partnership agreement with Engineers Without Borders International, the leading movement that puts global responsibility 
...
Read more...
---
CSIR recognised as top employer in South Africa
25 November 2020 , News
The Council for Scientific and Industrial Research (CSIR) has been crowned as South Africa's top employer in the global Top Employers Institute's 2021 Top Employers awards. Being certified as a top employer 
...
Read more...
---
Top ten IC growth categories target emerging applications
25 November 2020 , News
IC Insights recently released its 2021 edition of The McClean Report. The new analysis and forecast of the IC industry includes its ranking of IC product categories based on sales growth rate. The listing 
...
Read more...
---
Musk's monkeys play mind games for real
25 November 2020 , News
As reported by
Bloomberg
and various other news outlets, Elon Musk stated during a speech on Clubhouse (a private social app where users host off-the-cuff, informal conversations) that one of his startup 
...
Read more...
---
Dire warning on component lead times
25 November 2020 , News
According to the supply chain, Microchip recently issued a notice to its customers, warning that the lead time of some of its devices will be extended from the previous 18 weeks to 54 weeks. As reported 
...
Read more...
---
From the editor's desk: Should I stay or should I go?
26 February 2021, Technews Publishing , News
Observant readers will have noted that, for most of the latter half of last year, we stopped publishing our regular events column. There just didn't seem much point when industry events were being cancelled 
...
Read more...
---
CSIR recognised as top employer in South Africa
26 February 2021 , News
The Council for Scientific and Industrial Research (CSIR) has been crowned as South Africa's top employer in the global Top Employers Institute's 2021 Top Employers awards. Being certified as a top employer 
...
Read more...
---
On-the-ground sales support for South African Farnell customers
26 February 2021, EBV Electrolink , News
Farnell, an Avnet company and global distributor of electronic components, products and solutions, has enhanced its service to customers in South Africa through a new partnership with sister company EBV, 
...
Read more...
---
Personality profile: Bossie Coetzer
26 February 2021, Rugged Interconnect Technologies , Editor's Choice, News
"Understanding product knowledge is power. I started reading any magazine that was available with articles discussing embedded products, including microprocessor technologies and bus architectures."
Read more...
---
Government and ICASA commended for temporary spectrum
25 November 2020 , News
MTN has recognised the Department of Communication and Digital Technologies (DCDT), as well as the industry regulator ICASA, for the important actions these two bodies have taken to advance the release 
...
Read more...
---