printer friendly version
Company profile: Harmony Electronics
25 September 2019
News
The globalisation of the electronics industry over the last few years has seen tremendous growth in the shipments of semiconductor products worldwide, with more focus on connectivity. Access to components globally has resulted in the broad-line distributors consolidating as well as manufacturers doing mergers and acquisitions.
The end result is that amidst this flurry of consolidation, deep technical resources are scarce and customers are requiring technical support and training unparalleled by what the norm has been before. In 2014 Harmony Electronics was born to fulfil this much-needed role in the industry.
Software/firmware
Harmony's key strength and core competency is providing specific bespoke training services on ARM, MIPS and related development tools, together with programming service in the electronics industry in South Africa on the various products, in addition to a fully qualified training prospectus on all microcontroller products – RISC and CISC – from leading semiconductor vendors such as STMicroelectronics and Microchip.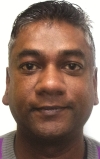 Arnold Perumal.
Harmony Electronics has extensive knowledge in the semiconductor arena, with experience in a wide range of electronic industry segments including industrial, consumer, telecom, power, security and military. "We are particularly recognised for our experience, expertise and in-depth technical knowhow on microcontroller products, thus delivering professional and excellent customer experiences, as well as building mutually beneficial relationships with our customers," says the company's founder, Arnold Perumal.
"Our expertise on microcontroller products allows us to offer more specialised services including firmware and hardware development for ARM-based and MIPS technology."
Training prospectus
"Harmony Electronics Professional Education is a new educational concept provided by us. It is part of our mission to help engineers write high-quality embedded software. The education focuses on conveying best practices for producing high-quality software, to everyday embedded software development.
"Harmony Electronics has many years of experience in embedded systems development. We would like to share our knowledge to help you – the professional embedded software development engineer – perform your everyday work more efficiently and with less effort. This is the driving factor behind Harmony Electronics."
The company strongly believes in learning by doing, so all courses thus have a significant amount of practical training exercises. A solid theoretical foundation is always included, as well as comprehensive course material for future reference.
All Harmony Electronics' courses are hands-on workshops with students being capable of performing production design immediately after the training.
References
• Well over 200 trained customers to date, including military, consumer, industrial and small private businesses.
• Some of these customers include South African Airways, Denel, Hensoldt Optronics, Ellies, Durban University of Technology, University of Zululand, SAAB, Eskom, amongst many others.
• Customers who have undergone training are successfully implementing our training information in volume products.
• Tailor-made courses are developed to suit customers' needs.
• For the last seven years we have been conducting tailor-made ARM and MIPS courses meticulously designed for the South African market.
• Courses have been endorsed by semiconductor manufacturers and have been tailor-made to assist customers to develop and design their products with the respective vendor.
• We have over 15 courses for embedded development.
• Authorised distributor of Keil Arm, and accredited ARM trainer.
• 2016-2018 authorised distributor and accredited trainer of Atollic Arm, (STMicroelectronics acquired Atollic).
• 2016-2018 authorised distributor and accredited trainer of Draupner Graphics' TouchGFX solutions (STMicroelectronics acquired TouchGFX).
Further reading:
Coalition calls on European Commission to postpone SCIP deadline
30 September 2020 , News
A coalition of 40 industry organisations has written a letter to European Commission President Ursula von der Leyen calling for decisive action to solve implementation issues within the EU Waste Framework 
...
Read more...
---
Follow this engineering journey of a 3D-printed boat
30 September 2020, RS Components (SA) , News
RS Components is releasing a 10-episode documentary series – titled SeaQuest – featuring members of its DesignSpark engineering community who embarked on a first-of-its-kind challenge to design, test 
...
Read more...
---
Mouser revamps technical resource centre
30 September 2020, TRX Electronics , News
Mouser Electronics has redesigned its Technical Resource Centre, which contains the global distributor's ever-expanding collection of technical articles, blogs, eBooks, and Methods technology and solutions 
...
Read more...
---
From the editor's desk: Electric and autonomous vehicles driving full-speed ahead
28 October 2020, Technews Publishing , News
I still can't stop myself from doing a double-take when I hear that Tesla is rolling out a software update to add some sort of new functionality to its cars. Some of those updates are pointless show-off 
...
Read more...
---
Electronics news digest
28 October 2020 , News
South Africa
• The Department of Defence (DoD) has appointed a special team, called 'Save Denel' to investigate Denel's financial struggles, and the impact they might have on SA National Defence Force 
...
Read more...
---
Clearing the Static
28 October 2020, Actum Group , News
The Importance of ESD audits
An ESD audit is the first step in establishing an effective static control programme. Before you invest money in new ESD equipment, an ESD audit will help you identify vulnerable 
...
Read more...
---
TRX welcomes Hannes Taute as new MD
28 October 2020, TRX Electronics , Editor's Choice, News
We delve into his background, what his plans for TRX Electronics are, and how he envisions what the future of the local electronics industry will look like.
Read more...
---
CSIR marks 75th anniversary
28 October 2020 , News
The Minister of Higher Education, Science and Innovation, Dr Blade Nzimande, has congratulated the Council for Scientific and Industrial Research (CSIR) for its contribution in shaping the country's science, 
...
Read more...
---
Diamonds are a quantum scientist's best friend
28 October 2020 , News
Diamonds have a firm foothold in our lexicon. Their many properties often serve as superlatives for quality, clarity and hardiness. Aside from the popularity of this rare material in ornamental and decorative 
...
Read more...
---
Würth extends online service for IC reference designs
28 October 2020 , News
As one of the leading manufacturers of electronic and electromechanical components, Würth Elektronik has been working for years with top semiconductor companies, such as Analog Devices, Infineon Technologies, 
...
Read more...
---