printer friendly version
Company profile: Harmony Electronics
25 September 2019
News
The globalisation of the electronics industry over the last few years has seen tremendous growth in the shipments of semiconductor products worldwide, with more focus on connectivity. Access to components globally has resulted in the broad-line distributors consolidating as well as manufacturers doing mergers and acquisitions.
The end result is that amidst this flurry of consolidation, deep technical resources are scarce and customers are requiring technical support and training unparalleled by what the norm has been before. In 2014 Harmony Electronics was born to fulfil this much-needed role in the industry.
Software/firmware
Harmony's key strength and core competency is providing specific bespoke training services on ARM, MIPS and related development tools, together with programming service in the electronics industry in South Africa on the various products, in addition to a fully qualified training prospectus on all microcontroller products – RISC and CISC – from leading semiconductor vendors such as STMicroelectronics and Microchip.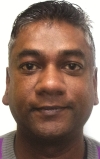 Arnold Perumal.
Harmony Electronics has extensive knowledge in the semiconductor arena, with experience in a wide range of electronic industry segments including industrial, consumer, telecom, power, security and military. "We are particularly recognised for our experience, expertise and in-depth technical knowhow on microcontroller products, thus delivering professional and excellent customer experiences, as well as building mutually beneficial relationships with our customers," says the company's founder, Arnold Perumal.
"Our expertise on microcontroller products allows us to offer more specialised services including firmware and hardware development for ARM-based and MIPS technology."
Training prospectus
"Harmony Electronics Professional Education is a new educational concept provided by us. It is part of our mission to help engineers write high-quality embedded software. The education focuses on conveying best practices for producing high-quality software, to everyday embedded software development.
"Harmony Electronics has many years of experience in embedded systems development. We would like to share our knowledge to help you – the professional embedded software development engineer – perform your everyday work more efficiently and with less effort. This is the driving factor behind Harmony Electronics."
The company strongly believes in learning by doing, so all courses thus have a significant amount of practical training exercises. A solid theoretical foundation is always included, as well as comprehensive course material for future reference.
All Harmony Electronics' courses are hands-on workshops with students being capable of performing production design immediately after the training.
References
• Well over 200 trained customers to date, including military, consumer, industrial and small private businesses.
• Some of these customers include South African Airways, Denel, Hensoldt Optronics, Ellies, Durban University of Technology, University of Zululand, SAAB, Eskom, amongst many others.
• Customers who have undergone training are successfully implementing our training information in volume products.
• Tailor-made courses are developed to suit customers' needs.
• For the last seven years we have been conducting tailor-made ARM and MIPS courses meticulously designed for the South African market.
• Courses have been endorsed by semiconductor manufacturers and have been tailor-made to assist customers to develop and design their products with the respective vendor.
• We have over 15 courses for embedded development.
• Authorised distributor of Keil Arm, and accredited ARM trainer.
• 2016-2018 authorised distributor and accredited trainer of Atollic Arm, (STMicroelectronics acquired Atollic).
• 2016-2018 authorised distributor and accredited trainer of Draupner Graphics' TouchGFX solutions (STMicroelectronics acquired TouchGFX).
For more information contact Arnold Perumal, Harmony Electronics, arnold.perumal@harmonyelectronics.co.za
Further reading:
From the editor's desk: Yes, it's that thing everyone's talking about
25 March 2020, Technews Publishing , News
Call me a pessimist, but I'm absolutely, 100% certain that I'm going to catch COVID-19 (or the 'novel coronavirus' if you prefer to call it that) – if I haven't done so already. At least the mortality 
...
Read more...
---
Electronics news digest
25 March 2020 , News
Overseas
Business
• ams reported record revenues and results for full year 2019, with revenues up 32% year-on-year, and fourth quarter revenues exceeding expectations with strong adjusted operating 
...
Read more...
---
XinaBox – Reaching for the stars
25 March 2020, RS Components (SA) , News
From collecting data in sub-zero Antarctica to rapid circuit prototyping on the International Space Station this South African company is reinventing the way we approach IoT while inspiring students to follow STEM careers.
Read more...
---
Electrocomp launches new website
25 March 2020, Electrocomp , News
Electrocomp is inviting visitors to explore its new website, which has been designed to offer a user-friendly experience with improved navigation and functionality while allowing customers to see their 
...
Read more...
---
Looking beyond radar, the car's virtual eye
25 March 2020, Altron Arrow , News
Faster, higher-resolution radar sensors have enabled the next generation of driver assistance technologies through improvements in vehicle safety and comfort in view.
Read more...
---
Disposing of e-waste in space
26 February 2020 , News
According to BBC, there are over half a million pieces of debris floating around the Earth's orbit. Most debris within the atmosphere are lost parts from space crafts, disused rocket stages or waste from 
...
Read more...
---
IPC revises five standards
26 February 2020 , News
IPC announced the release of five newly revised standards covering several areas of the supply chain:      
· IPC/WHMA-A-620D, Requirements and Acceptance for Cable and Wire Harness Assemblies. · IPC-2223E, 
...
Read more...
---
Testerion to represent ITW EAE in SA
26 February 2020, Testerion , News
ITW EAE announced a new extended partnership agreement with Testerion South Africa to represent and distribute all ITW EAE equipment including MPM printers, Camalot dispensers, Electrovert soldering systems, 
...
Read more...
---
From the editor's desk: Interesting people, politicians, and viruses
26 February 2020, Technews Publishing , News
In this edition, in the first of a new regular highlight in Dataweek, we go behind the scenes with Peet Smit, the founder and owner of Centurion Micro Electronics, a well-known specialist embedded and 
...
Read more...
---
Electronics news digest
26 February 2020 , News
Overseas
Business
• Maxim Integrated Products reported net revenue of $551 million for its second quarter of fiscal 2020 ended 28 December 2019, a 3% increase from the $533 million revenue recorded 
...
Read more...
---