printer friendly version
Company profile: Harmony Electronics
25 September 2019
News
The globalisation of the electronics industry over the last few years has seen tremendous growth in the shipments of semiconductor products worldwide, with more focus on connectivity. Access to components globally has resulted in the broad-line distributors consolidating as well as manufacturers doing mergers and acquisitions.
The end result is that amidst this flurry of consolidation, deep technical resources are scarce and customers are requiring technical support and training unparalleled by what the norm has been before. In 2014 Harmony Electronics was born to fulfil this much-needed role in the industry.
Software/firmware
Harmony's key strength and core competency is providing specific bespoke training services on ARM, MIPS and related development tools, together with programming service in the electronics industry in South Africa on the various products, in addition to a fully qualified training prospectus on all microcontroller products – RISC and CISC – from leading semiconductor vendors such as STMicroelectronics and Microchip.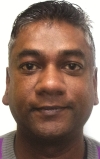 Arnold Perumal.
Harmony Electronics has extensive knowledge in the semiconductor arena, with experience in a wide range of electronic industry segments including industrial, consumer, telecom, power, security and military. "We are particularly recognised for our experience, expertise and in-depth technical knowhow on microcontroller products, thus delivering professional and excellent customer experiences, as well as building mutually beneficial relationships with our customers," says the company's founder, Arnold Perumal.
"Our expertise on microcontroller products allows us to offer more specialised services including firmware and hardware development for ARM-based and MIPS technology."
Training prospectus
"Harmony Electronics Professional Education is a new educational concept provided by us. It is part of our mission to help engineers write high-quality embedded software. The education focuses on conveying best practices for producing high-quality software, to everyday embedded software development.
"Harmony Electronics has many years of experience in embedded systems development. We would like to share our knowledge to help you – the professional embedded software development engineer – perform your everyday work more efficiently and with less effort. This is the driving factor behind Harmony Electronics."
The company strongly believes in learning by doing, so all courses thus have a significant amount of practical training exercises. A solid theoretical foundation is always included, as well as comprehensive course material for future reference.
All Harmony Electronics' courses are hands-on workshops with students being capable of performing production design immediately after the training.
References
• Well over 200 trained customers to date, including military, consumer, industrial and small private businesses.
• Some of these customers include South African Airways, Denel, Hensoldt Optronics, Ellies, Durban University of Technology, University of Zululand, SAAB, Eskom, amongst many others.
• Customers who have undergone training are successfully implementing our training information in volume products.
• Tailor-made courses are developed to suit customers' needs.
• For the last seven years we have been conducting tailor-made ARM and MIPS courses meticulously designed for the South African market.
• Courses have been endorsed by semiconductor manufacturers and have been tailor-made to assist customers to develop and design their products with the respective vendor.
• We have over 15 courses for embedded development.
• Authorised distributor of Keil Arm, and accredited ARM trainer.
• 2016-2018 authorised distributor and accredited trainer of Atollic Arm, (STMicroelectronics acquired Atollic).
• 2016-2018 authorised distributor and accredited trainer of Draupner Graphics' TouchGFX solutions (STMicroelectronics acquired TouchGFX).
Further reading:
Buy a Fluke, get one free
28 October 2020, Comtest , News
Comtest, Fluke's official South African importer, is offering one free Fluke for every Fluke purchased from any South African-based, authorised Fluke dealer. Fluke is a world leader in the manufacture, 
...
Read more...
---
Online Ohm's law calculator from Mouser
28 October 2020 , News
The famous Ohm's law states that the current flowing through a circuit is proportional to the voltage applied across both points. Mouser Electronics' online Ohm's law calculator saves engineers time by 
...
Read more...
---
From the editor's desk: Where monsters, viruses and technology meet
25 November 2020, Technews Publishing , News
I clearly remember the moment it really sank in that the world as we know it has become almost unrecognisable from a year ago. It would be hard not to remember really, because it happened only two days 
...
Read more...
---
Clearing the Static
28 October 2020, Actum Group , News
ESD training and compliance
According to Desco Industries, electrostatic discharge (ESD) can change the electrical characteristics of a semiconductor device, degrading or destroying it entirely. ESD 
...
Read more...
---
SA project receives international energy award
25 November 2020 , News
South Africa's largest energy efficiency initiative, the SA Industrial Energy Efficiency Project, has won the highest international accolade for an energy programme – the International Energy Project 
...
Read more...
---
Intelsat brings space STEM to students in Africa
25 November 2020 , News
Intelsat is partnering with XinaBox to deliver space-focused science, technology, engineering and mathematics (STEM) learning tools to teenagers across the African continent. Intelsat is sponsoring 
...
Read more...
---
DesignSpark racks up one million members
25 November 2020 , News
RS Components recently marked a significant milestone when its DesignSpark engineering platform surpassed one million members. This comes just a few months after DesignSpark celebrated ten years of 
...
Read more...
---
Personality profile: Dereck Styane
25 November 2020, Phoenix Contact , News
"We do try and develop people and promote them from within the company, so I savour people's personal growth that I've overseen."
Read more...
---
MTN and Siyavula enabling maths and science learners
25 November 2020 , News
Lockdown or no lockdown, South African learners will do what it takes to ensure that they are ready for their year-end exams. So says the MTN SA Foundation, which partnered with digital teaching and learning 
...
Read more...
---
Production Logix appoints new business development manager
25 November 2020, Production Logix , News
KwaZulu-Natal based electronics contract manufacturer, Production Logix, is broadening its scope and sharpening its focus as it expands its footprint across South Africa and into southern Africa. As part 
...
Read more...
---