printer friendly version
Q&A: Andrew Cole, MD of Concilium Technologies
22 February 2017
Test & Measurement
Concilium Technologies is a leading supplier of test and measurement (T&M) solutions in sub-Saharan Africa.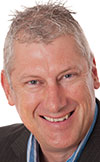 In addition to strong partnerships with its supplier channels and client base, the company prioritises corporate social investment in technical education, starting at the secondary school level and extending to full bursaries and internships for tertiary engineering students. Dataweek quizzed Andrew Cole, who co-founded the company and took over the role of managing director last year, to learn more about him and his thoughts on the past, present and future of electronics testing and measurement.
Q: Tell us about yourself.
I started in 1989 with the South African distributor of Hewlett-Packard products, HiPerformance Systems, as an internal sales engineer in the test and measurement division, progressing to external sales accounts, managing primarily the large telcos in the late '90s. In 1999 HP decided that the fast-paced IT products in its portfolio did not fit well with the very high-tech, low-volume measurement solutions and spun off Agilent Technologies which would include its T&M division.
Agilent decided not to have an office in South Africa so Steve Alves and I undertook a management buy-out of the HP SA T&M division to create Concilium Technologies. Around the same time, HP decided to sell its broadcast video server business to Pinnacle Systems, a large manufacturer of products for the broadcast and media sector. We were approached by Pinnacle to represent them and gained our second agency after Agilent.
Broadcast was a relatively new and unknown business for Concilium and I then set about building up the business and a suitable team of sales support staff. Today, Concilium is one of the largest suppliers of broadcast equipment to the southern African market, representing world leading brands like Imagine Communications (previously Harris Broadcast); Ross Video; Telestream; Vizrt; and JVC.
I re-entered the world of T&M as sales director in early 2015, managing both the T&M and broadcast divisions. After a number of years of succession planning, I accepted the role of MD and took over from Steve Alves in May 2016, as Steve started to plan for his retirement after being at the helm for almost 20 years. Steve is now marketing director and at the same time providing invaluable knowledge and insight into the management of the business.
Q: What have been some of the highlights and low points?
Highlights include being able to be part of a team that successfully took a division within a company of 180 000 employees to create a very successful and profitable local company, while at the same time retaining the high level of customer service we were renowned for in the Bill Hewlett and Dave Packard era.
Others include successfully starting our broadcast division and growing it into a well-respected supplier of solutions, and being part of a team that identified BEE partners, who have been able to benefit from the success of the company.
I can't think of any significant low points.
Q: How has electronics T&M changed over the years?
Having been out of the T&M industry for almost 10 years it was very interesting to see how both the local market and T&M products have changed.
The sad part is the reduction in the number of small startup electronic businesses that no longer exist in SA. There has also been a significant decrease in the number of local electronic manufacturers as they became less competitive due to the import of low cost electronic hardware from the East. On the positive side, we've seen foreign investment into some of the bigger firms allowing them to more easily export their technologies.
Products have become more compact and portable with larger screens, running IT operating systems. I remember as a student (before my HP days) carrying a 20 kilogram HP 8563 26 GHz spectrum analyser up a mountain to a telecoms tower. Today, you can buy a 50 GHz Keysight N9952A Fieldfox spectrum analyser with built-in network analyser capabilities weighing just over 3 kilograms!
There has also been consolidation amongst the T&M manufacturers. Even within the products we represent we've seen HP become Agilent and then become a pure-play T&M company in Keysight. Keysight then recently acquired Anite and very recently Ixia, as it strives to become a more software orientated company. The T&M division of JDSU, which was already a combination of a number of T&M companies like Wandel & Goltermann, TTC, Wavetek and Acterna, became Viavi Solutions, focused on telecoms network test.
Q: What does your crystal ball say?
We are going to see test systems become more connected and more easily upgradeable than they are in their current form. There will be a significant shift away from proprietary hardware solutions towards more software-centric solutions, and ultimately towards a fee-based model as customers drive suppliers to become more cost effective with their offerings.
I would like to see more focus by the local electronic industry on R&D into the new upcoming technologies like smart buildings, energy, autonomous and connected cars, 5G solutions etc. Right now there appears to be limited local development into these areas which means our electronics industry will continue to just provide installation and maintenance of the technologies.
Q: Is it going to be business as usual for Concilium?
We will continue to evolve in the same way that we did when we diversified into the broadcast industry. We will also continue to train and retrain both sales and support staff to ensure that we are able to provide the highest level of service to our customers, and to support and assist them as they drive their businesses forward into this new electronics era. We will, however, retain our company culture that was born out of the HP way and continued under Steve's leadership.
For more information contact Andrew Cole, Concilium Technologies, +27 (0)12 678 9200, andrew_cole@concilium.co.za, www.concilium.co.za
Credit(s)
Further reading:
Phase noise analyser for precision oscillator characterisation
29 April 2020, Altron Arrow , Test & Measurement
To help research and manufacturing engineers make precise and accurate measurement of frequency signals, including those generated by atomic clocks and other high-performance frequency reference modules 
...
Read more...
---
Ethernet tap for IO Ninja
25 March 2020, RF Design , Test & Measurement
Monitoring network communications of your PC can be accomplished without any specialised hardware – just use the Pcap Sniffer plugin of IO Ninja. The task of tapping into the Ethernet traffic of a non-PC 
...
Read more...
---
Bench-top vector signal generator
29 April 2020, RFiber Solutions , Test & Measurement
The T3267E series bench-top vector signal generator from Transcom Instruments has excellent radio frequency performance and rich signal generating function. It can provide arbitrary wave, continuous 
...
Read more...
---
Tektronix and Coherent Solutions partner for fully integrated optical comms
25 March 2020, Comtest , Test & Measurement
Comtest has announced that technology companies Tektronix and Coherent Solutions have an exclusive partnership agreement to provide fully integrated optical communications platforms to new and existing 
...
Read more...
---
Vector network analyser training kit
26 February 2020, Comtest , Test & Measurement
Pico Technology has added significant functionality and value to its low-cost, high-performance vector network analyser (VNA), by joining the NI/AWR Connected Partner community. The PicoVNA interface 
...
Read more...
---
Better phase noise measurement for Infiniium UXR scopes
26 February 2020, Concilium Technologies , Test & Measurement
Keysight Technologies and Silicon Labs announced a collaboration that streamlines the validation of timing solutions critical in the development of system-level designs for wireless communications, high-speed 
...
Read more...
---
Eliminate risk with proper calibration
26 February 2020, Concilium Technologies , Test & Measurement
Proper calibration lowers cost of test by reducing the number of incorrect decisions made, by improving instrument performance.
Read more...
---
Double pulse test software for Tektronix AFG
29 January 2020, Comtest , Test & Measurement
Comtest announced the availability of Tektronix' new software plugin for its AFG31000 arbitrary function generator (AFG), making it possible to perform crucial double pulse testing in less than a minute, 
...
Read more...
---
Battery charge/discharge test system
29 January 2020, Conical Technologies , Test & Measurement
The ITS5300 battery charge and discharge test system from ITECH is designed for a variety of power batteries including lead acid, nickel hydrogen, lithium batteries, supercapacitors, hydrogen fuel cells 
...
Read more...
---
DIN-rail programmable transmitter
23 October 2019, Instrotech , Test & Measurement
Calog Instrument's versatile DPM9000 series – a miniature DIN-rail mount programmable isolated transmitter range – boasts high reliability and a versatile, wide range of programmable inputs. With dimensions 
...
Read more...
---