printer friendly version
Electronics news digest
23 October 2019
News
South Africa
• The deputy minister of Trade and Industry, Fikile Majola, has told community members in Evaton in Gauteng's Vaal region that government is taking major steps towards the designation of the Vaal Special Economic Zone (SEZ). Majola said the SEZ would create economic and employment opportunities, and further urged local government officials to identify one industrial park for revitalisation. He said the revitalisation of industrial parks was part of government's strategy to revive the economy.
• The Independent Communications Authority of South Africa (ICASA) has pledged to publish the information memorandum on the licensing process for the International Mobile Telecommunications (IMT) spectrum, or what is also referred to as high-demand spectrum, by the end of 2019. The publication will be an important step in the licensing process for the ultimate release of the high-demand spectrum in order to give effect to government's policy objectives of ensuring broadband access for all, transformation of the ICT sector, lower data costs, promote competition and ensure inclusive economic growth.
• The Department of Science and Innovation (DSI) announced that South Africa and Switzerland are set to deepen their collaboration in science, technology and innovation (STI) following the renewal of a fruitful STI cooperation agreement between the two countries. Signed in Bern at the end of September, the agreement will, among others, see exchange visits of scientists, researchers and scholars, the sharing of scientific and technical knowledge, and the hosting of bilateral STI seminars and courses.
Overseas
Companies
• Dialog Semiconductor has signed a definitive agreement to acquire Creative Chips, a prominent supplier of ICs to the Industrial Internet of Things (IIoT) market, for $80 million in cash. The new acquisition is strategic for Dialog to establish itself as a proven supplier, well positioned to capture the significant growth potential of the IIoT market. It also provides Dialog with a rich portfolio of core IC products and a broad library of relevant analog, digital and RF technologies.
• Despite achieving an acceptance level of 51,6 percent, AMS' $4,9 billion takeover offer for Osram Licht AG failed to meet the minimum acceptance threshold of 62,5 percent. As a result of purchases prior to the expiry of the offer, AMS is currently the largest shareholder in Osram with a direct shareholding of 19,99 percent.
• Qorvo has acquired Cavendish Kinetics, the world's leading provider of high-performance RF MEMS technology for antenna tuning applications. RF MEMS devices are used to tune both main and diversity smartphone antennas across low, mid and high bands, resulting in stronger signals and faster data rates. RF MEMS maximise performance through outstanding Q-factor, improved linearity and extremely low insertion losses, offering great potential for improving 4G and 5G system performance.
Industry
• The Semiconductor Industry Association (SIA) announced worldwide sales of semiconductors were $34,2 billion in August 2019, a decrease of 15,9 percent from the August 2018 total of $40,7 billion but 2,5 percent more than the July 2019 total of $33,4 billion. On a year-to-year basis, sales were down across all regional markets: Europe (-8,6 percent), Asia Pacific/All Other (-9,2 percent), Japan (-11,5 percent), China (-15,7 percent), and the Americas (-28,8 percent).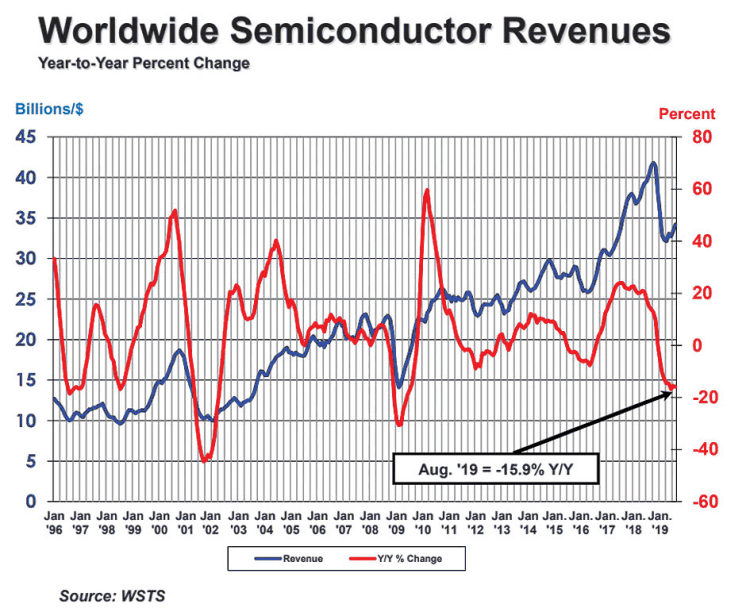 • Akira Yoshino, John B Goodenough and M Stanley Whittingham have been jointly awarded the 2019 Nobel Prize in Chemistry for the development of lithium-ion batteries. Underlining the importance of their contributions to the mobility and convenience of our modern daily lives, the Nobel Committee said in a statement that "Lithium-ion batteries are used globally to power the portable electronics that we use to communicate, work, study, listen to music and search for knowledge." Yoshino created the first commercially viable lithium-ion battery in 1985, based on a metal oxide cathode design by Goodenough. Sony released the first commercial lithium-ion batteries in 1991, based on Yoshino's configuration. The trio will share the prize money of nine million kronor (£738 000).
Technology
• NXP Semiconductors unveiled the first microcontroller (MCU) to break the gigahertz (GHz) barrier. Built using advanced 28 nm FD-SOI technology for lower active and static power requirements, the i.MX RT1170 family of 'crossover' MCUs integrates a Arm Cortex-M7 and power-efficient Cortex-M4, advanced 2D vector graphics, together with NXP's signature EdgeLock security solution. NXP claims the i.MX RT1170 delivers a CoreMark score of 6468 and DMIPS of 2974.
Further reading:
On-the-ground sales support for South African Farnell customers
25 November 2020, EBV Electrolink , News
Farnell, an Avnet company and global distributor of electronic components, products and solutions, has enhanced its service to customers in South Africa through a new partnership with sister company EBV, 
...
Read more...
---
Better than Moore: A new way to measure semiconductor progress
25 November 2020 , News
One of the most famous maxims in technology is, of course, Moore's Law. For more than 55 years, the 'Law' has described and predicted the shrinkage of transistors, as denoted by a set of roughly biennial 
...
Read more...
---
Technology trends that will shape 2021
25 November 2020 , News
In preparing to turn the corner on one of the most tumultuous years we have ever seen, 2021 will require that organisations put a finger on what will stimulate market responses and what the fabric of 
...
Read more...
---
Altron appoints new company secretary
25 November 2020, Altron Arrow , News
Nicole Morgan has been appointed as company secretary of Altron with effect from 1 January 2021. An admitted attorney of the High Court with 11 years of corporate law and company secretarial experience, 
...
Read more...
---
Technical high school gets new multimedia centre for 100% pass rate
25 November 2020 , News
The MTN SA Foundation continues to bring digital education closer to SA's youth with the recent handover of a state-of-the-art multimedia centre to a deserving Bokgoni Technical High School in Atteridgeville, 
...
Read more...
---
Unrealistic deadlines hamper independent power producers
25 November 2020 , News
The Independent Power Producers Programme Office (IPPPO), which is run by the South African Department of Mineral Resources and Energy (DMRE), aims to procure 2000 megawatts of electricity in its latest 
...
Read more...
---
Buy a Fluke, get one free
28 October 2020, Comtest , News
Comtest, Fluke's official South African importer, is offering one free Fluke for every Fluke purchased from any South African-based, authorised Fluke dealer. Fluke is a world leader in the manufacture, 
...
Read more...
---
Online Ohm's law calculator from Mouser
28 October 2020 , News
The famous Ohm's law states that the current flowing through a circuit is proportional to the voltage applied across both points. Mouser Electronics' online Ohm's law calculator saves engineers time by 
...
Read more...
---
From the editor's desk: Where monsters, viruses and technology meet
25 November 2020, Technews Publishing , News
I clearly remember the moment it really sank in that the world as we know it has become almost unrecognisable from a year ago. It would be hard not to remember really, because it happened only two days 
...
Read more...
---
Clearing the Static: ESD training and compliance
25 November 2020, Actum Group , News
According to Desco Industries, electrostatic discharge (ESD) can change the electrical characteristics of a semiconductor device, degrading or destroying it entirely. ESD could also potentially damage 
...
Read more...
---