printer friendly version
Company profile: Solve Direct Electronics
19 April 2017
News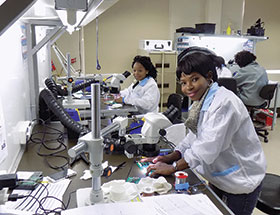 When Neil Johnson, a 15-year veteran at Saab Grintek Defence responsible for IPC training, expressed his desire to strike out on his own, the company was keen to support him as part of its incubator programme.
And so it happened that, in 2014, he started Solve Direct Electronics as a 100% black owned (40% black women) business operating from Saab Grintek Defence's premises in Highveld Techno Park, Centurion, with access to its security and high-tech facilities and equipment.
Solve Direct Electronics' primary business is providing training and certification on behalf of IPC. This encompasses a range of courses – such as ESD/IPC JSTD 001/IPC/WHMA 620/IPC A 600/IPC A 610/IPC RMR 7722/7721 – presented through a number of training mediums including online and video. In conjunction with SQC Pretoria, the company has also established a Master IPC training centre.
Solve Direct Electronics also engages in the production of Class 3 printed circuit assemblies for various military and consumer electronics companies. The majority of its clients have a continuous demand to produce high-quality products and the need for certified, skilled individuals. Solve Direct Electronics also conducts regular ESD audits, giving it the opportunity to identify possible risks and make the necessary recommendations to address and improve on quality issues.

Under the management of Neil and Fatima Johnson, the company is growing its customer base while developing and maintaining a strong knowledge base in its core disciplines of IPC training and PCB assembly. Neil, the founder and director, is an IPC-accredited trainer who has graduated as a Master IPC trainer, in addition to his electronics assembly skills. He has also contributed to the development of IPC standards and serves on IPC standards development committees in the USA. Fatima is the co-director and is responsible for the corporate services profile within the company.
According to Fatima Johnson, as the company has developed it has learned that it pays dividends to invest money in people skills, and to be involved in learnership programmes to assist unemployed individuals in developing their employable skills and capacity building. "We envision a future where all participants are knowledgeable in their electronic assembly requirements," she says. "We are committed to empowering individuals and to work in collaboration with like-minded professionals to offer the best quality training and to meet the needs of our valued clients daily.
"Solve Direct Electronics' payoff line, as can be seen from our advertising, is 'Quality IPC training and PCB assembly taken to the next level'. This is a philosophy that we live by in all levels of the organisation. We extend an open invitation to anyone in the industry to contact us," she concludes.
For more information contact Fatima Johnson, Solve Direct Electronics, +27 (0)82 450 5585, fatima@solvedirectelectronics.co.za.
Further reading:
Coalition calls on European Commission to postpone SCIP deadline
30 September 2020 , News
A coalition of 40 industry organisations has written a letter to European Commission President Ursula von der Leyen calling for decisive action to solve implementation issues within the EU Waste Framework 
...
Read more...
---
Follow this engineering journey of a 3D-printed boat
30 September 2020, RS Components (SA) , News
RS Components is releasing a 10-episode documentary series – titled SeaQuest – featuring members of its DesignSpark engineering community who embarked on a first-of-its-kind challenge to design, test 
...
Read more...
---
Mouser revamps technical resource centre
30 September 2020, TRX Electronics , News
Mouser Electronics has redesigned its Technical Resource Centre, which contains the global distributor's ever-expanding collection of technical articles, blogs, eBooks, and Methods technology and solutions 
...
Read more...
---
IPC teams up with PSMA on standards and more
30 September 2020 , News
IPC and the Power Sources Manufacturers Association (PSMA) have signed a memorandum of understanding (MoU) pledging to build a strong complementary relationship between the two entities with a focus on 
...
Read more...
---
Battery Technologies Conference goes virtual
30 September 2020 , News
Vukani Communications is back again with the 6th edition of the Battery Technologies Conference, and this time around the gathering is virtual. Topics to be discussed include, but are not limited to:
...
Read more...
---
A journey into the automation unknown
31 August 2020 , News
From small-town specialised machine builder to global technology company, Jendamark Automation's business journey has been characterised by calculated leaps into the unknown. And, as South African manufacturers 
...
Read more...
---
Resources for home and building automation
31 August 2020, TRX Electronics , News
Mouser Electronics is expanding its comprehensive range of building automation solutions from Silicon Labs, TE Connectivity (TE), and Littelfuse for the rapidly growing smart home and building automation 
...
Read more...
---
From the editor's desk: Enough of 2020 already
31 August 2020, Technews Publishing , News
Forgive me, but I don't think I'm alone in being a bit all over the place mentally at the moment. So far, two of my colleagues have been diagnosed positive for COVID-19 and have fortunately recovered. 
...
Read more...
---
Tribute to Paul Soteriou
31 August 2020 , News
Paul Soteriou, a man always willing to share what he had with a smile and with a deep-found love for South Africa, passed away earlier this year.
Read more...
---
Personality profile: Brian Andrew
31 August 2020, RS Components (SA) , News
With a father who is a civil engineer and an older brother who is a chemical engineer, you could say engineering was in the DNA of Brian Andrew.
Read more...
---