printer friendly version
Mteto Nyati chosen to lead Altron
19 April 2017
News
Mteto Nyati, a respected ICT executive and business leader, has been appointed as the new chief executive of Altron.
Nyati was previously the CEO for MTN South Africa, having taken up the role in October 2014 after working at Microsoft South Africa since 2008. At Microsoft, he served as managing director for the South African operations, and also had a short stint as the group's general manager for the MEA emerging regions. Prior to that he was the director of IBM Global Technology Services at IBM South Africa. Nyati holds a BSc in Mechanical Engineering from the University of KwaZulu-Natal. He also studied at Yale University, where in 2004, he was named a World Fellow.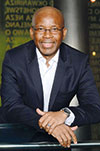 Mteto Nyati.
Nyati will assume responsibility as Altron chief executive no later than 1 July 2017, and Altron said in a statement that Robbie Venter will step down from the position in due course, and will remain on the Altron board as a non-executive director.
Mike Leeming, chairman of the Altron board, explained that the appointment of Nyati followed a rigorous recruitment process. "The Altron board embarked on a global search for a suitable candidate with the necessary global leadership experience and business orientation with a solid track record in the ICT sector. Mteto has in-depth blue chip technology experience having been at IBM for twelve years and six years at Microsoft prior to joining MTN in October 2014. He has extensive experience in both the business-to-business and business-to-consumer markets. We are extremely pleased to have him on board and are confident that he, the board and Robbie will work well together during the handover phase," said Leeming.
According to Robbie Venter, he and the Venter family remain fully committed to the Altron Group. "The Altron Group has been my life and it has been a privilege to be at the helm of an organisation of such stature and to lead employees of the calibre that we find throughout the Altron Group. While we have gone through highs and troughs during my tenure, I have always been moved by the professionalism of all employees of the Group as they have positively embraced the various changes we have implemented for the good of the organisation as a whole. The Venter family will continue to be involved in the Group, both as shareholders and their representation on the board as non-executive directors," said Venter.
Nyati said he is honoured and pleased by the opportunity to lead the company.
"To be appointed to the helm of an organisation that has been in business for 51 years is both an honour and a challenge. It is an honour in that Altron has a strong legacy of leadership and innovation in the markets in which it plays. It is a challenge as the information technology and telecommunications sectors are fast evolving and in order to stay ahead of the curve, organisations like Altron continually have to reinvent themselves in order to stay relevant and competitive in the changing business landscape. I look forward to working with Robbie during the transition period and engaging with the Altron board and all employees of Altron as we take the Group into the next phase of its growth," Nyati said.
For more information contact Chris van Zyl, Altron, +27 (0)11 205 7969, cvanzyl@altech.co.za, www.altron.com
Further reading:
Coalition calls on European Commission to postpone SCIP deadline
30 September 2020 , News
A coalition of 40 industry organisations has written a letter to European Commission President Ursula von der Leyen calling for decisive action to solve implementation issues within the EU Waste Framework 
...
Read more...
---
Follow this engineering journey of a 3D-printed boat
30 September 2020, RS Components (SA) , News
RS Components is releasing a 10-episode documentary series – titled SeaQuest – featuring members of its DesignSpark engineering community who embarked on a first-of-its-kind challenge to design, test 
...
Read more...
---
Mouser revamps technical resource centre
30 September 2020, TRX Electronics , News
Mouser Electronics has redesigned its Technical Resource Centre, which contains the global distributor's ever-expanding collection of technical articles, blogs, eBooks, and Methods technology and solutions 
...
Read more...
---
IPC teams up with PSMA on standards and more
30 September 2020 , News
IPC and the Power Sources Manufacturers Association (PSMA) have signed a memorandum of understanding (MoU) pledging to build a strong complementary relationship between the two entities with a focus on 
...
Read more...
---
Battery Technologies Conference goes virtual
30 September 2020 , News
Vukani Communications is back again with the 6th edition of the Battery Technologies Conference, and this time around the gathering is virtual. Topics to be discussed include, but are not limited to:
...
Read more...
---
A journey into the automation unknown
31 August 2020 , News
From small-town specialised machine builder to global technology company, Jendamark Automation's business journey has been characterised by calculated leaps into the unknown. And, as South African manufacturers 
...
Read more...
---
Resources for home and building automation
31 August 2020, TRX Electronics , News
Mouser Electronics is expanding its comprehensive range of building automation solutions from Silicon Labs, TE Connectivity (TE), and Littelfuse for the rapidly growing smart home and building automation 
...
Read more...
---
From the editor's desk: Enough of 2020 already
31 August 2020, Technews Publishing , News
Forgive me, but I don't think I'm alone in being a bit all over the place mentally at the moment. So far, two of my colleagues have been diagnosed positive for COVID-19 and have fortunately recovered. 
...
Read more...
---
Tribute to Paul Soteriou
31 August 2020 , News
Paul Soteriou, a man always willing to share what he had with a smile and with a deep-found love for South Africa, passed away earlier this year.
Read more...
---
Personality profile: Brian Andrew
31 August 2020, RS Components (SA) , News
With a father who is a civil engineer and an older brother who is a chemical engineer, you could say engineering was in the DNA of Brian Andrew.
Read more...
---