printer friendly version
Radiation-tolerant PolarFire FPGA
23 October 2019
Programmable Logic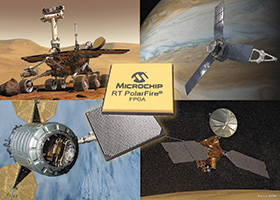 Developers of spacecraft electronics use radiation-tolerant (RT) field programmable gate arrays (FPGAs) to create on-board systems that meet the demanding performance needs of future space missions, survive the brutal launch process and continue to operate reliably in the harsh environment of space.
Extending its RT FPGA offering to bring these capabilities to emerging high-performance space applications, Microchip Technology introduced the RT PolarFire FPGA that is optimised to meet the most demanding requirements in spacecraft payload systems' high-speed data paths with the lowest possible power consumption and heat generation.
"We are supporting an evolving set of on-orbit space applications that need high levels of operating performance and density, low power consumption and minimal heat dissipation, while reducing system-level costs," said Bruce Weyer, vice president of Microchip's FPGA business unit. "Our RT PolarFire FPGA enables the major leap in computing throughput required for these applications including processing-intensive neural networks for object detection and recognition, high-resolution passive and active imaging, and high-precision remote scientific measurement, while maintaining a path to QML qualification."
A growing number of space applications need greater computational performance so they can transmit processed information rather than raw data and make optimal use of limited downlink bandwidth. The RT PolarFire FPGA enables this at significantly lower cost and with faster design cycles than possible with application-specific integrated circuits (ASICs).
It also reduces power as compared to the alternative of using FPGAs based on static random access memory (SRAM) while eliminating their vulnerability to radiation-induced configuration upsets. The RT PolarFire FPGA is supported by all necessary radiation data, specifications, package details and tools customers need to start new designs now, initially with the commercial version of the device.
The RT PolarFire FPGA builds on the success of Microchip's RTG4 FPGA, which has been widely deployed in space applications that require its radiation-hardening by design against single event upsets (SEUs) and inherent immunity to single event latch-ups (SELs) and configuration upsets.
For space applications that require up to five times the computing throughput, the RT PolarFire FPGA provides 50 percent more performance and triple the logic elements and serialiser-deserialiser (SERDES) bandwidth. It also provides six times the amount of embedded SRAM to enable more system complexity than previously possible using FPGAs and withstands total ionising dose (TID) exposure beyond the 100 kilorads (kRads) that is typical of most earth-orbiting satellites and many deep-space missions.
For more information contact Shane Padayachee, Avnet South Africa, +27 11 319 8600, shane.padayachee@avnet.eu, www.avnet.co.za
Credit(s)
Further reading:
USB Type-C charging controllers
29 July 2020, Avnet Silica , Power Electronics / Power Management
Designers can overcome the challenges of implementing USB-C Power Delivery (PD) with the MAX77958 USB-C PD controller and the MAX77962 28 W buck-boost charger from Maxim Integrated Products. As portable 
...
Read more...
---
Sensor bridge for 1-Wire protocol
31 August 2020, Avnet Silica , Telecoms, Datacoms, Wireless, IoT
Designers expanding connections to remote sensor networks can now reduce complexity and cost to the industry's lowest levels with the DS28E18 1-Wire to I
2
C/SPI bridge from Maxim Integrated Products. By 
...
Read more...
---
Smallest automotive maXTouch controllers
29 July 2020, Altron Arrow, Avnet Silica , DSP, Micros & Memory
To help enhance and ease today's driving experience, automotive manufacturers are implementing additional touch displays beyond the centre infotainment display (CID). Supporting the application of these 
...
Read more...
---
3 kW TVS diode arrays
30 June 2020, Avnet Silica , Circuit & System Protection
To ensure critical operations, aviation and space systems rely on digital and logic functionality and circuitry in engine control units, environmental controls, instruments and actuators. Data centres, 
...
Read more...
---
FPGA development suite for Pentek recorders
30 June 2020, Rugged Interconnect Technologies , Programmable Logic
Pentek's ArchiTek FPGA Development Suite is a new product for adding custom IP to select Pentek Talon recording systems. ArchiTek is a comprehensive development environment that enables engineers to add 
...
Read more...
---
PCIe Gen 4 switches
30 June 2020, Avnet Silica , Computer/Embedded Technology
To support cloud, data centre and hyperscale computing that facilitates advancements in artificial intelligence (AI) and machine learning (ML), Microchip Technology released to production its Switchtec 
...
Read more...
---
DIN-rail mounting DC-DC converters
30 June 2020, Avnet Silica , Power Electronics / Power Management
Shortly after unveiling the brand-new DIN-rail mounting DC-DC converter family, the DDR-15/30/60/120/240 series, Mean Well has announced the DDR-480 series (480 W) to enable integration into higher-power 
...
Read more...
---
Wi-Fi and BLE combo module
29 May 2020, Avnet Silica , Telecoms, Datacoms, Wireless, IoT
Dialog Semiconductor announced the DA16600, a module that combines its advanced Wi-Fi and BLE (Bluetooth Low Energy) capabilities into a single solution. This two-in-one module is comprised of two 
...
Read more...
---
HV MOSFET for ruggedness, smart PWM controller for flexibility
30 June 2020, Avnet Silica , Power Electronics / Power Management
As the world recently celebrated Earth Day, STMicroelectronics' blog recently featured one of its many components that help better manage the electricity people consume every day and therefore, decided 
...
Read more...
---
Why 'new space' satellites demand a new approach to components
29 May 2020, Avnet Silica , News
New space is opening up exciting opportunities for businesses, which can create completely new products, services and capabilities that were, until recently, impossible or impractical.
Read more...
---